Get all the info you'll need on new kitchen cabinets, and get ready to create the kitchen design of your dreams from scratch.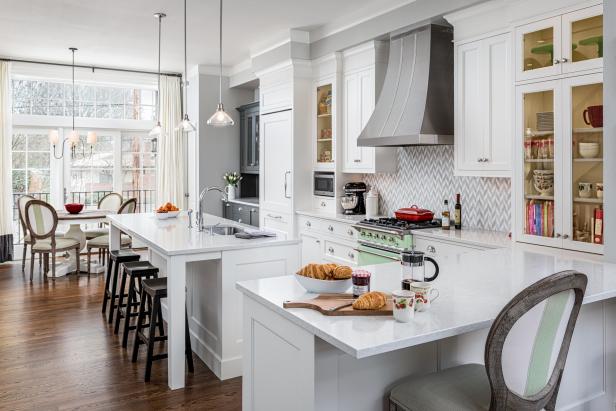 Open Concept Kitchen And Dining Room With White Cabinets And Work Island
This open concept kitchen features traditional white cabinets and trim, white quartz countertops, a work island with sink and gooseneck faucet with pendant lights, and barstool seating, as well as a breakfast nook with round table and upholstered chairs.
Caleb Vandermeer Photography
If you're planning to install new kitchen cabinets, the range of options can seem overwhelming at first. But finding the right kitchen cabinets to suit your design taste should be no problem once you've explored the available options.
Your first decision when considering new kitchen cabinet options will be related to construction. You can choose to have your cabinets custom-designed, or you can explore a range of pre-fabricated, in-stock and semi-stock cabinet options from home improvement or design stores.
Each approach has pros and cons. Custom cabinets offer total freedom in terms of design options, but they're by far the most expensive and time-consuming option. In-stock cabinets are economical, but you'll need to choose from a somewhat limited range of designs and colors. Semi-stock cabinets offer a balance of design and color flexibility alongside the efficiency of being able to mix and match styles with a ready-made, fully designed cabinet scheme—however, they take longer to deliver than in-stock cabinets.
In terms of layout and sizing, you'll want to work within the parameters of your existing kitchen space. In-stock and semi-stock cabinet sizes are standardized, with some variation for areas above stoves or refrigerators. Custom cabinets can be sized to your specifications, but it's always advisable to stay within standard sizes whenever possible.
When it comes to materials, oak, maple, cherry and hickory are popular options for cabinets. Veneers over plywood are another, more economical option. And if wood's not your first choice, stainless steel or industrial metal cabinets can add a modern touch to any kitchen.
More Kitchen Cabinet Options
More Kitchen Cabinet Ideas