Guys, Here's Your Ultimate Bedding Cheat Sheet
The right bedding can make or break your bedroom design. Guys, we've got you covered.
Figuring out the perfect color combination for a masculine bedroom design isn't always as easy as it seems. There tend to be fewer choices, both with pattern and color, and even materials can be a bit confusing. (Linen? Flannel? Sateen?!)
Tufted Leather Headboard in Contemporary Bedroom
A tall tufted headboard in black leather draws the eye in this contemporary gray bedroom. The bed is dressed in complementary shades of black and gray bedding, topped with a striped faux-fur throw. Matching nightstands and table lamps flank the bed.
Matt Dayka Photography, Matt Dayka Photography
To help, we've put together a quick cheat sheet to make sure that your bachelor bedroom always looks on point.
Editor Reviews
Find the perfect sheets for your sleep style from our editor-approved selection of top-rated bedding.
With the right color combination, even a color that is traditionally not a no-go when thinking about dude design can look chic and fresh. Enter this purple bedroom. Pairing a cool-toned gray with purple is the perfect way to balance them both.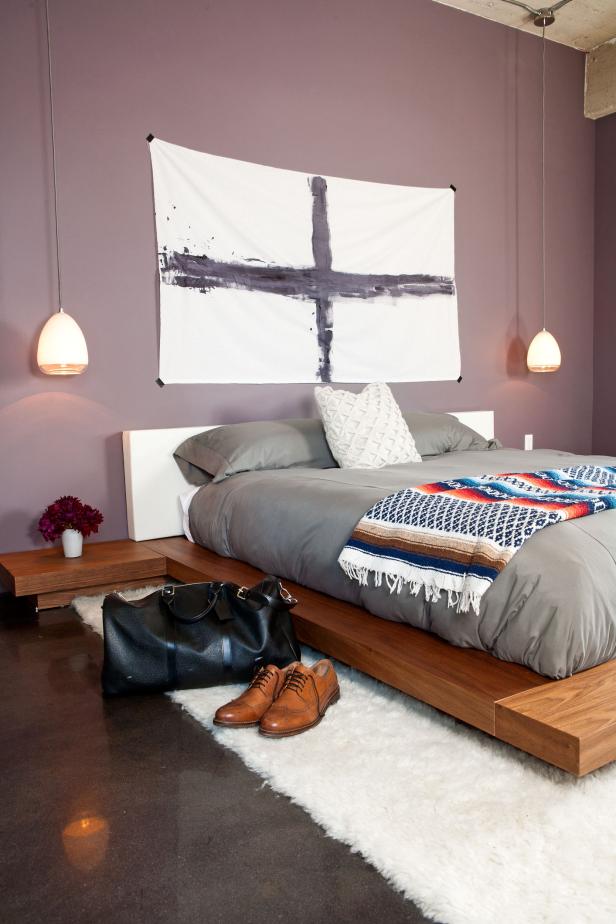 Purple Modern Master Bedroom With Masculine Vibe
This modern master bedroom features light purple walls, a platform bed and bedside pendant lights. Minimalist artwork, gray bedding and dark wood tones create a subtle masculine vibe in the space.
Gray is a particularly great choice when you don't quite want to dive into a dark palette but know that you want something other than white. This hue allows you to add flavor to the room but in a subtle and more understated way.
Design Ideas
Warm wood tones and moody gray accents mix well in this chic yet comfortable bachelor apartment in New York City.
You really can't go wrong with choosing crisp, white linens for your space. And the great thing about white is that it truly goes with any and every color scheme and style. White is also a super flexible choice because you can keep a variety of blankets or throws in other colors that can be easily switched in whenever you'd like to change up the look.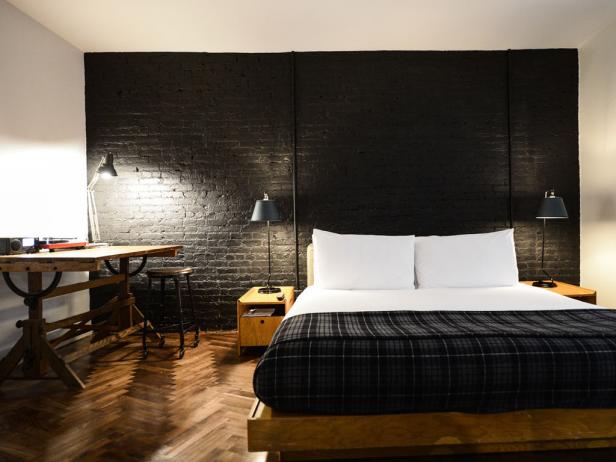 Ace Hotel Bedroom
Who wouldn't want to stay in this rustic style hotel room? The main feature in this bedroom at the Ace Hotel is an exposed black brick wall. A platform bed made with white and black linens anchors the room and side tables with black table lamps act as bedside tables. The room's hardwood is laid in a zig-zag pattern, Chevron-like pattern and an antique table and stool act as a work station.
To add a bit of extra spice, you can also try to find some white sheets that have other accent colors or a bold band.
Design Ideas
Laurie March adds nautical charm to a rental unit with calming colors and kid-friendly details.
Going with a dark-toned sheet set or blanket can bring a lot of warmth and coziness to your space. Dark shades of brown, blue, green and even black work very well in a more masculine space. Try pairing two dark colors together for even greater impact, such as brown and black or black and green. Dark colors also work well with gray palettes.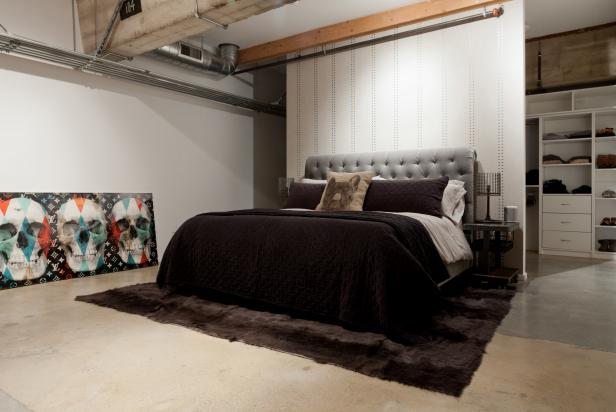 Loft Bedroom With Brown Duvet Cover and Brown Rug
This loft bedroom features primarily neutral tones — except for the eye-catching skull art. The bed, draped in a dark duvet cover, feels extended, expanded and even more lush with the addition of a similarly colored area rug below. A clever perforated wall separates the bedroom from the closet without disrupting the feel and flow of the loft.
Using pattern can have a big impact within your bedroom. The key to using patterns in a smart and sophisticated way is to balance it with a hefty dose of white or other neutral colors. The bright blue walls and white accents are a beautiful complement to the organically-striped bedding. Tip: If you choose a patterned sheet set, pair it with a solid blanket or duvet and vice versa.
Bold Blue Master Bedroom With Red Accents and Abstract Art
Although the generously-sized bedroom can spatially accommodate a king size bed, a queen was chosen so as not to crowd the space visually. Taking inspiration from its colorful abstract art, the room received a new identity with shades of blue accented with fire-engine red.