Red is an intense and evocative color that can add a touch of passion to your bedroom.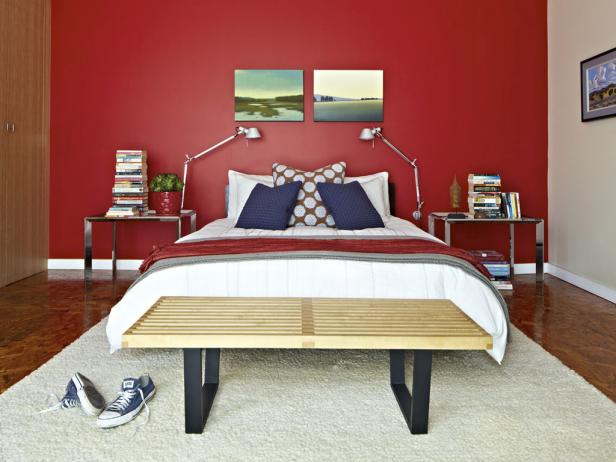 Original_Brian-Patrick-Flynn-Mark-Taylor-bed-wall_4x3
Overall, Mark's loft is neutral, light and airy. To add a jolt of energy to his otherwise minimalistic, neutral bedroom, he painted the wall behind the bed a shade of red from Dunn-Edwards called Red Contrast. This is an excellent design trick for homeowners who love red but find it too high-energy for a whole bedroom. Although the red wall becomes a focal point upon entering the room, it's out of sight once lying in bed.
If red is your favorite color, you may wonder if it has a place on your bedroom walls. The color is intense and sensuous. It raises the pulse rate and blood pressure and lends a sense of energy. No other color seems to exhibit such a strong reaction emotionally than red, and many designers advise against using it on walls. Using red as an overall color can be tricky; it can go from cheery and happy to angry and aggressive. However, if you love it, there are ways to incorporate it without going overboard.
When it comes to red, it's often the case that "less is more." Small areas of red can draw attention to other features or furnishings in the room, so it's a good color for accent walls. Paint stripes with red and another color on a plain wall, which can draw attention to the room's other features. You can even paint the floor red if you wish, since much of it will be covered by your bed and other furnishings.
If you're going for a solid red wall, it will look best if the pop of color shows from behind artwork, mirrors and other features; otherwise, there not be enough contrast between the colors. Dark wood furniture generally does not look good against a solid red wall, so choose white, black or light-colored pieces. You can also balance red with more subtle shades, such as a grey carpet (or a grey-and-white-striped rug). White is also a great balancing (cool) color to pair with red, as it pulls in red's intensity.
Red can go well with both contemporary and traditional designs. Choose bright red for a contemporary look, and consider pairing it with black, white or even another bright shade. For rooms decorated in a modern style, choose more earthy reds with brown or burgundy undertones to pair with your wood furniture, which tends to look lost and unattractive next to pure red walls. For a more traditional style, turn to deep reds with black undertones; for a country look, go with more muted or dusty shades, or try a lighter shade with a hint of blue.
Red walls can work in small rooms, perhaps even more so than in large spaces, because the size of the room provides inherent restraint. In a small bedroom, a red wall can provide a nice backdrop as a gallery wall for art or photographs, with the red showing in pieces instead of in a solid block. Gold tones in your bed linens and rug can also provide balance and create a rich look.
Other Bedroom Paint Color Ideas
Get More Ideas for Bedrooms