Remodeling Your Main Bedroom
Giving a fresh look to your main bedroom can help you create the perfect retreat and add value to your home. But when do you know it's time to take the plunge?
Updating your primary bedroom can not only create a personal retreat you look forward to coming home to each day, but it can also add value to your home.
You may choose to remodel your main bedroom for any number of reasons, says Valerie Steil, ASID, of Marc T. Nielsen Interiors in Valparaiso, Ind. You may be tired of your current color scheme. You may be facing a change in your life situation. You may be looking forward to staying in your home as you get older, and you want to prepare for any physical limitations you face as you get older. You may simply want more space.
"Sometimes the need for change is more emotional in nature, the loss of a partner, either to divorce or death," Steil says. "It could be a way to remove any memories or influence of your partner's former spouse."
"Remodeling typically occurs when one is not able to function comfortably in the space, or the aesthetics cause negative feelings instead of positive ones," says Claire E. Tamburro, ASID, a Washington, D.C.-based interior designer.
You may be remodeling your main bedroom to suit your needs, or you may be planning to sell your house and want to make it more appealing to prospective buyers. A main bedroom with a fresh look not only feels good, it can give you a return on your investment (ROI) between 40-80% (in comparison, high-ROI projects like kitchen and bathroom remodels come in about 85%).
Expanded closets and larger main bathrooms are the top features homeowners want in their new bedroom suite, experts say. Glamor baths are still popular, although some homeowners are replacing large, deep bathtubs with roomy tiled showers, often with dual showerheads or a custom spray system.
A new bathroom in your main suite will nearly always give you a good return on your investment, says Christine Baumann, ASID, of Christine Baumann Interiors in New York City. A roomy, organized closet or a combined bathroom refresh appeals to buyers, but simply adding square footage to the bedroom area doesn't. "It offers mainly aesthetic benefits for the current homeowner," she says.
"A great main suite really makes a potential buyer able to imagine living there. It makes them want to live their lives in that home," says Jane Klein, ASID, of Jane Klein Interiors in Milwaukee. "I have never had a client that only remodeled a bedroom. The goal is to achieve a more livable main suite, with a beautiful bath, better closets, usually a television, new windows and sometimes a small home office area," she says.
"People are willing to forego some luxury in the garage or deck or kid's rooms," says Michael McCutcheon, president of McCutcheon Construction in Berkeley, Calif. and member of the National Association of the Remodeling Industry. "The main suite should have large, preferably walk-in closets, separate tub and shower, two sinks, nice lighting."
Baumann says she prefers to set up a reading area in her clients' main bedrooms, complete with a comfortable chair, ottoman and side table. She discourages homeowners from setting up a home office in their main suite. "Constantly being able to see your office prevents you from being able to turn off," she says. She advises clients instead to have an office space in the kitchen, or in a guest room in a lockable office cabinet.
In addition to new construction and bathroom fixtures, clients undergoing a main bedroom remodel will often rethink the suite's decor. Tamburro says that might include new furniture, lighting, bedding and window treatments, as well as built-in storage in your new closets. This is also a good opportunity to bring in more natural light with larger windows. Also consider installing environmentally-friendly features, such as energy-efficient windows, a tankless water heater installed solely for a new garden tub and new insulation.
Whether you're getting your home ready for the market or looking to stay there for years, it's becoming more common for remodeling projects to include features that will accommodate aging residents who may need wheelchairs or walkers.
"Clients over age 50 are thinking about the future, and if they want to stay in their homes as they get older, they make modifications as necessary," Baumann says. "That means installing barrier-free showers, wide doors and making the structure Americans with Disabilities Act-compliant in case the homeowner becomes disabled." If you want to stay in your two-story home as you get older, you may consider creating a new main bedroom suite downstairs, out of a dining room or guest room, she says, or adding a chair lift or elevator, if space allows.
Susan Miner, ASID, a Colorado-based interior designer, agrees. "There is a trend for young families to buy their 'forever' home as early in family life as possible, so it is important to plan for all ages when making any major changes to the house," she says. "We are also seeing more multi-generational households, so having all the conveniences on the first floor is good long-range planning."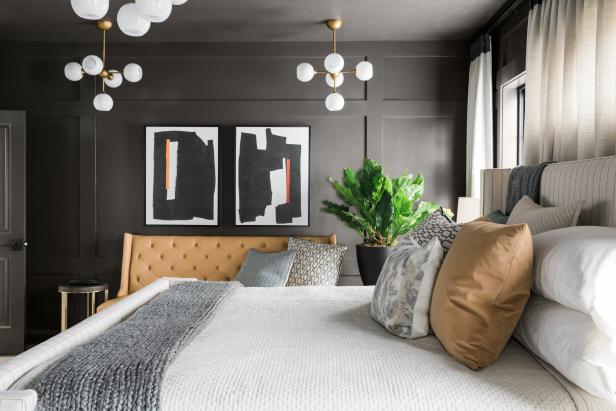 Touch and Feel
The colors of the bedding may be similar, but the textures — chenille, chunky knit, velvet, etc. — lend contrast and style to this plush, enticing bed.
Robert Peterson, Rustic White Photography
Once you've decided what features you want in your remodeled main bedroom suite, you'll need to determine how to build it. You can add space to your main bedroom by ripping out interior walls, adding onto your home's footprint, or even adding a story above your home. What works, experts say, depends on several factors.
If you have the yard space and your local zoning laws and covenants allow, you can simply add the space onto your home with a bump out by knocking down an exterior wall and expanding onto your lot. You or your contractor will need to check with deed restrictions or zoning regulations in your neighborhood, to ensure your project will comply with rules for setback and lot coverage.
If you aren't able to expand your home's footprint as you like, you may need to consider repurposing another space or removing interior walls to join two smaller rooms. Many of Baumann's clients live in Manhattan and Long Island's high-rise apartment buildings, and bumping out isn't an option. "In Manhattan, you can't add square footage, so they buy the apartment next door and combine the two apartments by opening the space," she says.
It is possible to add a second story to your home to accommodate a primary bedroom suite, but you'll need to hire a contractor to determine if your foundation is strong enough and can handle the extra weight. That's what two of Baumann's clients chose to do; they had to reinforce the existing structure, then added a main suite by extending the plumbing and electrical to the new, upper floor.
"Adding another story to the house is going to be dependent on the original foundation," Miner says. "If it was not created with the potential for the additional weight of a second story, there will be added costs to increase the size of the rooter and the foundation wall. In this case, going out is much cheaper."
Projects that call for such extensive construction require the services of a professional contractor as well as a designer, according to our experts. A designer can help not only with color and fabric choices and furniture placement but also in connecting you with the right contractor or builder, Steil says. Word of mouth from other homeowners is also a good way to find a contractor, she says.
Baumann concurs. "When you hire a designer, you get the benefit of experience to avoid costly mistakes," she says. "If you're going to remove any wall, put in plumbing, you need to call a contractor. I can introduce you to a reputable contractor, and I know which ones specialize in bedrooms versus kitchens."
Now this is what we call beauty sleep. Be inspired by some of our favorite bedroom looks dreamed up by HGTV's design pros.