Traditional Elegant Main Bathroom
Designer Peter Salerno uses classic cabinetry, stunning architectural details and a creamy white color palette to transform this bathroom into the ultimate retreat.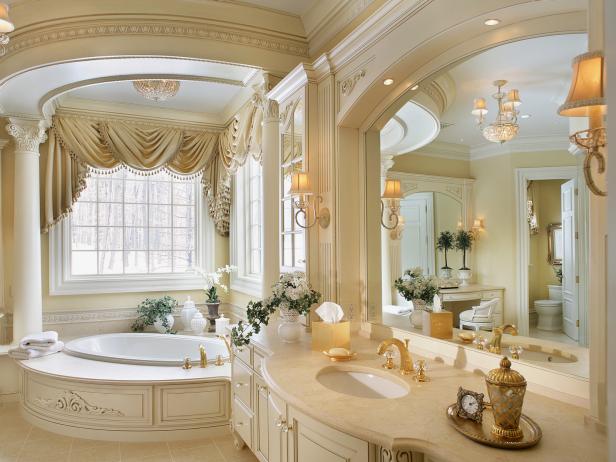 Ornate Cream and Gold Bathroom
This designer bathroom combines luxury, style and function. With features like an oversized soaking tub and makeup vanity, the master bathroom is a spa-like getaway.
Designer Peter Salerno combines luxury, style and function to create this elaborate bathroom for the lady of the house. With features like an oversized soaking tub and a makeup vanity, the bathroom is the homeowner's spa-like getaway.
Peter shares with us what the biggest design problems were and how he solved each one.
Describe the homeowner's wish list.
The objective of this main bathroom design was to create the homeowner's dream bathroom. She had pulled more than 50 photographs from national and international magazines depicting elements she loved. This grand main bath was to be dedicated solely to her. It had to be not only spectacular, but functional as well.
What were the homeowner's design problems?
There were three design challenges with this project. First, the entrance to the bath from the main bedroom was a little tight. Second, the room height was nearly 10 feet. A room that is too tall may cause the scale of the cabinetry to be distorted, especially in the bathroom. Third, the overhead light source in the main vanity might be too far away if placed in the ceiling.
How did you solve the design issues?
The design solution for the tight entrance was addressed by making the cabinet to the right of the sink shallower to allow better clearance. We created the same look to the left in order to balance the unit. The 10-foot ceiling was lowered over the corner tub with a soffit. The vanity and the makeup area were tiered below the soffit level to soften the overall feel of the space.
A shallow arched soffit over the mirror in the main vanity was created to house three low-voltage lights. This brought the light in front of the homeowner, giving an ideal light source. Wall sconces created extra side lighting and an element of elegance.
What are the "hidden gems"?
Removable doors are installed on the tub fascia for tub maintenance.