Maximum Value Big Ticket Upgrade Projects: Main Suite Addition
A main bedroom addition not only increases square footage and quality of living, but it also adds tremendous value at resale.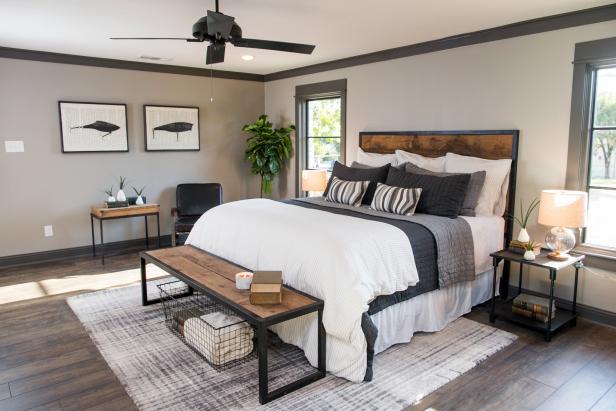 Masculine Master Bedroom with Framed Fishing Lure Prints
To create more space in the master bedroom, Chip and Joanna and Fixer Upper team removed a wall. They then added custom pieces of furniture, such as the headboard and bench, and dark accents create a sophisticated, masculine space. To complete the masculine design, Joanna hung two framed pictures of fishing lures, adding personality.
Main bedrooms with extra living space and amenities are one of the most desired trends in real estate, so even though this project might be a bigger ticket item, if done correctly, it can add serious value to the property.
Spa-like experience. Nothing takes the main bedroom to the main suite quite like a fabulous bathroom. High-end fixtures and amenities, such as radiant-heat flooring, steam shower and freestanding tub are just a few of the desirable wish-list items that up the ante on the typical bathroom's appeal.
Masterful closet space. In almost all modern main bedrooms, a walk-in closet is standard. Cramped, over-stuffed closets are a turn-off for potential homebuyers. If you don't already have one, design a walk-in closet or elongated closet into your main bedroom project.
When it comes to the main addition, bigger is not always better. According to appraisal expert, Leslie Sellers, president of the Appraisal Institute, the biggest mistake a homeowner can make is building out of proportion with the rest of the home.
"Even if the bedroom is decked out with all the best features and amenities, if the rest of the home is a smaller concept, the main addition is going to look out of whack and disproportionate," Sellers says. You'll add more value to your home if the addition looks like it's always been there.
On a Budget: If a primary addition is what you desire, but adding on extra square footage just isn't in the budget, consider turning a bonus space, often above the garage, into a more updated and spacious main bedroom. Transform the bonus room by adding architectural elements that make the space more functional. Bring in more light with a skylight or add shelving that mimics built-ins to aid in storage. With more room, a reading nook or office space can easily be accommodated. Being able to designate a larger space to the main bedroom can instantly boost home value.
Mid-Range: When trying to keep cost from becoming a hassle, look to local home improvement and building closeout stores that sell materials for a lot less than retail. Many times, these materials are 50 to 75 percent of what you would normally pay in your larger home improvement stores. Materials range from lighting to flooring, doors to cabinets, which can make a primary addition not only a worthy and attractive investment but can also save you the headache of continually crunching numbers or leaving out a much-wanted amenity.
High-End: The beauty of building out your own main addition is that it allows you the opportunity to develop your own custom plans. Turn your main addition into its own separate living space — a place to go to recharge and relax in privacy. With today's features and amenities, almost anything is possible. From a sitting area with a fireplace to an en-suite bathroom with a steam shower and radiant-floor heating, turn your main addition into a beautiful getaway without leaving your home.
Remodeling and organizing your closets can streamline your life and—when the time comes—the sale of your home.