Basement Remodel Honors the Past With a Midcentury-Modern Twist
Retired decorator Ruth Shacter breathes new life into the basement built by her late husband.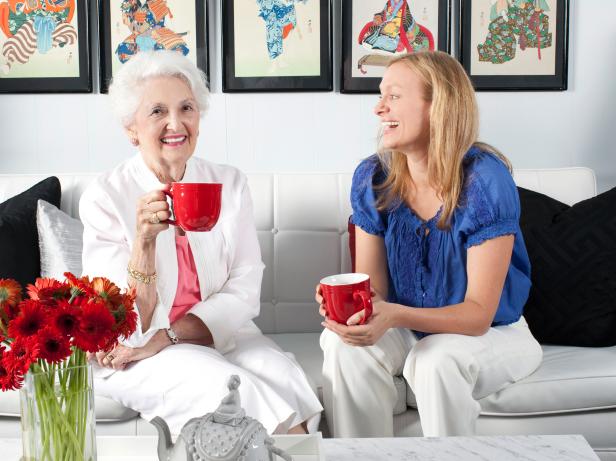 An Older Woman and Younger Woman Sit Together
How much money you'll spend to give your master bedroom a fresh look depends many factors, including the remodel's scope, where you live and unexpected problems that arise during construction. Costs for different types of projects vary widely, and the features you choose can be as expensive as your budget allows.
In 2010 retired Atlanta decorator Ruth Shacter decided she was tired of the industrial, cold and dark look of her 950-square-foot basement. The main house, a 2,000-square-foot midcentury-modern rancher, was custom-built by her late husband, Jack.
Since Jack's passing in 2005, the basement evolved into a place for Ruth to ride her exercise bike and store boxes. But when Ruth's granddaughter Ellen, a busy editor for film and television, started visiting between projects in New York and Los Angeles, Ruth began to rethink the proper use of the space.
Ready to give her temporary houseguests more space to relax and unwind, Ruth decided to have the basement updated as a guest retreat. Since Jack put so much effort into building the modern space, Ruth was excited to breathe new life into it with the same style they loved so much.
Basement Remodel Combines Asian and Midcentury-Modern Design
See All Photos
Through the remodel, Ruth wanted to honor the modern architecture of the basement's multipurpose room and private sleeping space while rejuvenating the all-brown space with color and Asian art and accents.
Of utmost importance was making sure certain decorative elements remained, including a pair of Regency-style twin beds she and Jack bought when the house was first built, as well as Jack's hardy oak desk.
"Jack loved that modern oak desk. He'd sit at it for hours reading books or balancing the checkbook," says Ruth. "Although I was up for having it refinished, I just couldn't part with it."
On the other hand, Ruth had a few modern elements she wanted to see in the newly revamped basement. "Jack and I always loved low-profile, white leather sofas with button tufts, and sleek chrome and marble coffee tables. Both exude that classic, architectural, tailored look which the 1960s were so known for," says Ruth. "I definitely wanted that element for the seating area."
I consulted with Ruth on the remodel, and after a quick meeting, we agreed on a timeline of two weeks and a budget of $18,000. The scope of the project included:
Sand, prime and paint wood paneling
Replace door casings and baseboards with 1 x 3 MDF
Add a junction box and pendant above desk
Lay FLOR tiles in a parquet pattern
Install new ceiling tiles
Re-frame stairwell and integrate a cocktail station and open storage
Add trim to existing bookshelf, and paint the back wall charcoal
Insulate the windows by installing thermal-lined woven wood blinds
Refinish Jack's desk
The main structural change to Ruth's basement was to re-work the stairwell wall by opening it, and integrating a cocktail serving station.
Topping the list was the installation of new baseboards and door casings, and the removal of the stained ceiling tiles. "I was so happy to see those nasty tiles go, I can't stress it enough," says Ruth. "Years of leaks and dust turned them from bright white to dingy beige."
Removing the tiles stirred up so much dust that Ruth stayed out of the basement for two days, and the contractor recommended having the wood paneling sanded directly after removal. Otherwise, the dust created from sanding would cover the new ceiling tiles.
Once the walls were sanded, the painter had a full day to prime and spray the walls and new ceiling tiles. A junction box was installed in the ceiling above the desk to electrify a linen drum pendant which Ellen found near a neighbor's trash pile. We customized the shade with a band of red and white Greek key trim.
To add even more midcentury flair, all of the doors were updated with 1 x 2 MDF trim applied as large rectangles, reminiscent of a Hollywood Regency look. "It was an additional $300 and only added an extra half day to the timeline," says Ruth. "The graphic look is stunning. It reminds me of something from a 1950s Hollywood movie set. I'm thrilled with it."
Another graphic element is the flooring. To keep installation costs low, our contractor installed 20 x 20 FLOR tiles directly to the concrete floors in a parquet pattern, using sticky tabs which adhere securely to each tile from below. Since the FLOR tiles don't require any padding or tack strips, installation took half a day.
Although the majority of the basement's projects went smoothly, there was one sticky situation. "The refinishing of Jack's oak desk didn't go so well at first — and I blame the Atlanta humidity for it," says Ruth.
Once sanded, primed and painted, the desk's finish wouldn't dry due to the harsh summer humidity. In order to cure the desk properly, three box fans ran for a week before anything could be placed on the glossy charcoal surface.
With the project complete, Ruth's visitors are getting great use out of the updated basement. The new sleeping area is ideal for Ruth's children, grandchildren and great-grandchildren. Plus, the well-lit desk area is perfect for Ellen to work on her latest projects, or for Ruth's son, Michael, to check emails. "It's like a boutique hotel in here," says Ruth. "I now refer to it as the terrace level instead of a basement."