Ladies' Sitting Room and Bath
Designer Jennifer Duneier discusses how she transformed a New York City sitting room and bathroom into a glamorous retreat.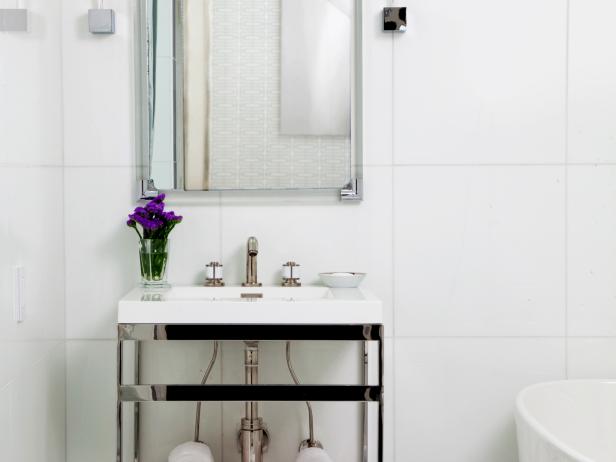 White Bathroom Vanity and Silver Mirror
A metal mirror is a sleek finish above this white bathroom vanity.
New York-based interior designer Jennifer Duneier specializes in creating luxurious residential and commercial spaces. Working with a budget of $35,000, she overhauled a dingy 1920s bathroom and dated adjacent room to create a glamorous ladies' sitting room and en suite bathroom.
We spoke with Duneier to see how she tackled challenges and incorporated her clients' goals into this remodel.
Describe the homeowners' wish list.
The bathroom was original to the house, which was built in 1926, and in desperate need of updating. They wanted the sitting room to be a restful place to retreat.
What were the homeowners' design problems?
Updating the plumbing and making the foot traffic in the room make sense. Due to the location of the entrance for the bathroom, it was very limiting as far as furniture layout.
What was your biggest obstacle in this space?
Technically speaking, the largest obstacle was the old plumbing and electrical. Everything had to be completely updated.
Aesthetically, the largest issue was where to place the furniture. I ended up designing a custom round settee that allows easy access to the bathroom but gives a comfy place for two people to cuddle up.
What lessons did you learn?
Never feel limited in what you can create and always push for something better. If there isn't a piece of furniture on the market that fits a room, then design one. I am now loving the process of custom designing as many pieces of furniture as I can on my projects. It really does make the difference between a cookie-cutter look and a truly designed space.
How does the end result match up with your original vision?
The end result was pretty close to my original vision; the seating layout, however, changed a bit just due to logistics. The room ended up being even more glamorous that I had hoped because of the mother-of-pearl buttons on the settee and mother-of-pearl tiles in the bathroom. It's always the little details that create the sparkle in a room.
What are the "hidden gems"?
The mother-of-pearl tiles in the bathroom and the buttons on the settee are fantastic. That little tie-in really made the two rooms feel as one.