Browse ideas for basement media rooms, and get ready to create a comfortable and stylish entertainment space in your finished basement.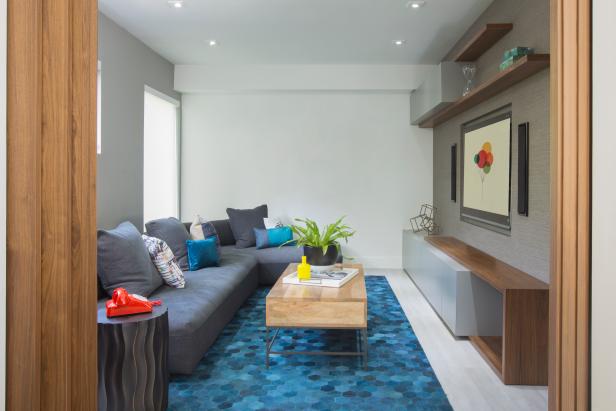 Contemporary Media Room With Blue Rug
Gather for movie nights in this chic media room where a large sectional has room for everyone and a bright blue rug adds colorful energy.
Basement media rooms are becoming more and more common these days because of their entertainment value, convenience and potential to increase the overall value of a home. If your home features a finished basement and you're considering installing a media room, the two might very well make a perfect pair.
Before settling on a basement media room design that's right for you and your family, you'll want to think about the configuration of this entertainment space. Light and sound are the two most important features of a media room—and you'll want to ensure that your basement media room's location affords you ultimate control over these two factors. Locating your media room in a finished basement likely gives you a distinct advantage, as basements tend to be the quietest, darkest places in the home. However, if your basement is a rare specimen that lets in a good deal of natural light, or if, say, the furnace or HVAC system is particularly loud, you may need to take steps to control the light and sound in the space. Firstly, consider the area of the basement that's farthest from the source of any light and sound as a location for your media room. Next, cancel out the intrusive elements as much as possible: black-out curtains or shades for windows are common in all types of media rooms, and soundproofing is something that can be achieved with in-wall materials, custom drywall or soundproofing curtains and carpets.
Once you've decided on the location for your basement media room and thought about "cocooning" the space for light and sound, it's time to start considering its technical, audio-visual (AV) and design requirements. First up, investigate the location's suitability for custom wiring—you'll want or even need it for lighting, video, audio and internet access. The first three categories are essential for any media room, and Internet access is recommended—many homeowners want the ability to stream video to TVs or projection screens, or connect for multiplayer gaming or web surfing in the media room. You'll also want to be able to hide the wiring for lighting and electronics in the basement's drywall, or in discreet tubing throughout the room; messy wiring is visually unappealing, and it can create an electrical hazard, too.
When the wiring is all set, you'll want to consider the audio-visual and electronic equipment for your basement media room. The choices here in terms of cost and complexity border on infinite, but one guiding factor you can often use to help you choose is the size of your basement media room. Square footage will go a long way towards determining things like the size of the TV or projection screen needed, the number or speakers required for your sound system, and the scope of the lighting system you'll need to create an ambient, cinematic experience.
Once you've exhausted your budget for AV and electronic equipment on a set of shiny new tech toys for your basement media room, it's time to think about the interior design. Again, the scope and layout of the space will be a consideration when it comes to the amount and type of furniture and accessories you'll choose. Larger basement media rooms sometimes resemble real movie theaters, with cinema-style stadium seating and large armchairs provided for each guest. On the other hand, homeowners with smaller media rooms may choose a more low-profile configuration of couches and chairs—more of a "family room" style.
Other Media Room Design Ideas
More Media Room Inspiration