What is Midcentury Modern Architecture, Really?
Extensive use of glass and open design concepts help this style forge a connection with nature. Learn all about midcentury modern architecture, then tour an exemplary home.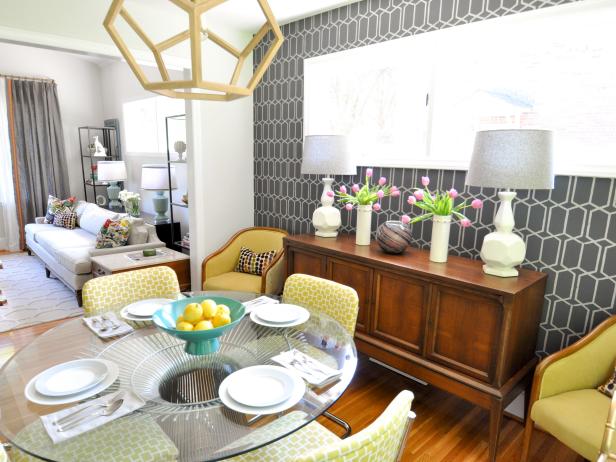 Vibrant Midcentury-Modern Dining Room
Designer Ashley DeLapp created this vibrant space with the whole family in mind. By pairing layered geometric patterns with vibrant pops of color, designer she was able to create the ideal midcentury-modern dining room setting. The round table is flanked by chairs decorated in a yellow geometric pattern, while the gray trellis wallpaper provides a striking contrast to the otherwise bright color choices. The room's credenza not only allows for storing extra items, but serves as a furniture accent piece. Geometric lamps decorate the top of the piece, along with beautiful floral arrangements.
If houses reflect the times they were designed, midcentury modern is the architecture of ideas, created by those who believed the forward-looking style could be a vehicle for social change to create a better society. Characterized by flat planes, large glass windows and open space, these homes -- built from 1945 to the 1980s -- featured simplicity and an integration with nature, encouraging residents to explore the world in new ways.
They were designed by a generation of modern architects who fled the rise of Nazi Germany, including Walter Gropius and Marcel Breuer, who then taught at the Harvard Graduate School of Design, and Ludwig Mies van der Rohe, who led the department of architecture at the Illinois Institute of Technology, and who later founded the Second School of Chicago.
With World War II came experimental technologies and materials like steel and plywood, which were leveraged for building after the war. John Entenza, publisher of the influential California Arts & Architecture magazine, started The Case Study House Program in 1945, creating prototypes for postwar housing that would become iconic.
"The birth of midcentury modern was after the war," says Sian Winship, president of the Southern California Chapter of the Society of Architectural Historians. "The houses had open floor plans and giant sliding-glass doors, which encouraged people to go outside and be healthy. In a traditional home, the window height is 4 to 5 feet, and you can't see out as a child. With these walls of glass, children became engaged and open-minded because the environment stimulated the senses in a different way."
She notes that architect Frank Lloyd Wright, who trained midcentury modern architects like Richard Neutra and Rudolph Schindler, was also a huge influence.
"It's nice to see midcentury modernism being appreciated now," she adds, "as we're entering a period where houses from the 1960s are becoming eligible to be on the National Register of Historic Places."
Flat planes. The geometric lines of the house are regular and rigorous. Flat roofs are common, though modern ranch-style houses had gable roofs.
Large windows. Sliding-glass doors and other expansive panes of glass allow light to enter rooms from multiple angles.
Changes in elevation. Small steps going up and down between rooms creates split-level spaces. A midcentury modern might have partial walls, or cabinets of varying heights to create different depths in the space.
Integration with nature. Rooms have multiple outdoor views, or multiple access points, encouraging an appreciation of healthy living.
The Philip Johnson Glass House. This New Canaan, Conn., house was designed in 1949 by architect Philip Johnson as his own residence, with interior space that's divided by low walnut cabinets and a brick cylinder that contains the bathroom. The house is governed by the National Trust for Historic Preservation and sits on a 47-acre estate overlooking a pond.
Neutra VDL Studio and Residence. Architect Richard Neutra originally designed a 1933 research house in Silver Lake, Calif., with a non-interest loan from Dutch philanthropist Dr. C.H. Van Der Leeuw, and named it the VDL Research House after his benefactor. After a fire destroyed the original structure, Neutra rebuilt in 1966, calling the updated abode VDL House II. Today, Sarah Lorenzen, assistant professor of architecture at Cal Poly Pomona, serves as resident director, caring for and promoting the house with tours and events, and raising funds for its ongoing maintenance.
Farnsworth House. Designed by Ludwig Mies van der Rohe, this 1951 house in Plano, Ill., is known for its transparency and simplicity. The calm landscape of the Fox River and surrounding trees, its minimalist expression, and a floating terrace make it one of the architect's most noted works.
Stahl House -- Case Study House 22. This 1960 house, made famous by Julius Shulman's classic photo of two well-dressed women enjoying cocktails in a glass house that seems to float above Los Angeles, was designed by Pierre Koenig and is located in the Hollywood Hills.
Practically Speaking: Hassles and Headaches
"The biggest enemy of a modern house is deferred maintenance," Winship says. "You have to keep up with it. The wood has to be clear-coated, painted or oiled. It will expand and contract from heat, and you get problems from that."
Materials like steel, aluminum and stucco need more attention, as industrial materials don't have a long lifespan. But since they're readily available, restorations are simpler.
"Midcentury moderns have terrible reputations as being houses that leak," Winship adds. "Flat roofs should be kept free of leaves and debris. And have a good window washer. If you don't wash them, they look terrible."
Watch: Tour a Midcentury Modern Home
We're sorry, there seems to be an issue playing this video. Please refresh the page or try again in a moment. If you continue to have issues, please contact us here.