High-End Bathroom Fixtures
Get all the info you'll need on high-end bathroom fixtures, and prepare to create a luxurious bath space in your home.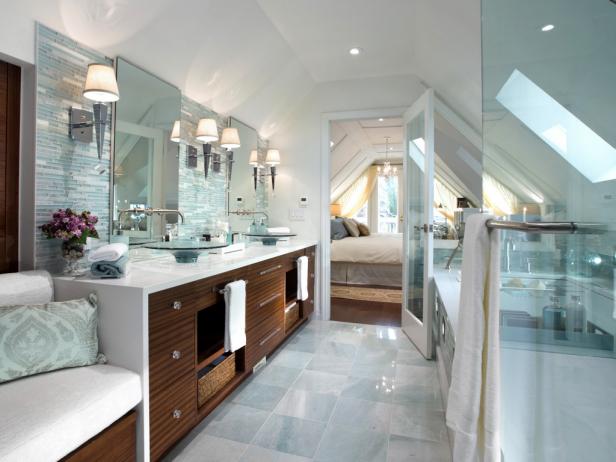 hdivd1413_attic-master-suite-after_s4x3
Glass mosaic shower tiles and marble floor tiles lend a watery theme to the bathroom completed in restful hues of blue and green. Modern sconces and recessed cans allow for ambient and task lighting, while a skylight illuminates the soaker tub and frameless shower enclosure. Mirror-mounted faucets add an ultra-contemporary finishing touch to the space.
High-end bathroom fixtures can add a luxurious and even artistic quality to the bath space in your home, extend the longevity of the design and add to the home's resale value.
Hollywood Hills Bathroom Packs Big Style Into a Small Space
See All Photos
The first consideration when it comes to high-end bathroom fixtures is the material used. Materials have the greatest effect on price, and high-end materials tend to be both more attractive and more durable than mid-range or budget priced options.
Solid brass is a particularly popular material for high-end bathroom fixtures. Boasting a luxurious appearance and sturdy, long-lasting construction, solid brass bathroom fixtures can be found in many high-end bathrooms in homes, as well as spas and hotels.
Solid brass isn't your only choice if you're looking for high-end bathroom fixtures. Oil-rubbed bronze or satin nickel are two materials that are common choices across the range of bathrooms, and there's no reason they can't be used in high-end spaces.
More Bathroom Fixture Ideas