Designing Bathroom Lighting
Learn how to put the right amount of light in the right place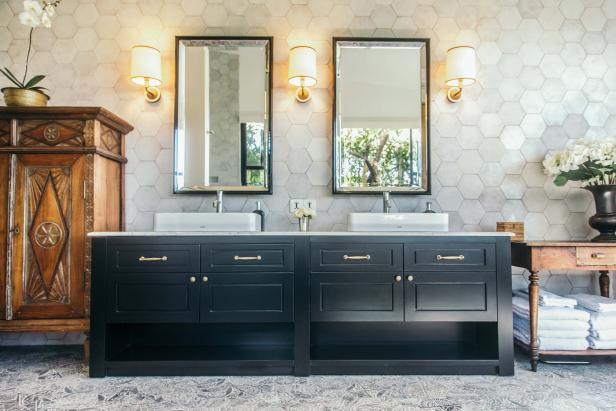 Double Vanity Bathroom With Black Vanity
With this bathroom's light gray tile wall, the black double vanity is a grounding visual centerpiece.
Even a tiny bathroom with proper lighting can make a big impact. And luxuriously large spaces that serve as spa retreats can impart an air of rest and relaxation by incorporating layers of light that illuminate "work" areas like the vanity and shower, and cast a glow on attractive features like artwork.
"Bathrooms are becoming these retreats—these sanctuaries," says Randall Whitehead, lighting designer/author and president of Randall Whitehead Lighting Solutions, San Francisco, Calif.
The lighting in a bathroom should reflect this mood, while providing the illumination necessary for one to take care of life's daily functions there.
For functional and visually pleasing lighting in a bathroom, work these strategies into your lighting plan:
Prevent vanity shadows. Remember when you were a kid and you could make a spooky face by shining a flashlight under your shin? That's exactly the effect you do not want when applying makeup, shaving or fixing your hair at the bathroom vanity. Unfortunately, many people light the vanity space with a single light mounted above the mirror that shines down over the sink. The result: a scary face with dark shadows under your eyes, nose and chin. "That ages you," Whitehead says simply. "It lights up your forehead and the rest of your face falls into shadow. And, the first thing in the morning, you do not want to look 10 years older!"
The best way to illuminate the vanity is to place two wall-mounted fixtures on either side of the mirror at eye level. This creates cross illumination. Whitehead recommends 100 watts of light per fixture in a master bath, and 40 watts per fixture in a powder room.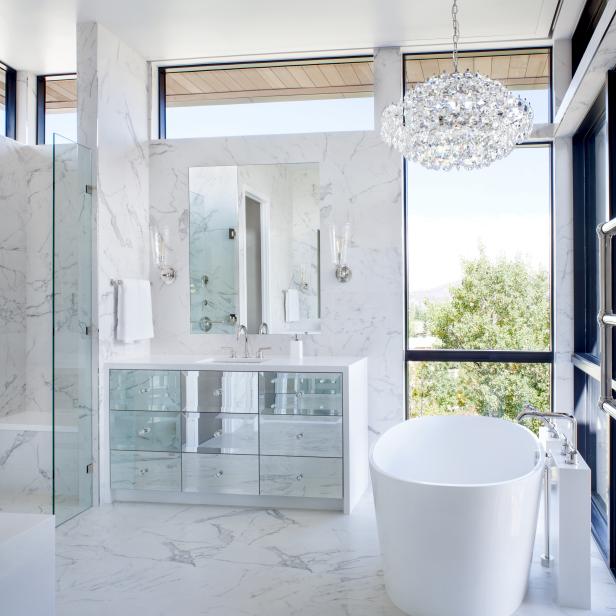 Soothing Master Bathroom With Soaking Tub
This soothing white master bathroom has it all: a sleek vanity, a crystal chandelier and even a large soaking tub. Marble floors only accentuate the dreamy design, while large windows provide a peek of the mountains.
Gibeon Photography; Suman Architects; Beck Building Company
Fancy up the tub. Accent lighting, such as a mini chandelier hung over the tub, will dress up the space and offer a warm glow. "It adds a lot of elegance," says Jeff Dross, director of education and industry trends for Kichler Lighting.
Light a footpath. Toekick lighting installed underneath base cabinets provides soft illumination at night. "This low-level light is hidden under countertops and cabinets and allows you to navigate the bathroom in the middle of the night without making your eyes tear," Dross says.
Jazz up a mirror. Backlight a mirror by wrapping lighting around the back side. The result is a halo effect around the mirror. "It's an easy way to light the bathroom without turning on general lighting," Dross says. Keep in mind, this backlight is not a replacement for functional task lighting at the vanity.
There's no such thing as a catch-all light fixture that does it all, but some fixtures will multi-task their lighting duties. In order to choose wisely, the first step is to understand the four layers of light.
Task. This lighting illuminates "work spaces," which in a bathroom space is the vanity. The best task lighting at the sink area is two fixtures that flank the mirror to provide cross illumination. With this arrangement, you'll prevent shadowing.
Accent. This highlighting adds depth and dimension to the environment. Highlight plants or artwork, and give the space an illuminating glow.
Decorative. This is the eye candy in a bath, or what Whitehead calls, "architectural bling." The purpose of decorative lighting is to add interest to a space. Examples include chandeliers and candlestick-type wall sconces.
Ambient. This gentle light fills the room and bounces off the ceiling. Tubs and showers need general light, and recessed fixtures with white opal diffusers are one solution. Wall sconces or cove lighting will direct light upward and outward, Whitehead explains.
No single layer of light can stand alone. If you only use ambient light, the people will look great because shadows are softened, but Whitehead calls the result a "cloudy day effect" because there is no depth or dimension. "There is no real visual interest," he says.
A room with just decorative lighting distracts the eye.
If you only incorporate accent lighting, you get a museum effect. "You light every object in the space but friends and family fall into the darkness," he relates. "You're telling people that what you own is more important than them."
Choosing Energy-Efficient Light Bulbs
When selecting energy efficient light bulbs, Jeff Dross, director of education and industry trends at Kichler Lighting, suggests looking for these three qualities in a bulb:
Color temperature. Look for a bulb that is 2700 to 3000 kelvin. "That is going to match the color temperature of incandescent lamping and it will blend well with the rest of your residential environment," he says.
CRI rating. Color rendering index (CRI) is important because it is how color is interpreted. In other words, a low CRI light looks more gray. "The higher the CRI, the better you will see the colors rendered," Dross explains. He recommends a CRI of 80 or higher.
Energy Star. This certification ensures that the light bulb went through longevity testing and has a minimum CRI of 80.
From heated floors to a bidet, consider adding these elements to your bath remodel