Contemporary Bathroom Vanities
Explore information on contemporary bathroom vanities, and get ready to add a modern-era element to your bath space.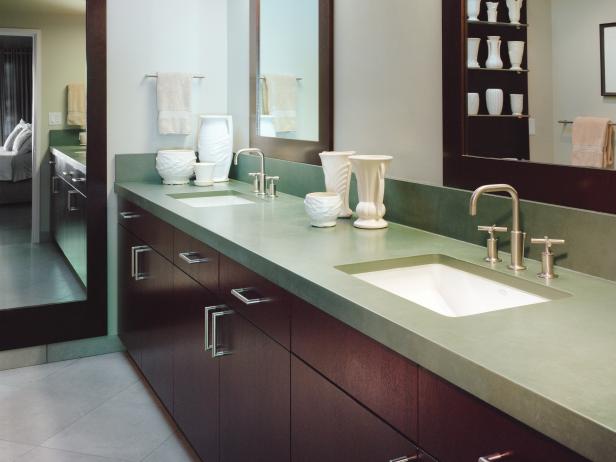 White Bathroom with Green Soapstone Countertop
Verde soapstone countertops, Palomino limestone floors and cream-colored sinks create a masculine spa-like setting that is both sophisticated and tranquil. Restored original light fixtures and updated functional vanities with dark wood stains bring a touch of fresh simplicity.
Contemporary bathroom vanities can add a stylish, up-to-date design to your bath space. In general, contemporary bathroom vanity designs feature clean lines and new materials, for a sleek, attractive and upscale look.
Contrary to their traditional counterparts, which may reflect a more historical or vintage style, contemporary bathroom vanities usually make use of current-era materials and building techniques, and they reflect a more modern style. Efficient, elegant, minimal design tends to appear commonly when it comes to contemporary bathroom vanities.
Contemporary bathroom vanities can appear in a wide range of bathroom styles, from smaller spaces where their minimalist design makes efficient use of space, to more open designs with a spa-like, soothing and spacious feel. The clean lines of contemporary bathroom vanities can often offer space-saving efficiency, especially when they feature cabinet and drawer systems for extra storage.
Many contemporary bathroom vanities feature a large mirror, or dual mirrors in the case of a double-sink vanity, as a focal point for their design. The mirrors tend to reflect the simple, elegant design familiar across contemporary furniture; in some cases, mirrors are used as an opportunity to escape the confines of a particular design aesthetic and incorporate fun, eclectic and artistic flourishes.
Other Bathroom Vanity Styles
More Bathroom Styles for Your Home