Pet Halloween Costume: Bumblebee
Easily craft a no-sew Halloween costume for your pet using craft store materials and a little creativity.
Rennai Hoefer, Ten22 Studio
yellow and black tulle
1/2" wide elastic (for waistband and shoulder straps)
1/4" wide black elastic (for antennae)
scissors
2 black pipe cleaners
2 black pom-poms
wire hanger
black hose or tights
tape measure
hot glue gun and glue sticks
pliers
black felt
electrical tape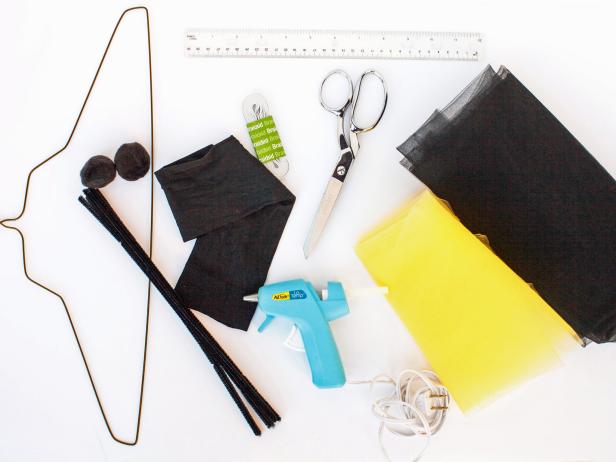 Bumblebee Pet Costume: Materials
- Yellow Tulle - Black Tulle - 1/2" wide Elastic - Scissors - Black Pipe Cleaners - Black Poms - Wire Hanger - Black Pantyhose
Rennai Hoefer, Ten22 Studio
Measure your dog's waist and cut the elastic 2" to 3" shorter (depending on the size of your dog) to ensure the finished tutu will stay put. Note: Don't worry if this measurement seems too short, the elastic will stretch some as the tulle is knotted onto it. Secure the waistband by hot-gluing (or hand-stitching) the ends together. Use a tape measure to determine how long you want the tutu, making sure that the completed skirt won't impede your pet's movement. Cut tulle into 3" strips that are twice this length. Match up the ends of the tulle strips so they are level making a loop in the center. Place the loop under the elastic waistband and pull the fabric's ends thru the loop creating a knot. Continue knotting tulle onto the waistband until you're happy with the tutu's fullness.
Use pliers to untwist the end of a wire hanger, then bend the wire into a wing shape. Wrap electrical tape around any rough wire ends then cover the wire wings with black hose or tights. Use hot glue to secure the ends of the material near the wing's center. Finally, hot-glue the wings onto a square of black felt (to further ensure no sharp metal wires come into contact with your pet's back) and attach a loop of elastic, long enough to wrap around your pet's front legs, to the underside of the felt with hot glue.
Cut a black felt rectangle that's approximately 1" x 3". Bend the pipe cleaners' ends about an inch and hot-glue this inch to the felt. On the opposite end, hot-glue a pom-pom onto the tip of each pipe cleaner. Measure, then cut, a long enough piece of black elastic to comfortably wrap around your pet's head. Attach the elastic to the underside of the black felt with hot glue.