Kid's Halloween Costume: Pretty Peacock
An easy-to-craft tulle tutu makes this no-sew costume a favorite among skirt-swirling little girls everywhere. Add a few fashion-forward peacock feathers for a Halloween costume they'll never want to take off.
tulle (in various shades of white, blue and green)
wide elastic
scissors
tape measure
peacock feathers
hot glue gun and glue sticks
headband in coordinating colors
leggings and leotard or T-shirt in peacock colors
measuring tape
needle and thread (optional)
Determine Tutu's Length and Begin Tying on Tulle
Measure the child's waist and subtract 4" so skirt will stay put when worn. Cut elastic to this measurement. Note: Don't worry if this measurement seems too small, the elastic tends to stretch a bit when knotting on tulle. Use hot glue (or needle and thread) to attach the ends of the elastic waistband together. Next, determine desired length of tutu and cut tulle into 3-inch-wide strips that are twice the length of the desired finished skirt. To attach tulle to the waistband, match up fabric ends, then make a loop in the center and slide loop under the elastic, pull the fabric's ends through the loop to create a knot.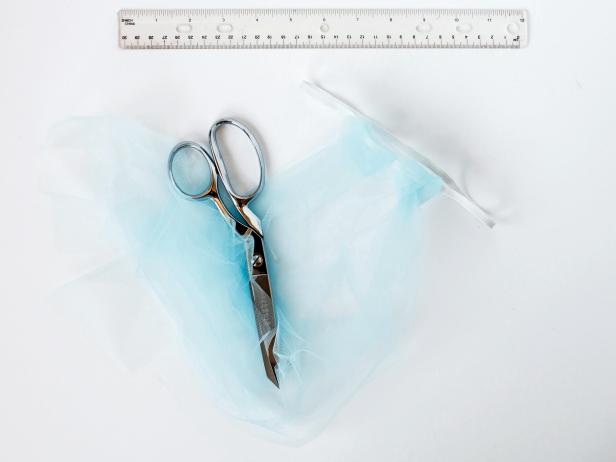 Peacock Costume: Step 1
First, measure the child's waist with a measuring tape. Subtract 4 inches from that measurement and trim elastic piece to that length. This gives some stretchiness to the tutu so it doesn't fall off the child. Use hot glue gun to attach ends of the elastic strip, with one end overlapping the other. Determine desired length of tutu. Cut the tulle into 3" strips that are twice the desired length. Next, take your tulle strips and match the ends up so they are level with each other and make a loop in the center and place this loop under the elastic. Pull the ends of the tutu up and over the elastic pulling it through the loop creating a knot.
Rennai Hoefer, Ten22 Studio
Continue knotting tulle onto the waistband, alternating fabric colors, until you're happy with the skirt's fullness. Finally, use hot glue to attach a spray of peacock feathers to the back of the skirt.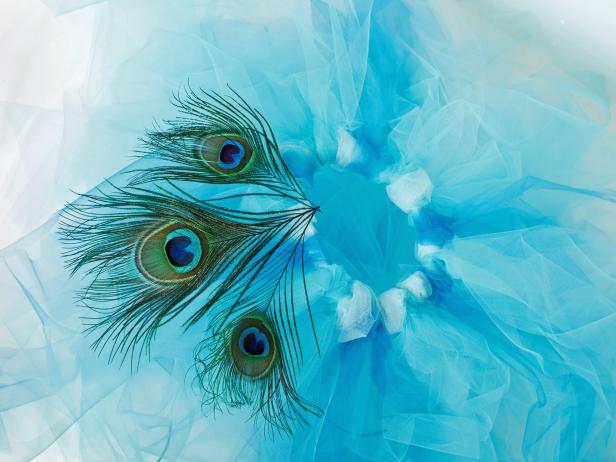 Peacock Costume: Step 2
Continue this all the way around the elastic using as much tulle to achieve the level of fullness you are looking for. Use hot glue to attach peacock feathers to the back of the tutu.
Rennai Hoefer, Ten22 Studio
Create a peacock hair accessory by attaching feathers to a headband with hot glue (Image 1). Dress your child in a blue T-shirt and leggings then have them step into the tutu. Add the embellished headband and your little beauty is ready to head out for a night of Halloween fun.