Outdoor Halloween Decoration: Flying Bat Wreath
Easily craft this sculptural Halloween wreath that resembles bats taking flight with craft foam, floral wire, fabric and yarn.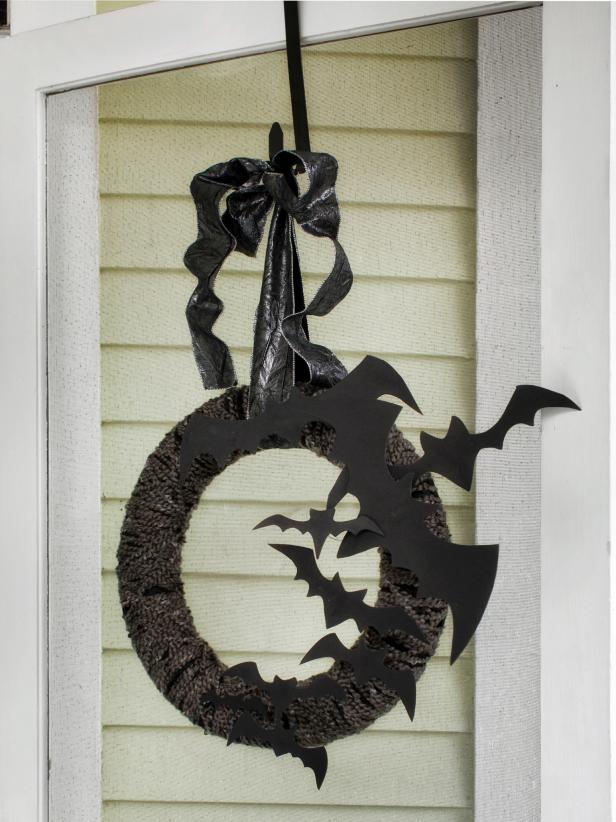 Hanging Halloween Bat Wreath on Front Door
Add a haunted feeling to your front door this Halloween with a bat-covered wreath made from craft foam, wire and yarn.
foam wreath form
dark gray or black yarn
floral wire
scissors
black pen or marker
hot glue gun and glue sticks
1 yard of black fabric
2-inch decorative ribbon
black craft foam
Cover Wreath Form With Fabric and Yarn
Wrap fabric around wreath form, ensuring the form is entirely covered (Image 1). Top fabric with two to three crisscrossed layers of yarn (Image 2).
Draw and Cut Out Bat Silhouette
Trace or freehand the silhouette of a bat onto craft foam with black pen or marker (Image 1) then cut out silhouette with scissors (Image 2). Repeat the process to make multiple bats in assorted sizes.
Cut Wire and Attach to Bat Silhouette
Cut floral wire into 10-inch lengths with scissors, one for each bat (Image 1). Attach floral wire directly to the back of each foam bat with hot glue (Image 2).
Attach Bats to Wreath and Adorn With Ribbon
Wrap the ends of the floral wire around the wreath until each bat is "flying" 1 to 2 inches above the wreath's surface (Image 1). Tip: To ensure the look is balanced, space bats 3 to 6 inches apart. Wrap ribbon around top of wreath (Image 2) and use it to hang finished wreath on your front door, over a mirror or in your home's entryway (Image 3).