How to Sweeten Up a Secretary Desk
The DIY experts at HGTV Magazine recreated this flea market find. Here's how you can, too.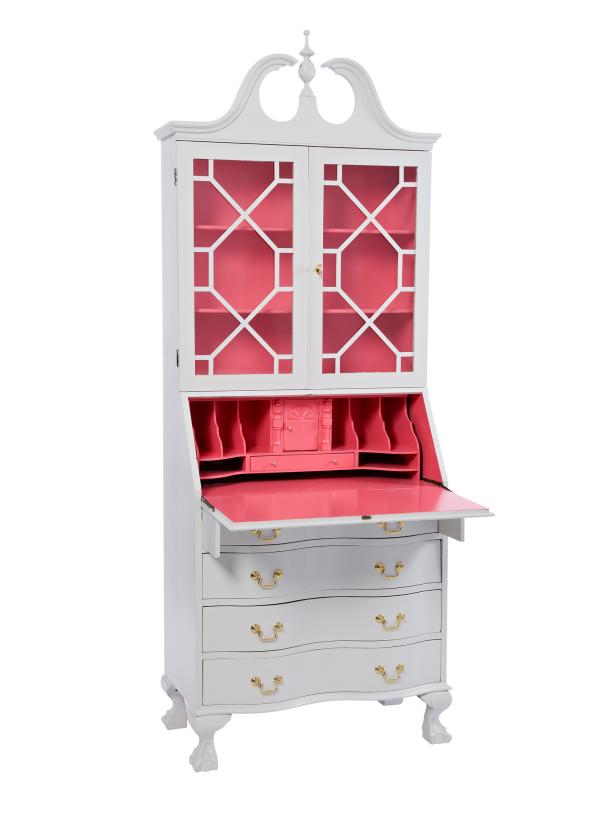 Large Pink and White Secretary
Try this DIY from HGTV Magazine's Flea Market Flip Blowout!
screwdriver
paint (two colors)
paintbrush
wood filler
painter's tape
white fretwork
crafts knife
spray mount
drill
hardware
Open the front panel to expose the desk. Remove any small drawers and unscrew their old hardware. Paint the small drawers, the desk area, and everything behind the glass doors one color. Let dry.
Unscrew the old hardware from the secretary's main drawers, then patch the holes with wood filler. Do the same with any hardware on the doors. Remove the main drawers.
Tape off the glass. Paint the main drawer fronts, the door fronts, and the secretary's frame a second color. Let dry, then peel off the tape.
Cut white fretwork panels with a crafts knife to fit on the glass. Adhere with spray mount.
Drill holes for the new hardware where needed, then screw it in. Replace all the drawers.