Dorm Life Realities Every Freshman Needs to Know
It's not parties and sleepovers every night.
Back-to-school excitement is palpable this time of year. Shopping for new room accessories, clothes and supplies was always my favorite part about starting a new semester. However, a cute new bag and duvet cover aren't the only things that come along with a new school year.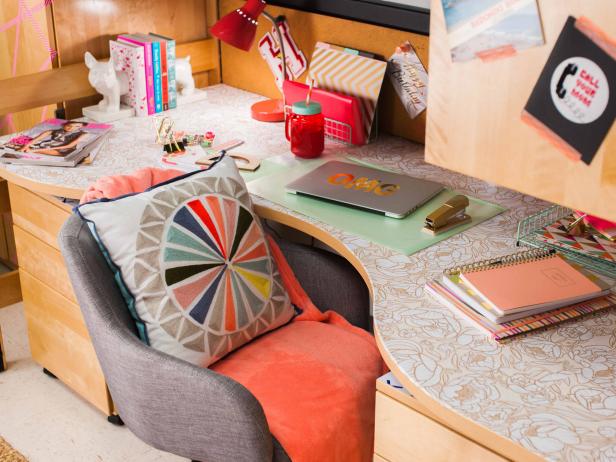 Dorm Room Takeover Desk Decoration With Salmon Throw Blanket, Wall Paper Desk Top and Colorful School Supplies
Gold and white floral removable wallpaper breathes instant life into this standard dorm room desk. The chair is dressed up with a plush throw blanket and multicolored accent pillow. Cute notebooks and school supplies add color and pattern making them useful and decorative.
Jennie Andrews Photography
Nerves and anticipation run high before heading off to college. The uncertainty surrounding dorm life frightens some while fascinating others. Is it a bad idea to live with a friend? How gross are the bathrooms, really? Does laundry day really stink (pun INTENDED!) as bad as everyone says?
As a recent grad, I feel it's my obligation to give freshmen some insider tips about dorm life — the good and the bad.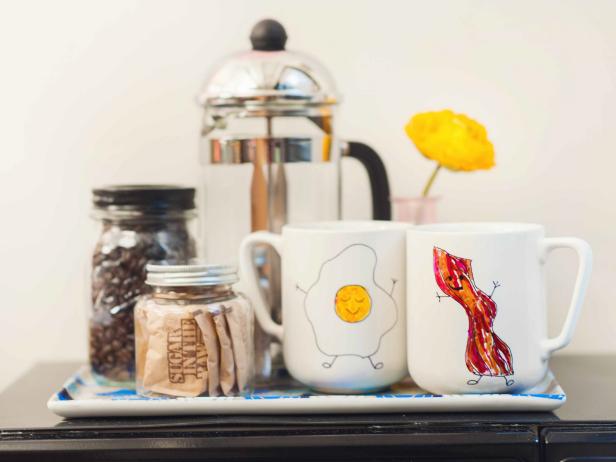 Cute Coffee Setup for Dorm Room Life With Bacon and Eggs Mugs and Glass Storage Jars
College and coffee go together like bacon and eggs. Dress up a pair of inexpensive mugs with a fun permanent marker design, and keep coffee-making essentials on hand. If your dorm rules don't allow hot plate-style coffee pots, bring a French press or pod-style coffee maker. Glass jars are the perfect storage containers for beans and sugar.
Jennie Andrews Photography
Expectation: Wake up 30 minutes before class on first day of school; expect to be seated in said class 10 minutes early.
Reality: You WILL get lost. Campus is big, likely bigger than your high school campus, which means it will take time to get your bearings. Also, the first few weeks of classes are hectic because EVERYONE is doing the same thing as you: navigating campus, fighting crowds and trying to be in class on time.
Solution: Take time before the first day of classes to walk around, with your schedule in hand, and get familiar with the buildings and classrooms you'll be (basically) living in for the next four months. Oh, and find the closest library, post office and ATM while you're at it.
Blue Patterned Pillowcase Hanging Clothes Hamper for Dorm Room Space Saving
Skip the store-bought hamper and save space with this hanging no-sew version made from a pillowcase and embroidery hoop. The simple construction gives you the freedom to choose colors and patterns that fit your color scheme and decorating theme.
Jennie Andrews Photography
Expectation: I can definitely handle my laundry. I don't even have that many clothes.
Reality: Your mom doesn't do your laundry. I know, this is a tough thing to hear, but better to accept it now. Doing your own laundry is kind of a rite of passage and will only get easier with time and practice.
Solution: To avoid the mass chaos that is Sunday Laundry Day in the communal laundry room, do a small load or two during the week when you'll have a better chance of snagging a machine all for yourself. Don't forget, Mom is always a phone call away if you need expert tips.
Expectation: Finally, I get to live with my best friend. It'll be like a sleepover every. single. night!
Reality: Choose your roommate wisely. Sure, it seems convenient and perfect that you and your BFF are attending the same college, but don't expect life together in a 200-square-foot room to be easy. Sharing a small space with another human will naturally cause some tension, whether it's a full-on fight or passive agressive remarks. Trust me, you don't really know someone until you live with them for a year.
Solution: If you absolutely must live with your bestie, set boundaries immediately. Actually, do this with your roommate regardless of whether you know them or not. Go over your schedules together. Discuss whether either of you will be joining a sorority or fraternity. Voice expectations about tidiness, late-night guests and sharing food, clothes and/or personal belongings.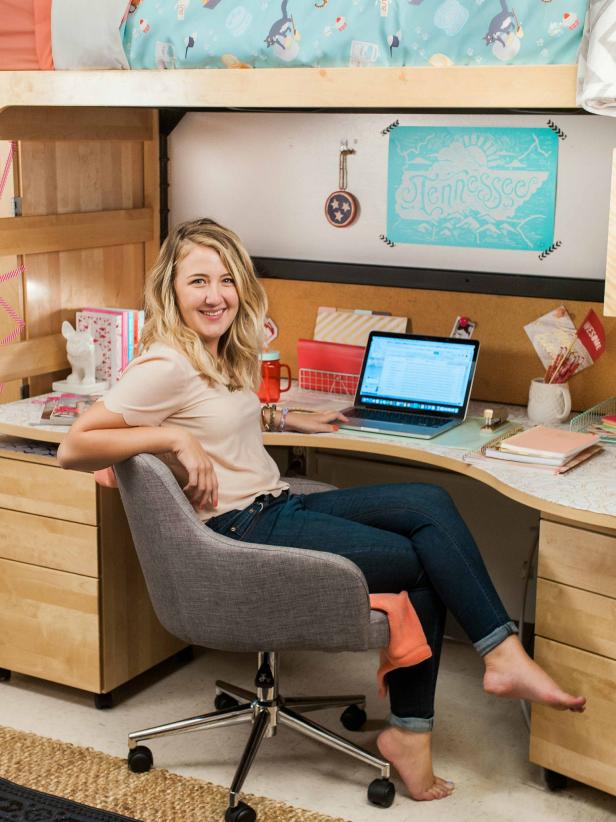 Dorm Room Desk Under Lofted Bed With Home State Wall Decor, Colorful School Supplies and Contemporary Gray Rolling Chair
A dorm room desk tucked under a lofted bed maximizes your available floor space. Wall space can be livened with posters or trinkets to represent your home state. Colorful school supplies are useful for working and also serve as cute decor on the desktop. An easily removable wallpaper over the desk top gives it an extra personal touch.
Jennie Andrews Photography
Expectation: Having a desk in my room is super convenient. I'm for sure doing my homework here every night.
Reality: Remember when I said find the nearest library? Yeah, that's where you'll be doing your homework. Most students convene at the library to study together, work on group projects and, quite honestly, to see and be seen.
Solution: Keep your desk neat (read: free of discarded clothes, empty pizza boxes, etc.). You'll be more inspired to sit down and write a paper if there is actually a clutter-free spot to do it. Or, if you prefer working in the library or coffee shop, make your desk serve another purpose. Lay a long cushion on top for extra seating or set up a TV station.
Expectation: The bathroom can't be THAT bad. Someone cleans it every week... right?
Reality: Oh, no, the bathroom is that bad. It doesn't matter who you live with, there isn't a dorm bathroom on this earth that's spotless. Most people in your dorm won't share your perception of "clean," either.
Solution: Flip-flops will save your life. Buy a cheap pair to wear in the shower and to the bathroom that you can toss at the end of the year. Clean up after yourself and hope that others will be inspired to do the same. Aside from that, all I can say is just accept dorm bathrooms for what they are.
Expectation: Living with a bunch of random people my own age will be awesome! There will always be something fun happening and someone to talk to.
Reality: True, someone in your dorm will always be down to hang out, but the novelty of this wanes. Sadly, you won't get along with everyone, and people are loud. Like, really loud. And messy. It's very possible you'll find yourself craving quiet, alone time.
Solution: Find a non-dorm sanctuary. It's so important to have a place to escape, especially when your roommate has people over or the neighbors are being too loud or you just need a break from dorm life. Stay with a friend in a different dorm. Go to the gym. Set up outside on a nice day. Walk around downtown, and explore the area outside of campus. Crash at a nearby family member's place, if this is an option.
— Always bring a robe or pair of shorts and a tee with you to the shower in case of a random fire drill. These drills happen more frequently than you would expect and at extremely inopportune hours. I remember at least three occasions when the fire alarm went off early in the morning, and we didn't re-enter the building for an hour.
— Be open-minded and flexible. College, especially dorm-living, presents many challenges. Take it one day at a time and remember, this situation is only temporary. You will have access to a private, pristine bathroom again.
— OK, cheesy tip alert: Have fun, but get work done. College is only one stage of your life. Immerse yourself in as many facets of it as possible, and take advantage of the many resources available to you. Let go enough to create memorable stories and experiences, but realize the need to study and work hard in order to live a fulfilling life long after the days of coffee-fuelled study sessions end.
— Choose neutral bedding! I can't emphasize this enough. Save your time and money by forgoeing trendy options for something more classic that you can update with fun pillows every year.