3 Ways to Upgrade a Plain Lampshade
We share three ways to give a plain lampshade a high-end look with a few simple materials.
We're sorry, there seems to be an issue playing this video. Please refresh the page or try again in a moment. If you continue to have issues, please contact us here.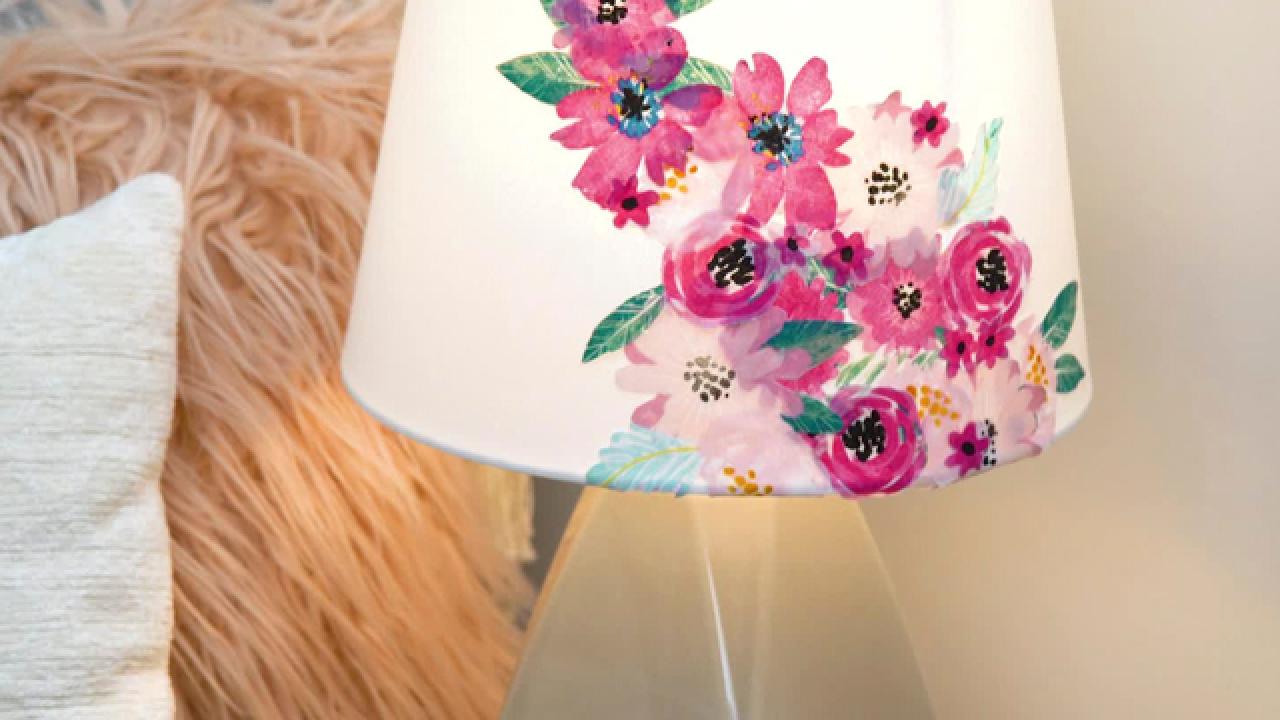 lampshade
plastic tarp or paper
(1) packet of dye (we chose denim blue)
large bucket or container
(1) gallon hot water
1/4 cup salt
stirring stick or wooden skewer
large paintbrush
blow dryer
Protect your work surface with plastic or paper. Add a gallon of hot water to a bucket or large container slightly larger than your lampshade. Saturate the entire lampshade with the water using a large paintbrush.
Pour a packet of dye into the hot water. Add 1/4 cup salt, and use a wooden skewer to stir the mixture until combined.
Hold the lampshade above the container, and use the paintbrush to brush the dye halfway up the shade (Image 1). Place the lampshade in the container so the bottom 1/4 of the lampshade sits in the dye water (Image 2). Let sit for 10 minutes. Remove, and blow dry to set the dye.
FABRIC APPLIQUE LAMPSHADE
Fabric Applique Materials:
lampshade
scrap of fabric (about 1/4 yard)
fabric scissors
fabric glue
Cut pieces of fabric carefully using fabric scissors. You want to get as close to the pattern as possible.
Dry fit the pieces until you get your desired look (Image 1). Then, dip each fabric piece into fabric glue, and attach to the lampshade one at a time (Images 2-5).
lampshade
yarn
sharp scissors
hot glue gun and sticks
measuring tape (if spacing out evenly)
Make pom-poms from yarn. To do this, wrap the yarn around the palm of your hand 100 times (Image 1). Slide the bundle off your hand, and tie the center of it tightly with another piece of yarn (Images 2 and 3). Cut the loops, and trim until you get desired look. Repeat for each pom-pom (Image 4).
Attach the pom-poms to the lampshade using hot glue. We spaced ours out evenly, but you can attach them in any pattern.