Dorm Room Decorating: Must-Know Tips From College Students
You may think a bland dorm room holds no decorating potential, but just wait. We have savvy design and storage tips to turn your new college digs into home sweet home.
It's not easy to look at typically bland dorm rooms and see the design potential; all you may see at first are cold cinderblock walls and concrete floors. But with some creativity and know-how, you can turn your college home into a cozy retreat.
Seek Storage in Unlikely Spots
"You have to be creative with your space," says Malik Walker of Raleigh, N.C., a fourth-year psychology major at Virginia's Hampton University.
Malik says freshmen should remember two words: storage and stacking.
Malik turns every hidden space into a storage area. He's managed to be compact and neat by putting his computer keyboard in a desk drawer, sliding emptied suitcases and roll-out storage bins under his bed and filling the floor of his closet.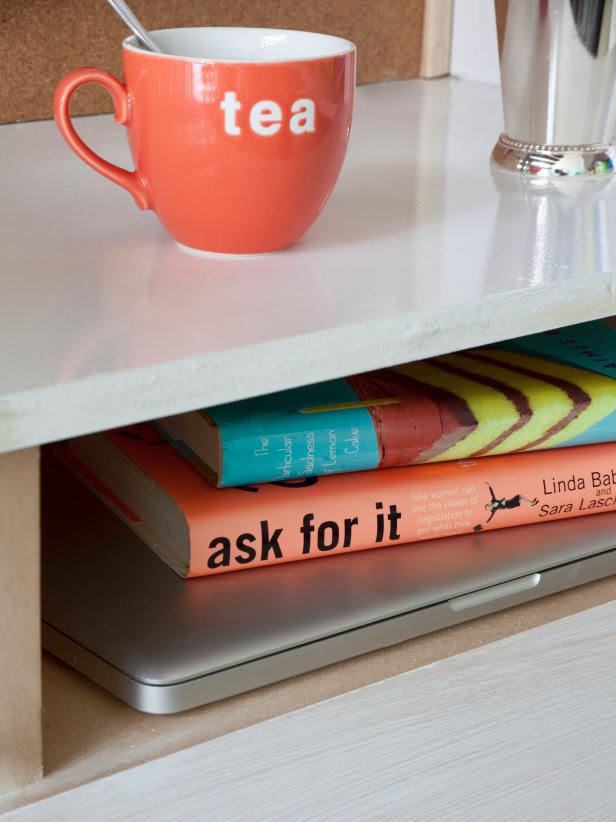 Concealed Workplace Storage
As an alternative to a basic desk for her personal workspace, Briana had a local contractor build a floating, three-sided box with a hinged door front. The piece works perfectly as a desk, gives the illusion of more space and also allows the area beneath the desk to remain unobstructed for chairs or stools. When her work is done, Briana can easily conceal her laptop and books behind her desk's hinged door.
North Carolina State University senior Katie Hendrix also didn't let cramped quarters cramp her style. "Anything that will go in a corner or a hole, stick it in there and push it to the back," says the Rose Hill, N.C., native.
In her dorm room, when horizontal wasn't enough, she looked up, stacking a microwave and television on colorful plastic milk crates and turning her bed into a loft so she could put a futon under it.
Sharing Your Space? Coordinate!
Katie, who now lives in an apartment, says during her two years on campus she bought utilitarian items such as curtains, comforters and carpets with a Hawaiian beach theme.
Themed rooms are a popular approach to making tiny dorm rooms lively. If you're going that route, seniors say it's a good idea to get your roommate involved.
Aria Coley of Raleigh, N.C., a senior at the University of North Carolina at Greensboro, said her room's celestial scenery — created during her sophomore year — shone because she and her roommate planned ahead. They decided to wait and buy their bedspreads together, each selecting a comforter with a moon-and-stars design. They bought other furniture items, including a decorated lamp, post-arrival so they could have an equal hand in picking them.
"The advice I would give is to make some calls now," she says. "Get on one accord and talk about things that would work for both of you."
But think things through before splitting the cost of an item with your roommate. Only one person can take it when it's time to leave.
Plan Ahead When Packing Up
Try to find out how much furnishing your assigned dorm room already has, so you'll know what you need to take. Some rooms have less shelving and built-in storage space than others.
If you haven't teamed up with your roommate and you're big on matching, buy things in simple solid colors to lessen the chance of clashing.
Students also suggest taking a light load when moving in. Things will accumulate during the course of the year, so be prepared to take back more than you brought.
Don't Forget These 12 Essentials
Upperclassmen have these recommendations for freshmen for items to take to their new dorm rooms. They also advise buying furniture for storage that is durable enough to withstand four years of moving. Most of these items can be found at big discount stores.
Big storage bins
Storage with pullout drawers
Hamper
Shoe rack that can hang in closet
Organizational material for desks (letter sorter, pen jar, etc.)
Small trash cans
TV wall mount
Bed risers (These sit under bedposts, lifting them high enough to create storage space underneath)
Something to hold dirty dishes until you're ready to wash them
One or more fans for rooms without air conditioning
Tote for toiletries
Throw pillows to jazz up your bed and futon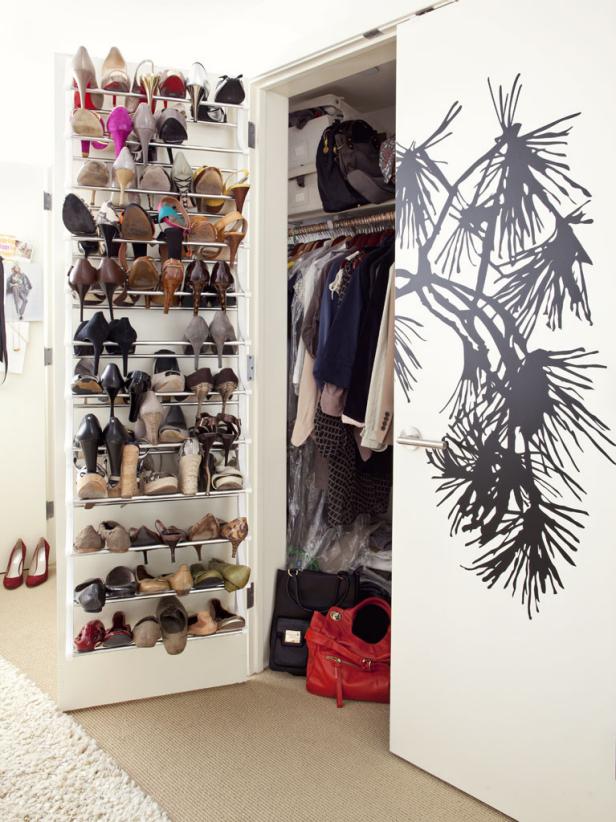 Closet Door Shoe Rack
The upstairs bedroom is the only area in the loft that has closets. In order to take full advantage of their interiors, Erin outfitted the backs of the doors with full-length shoe storage. This frees up precious closet space for sweaters and bags.