DIY Aromatherapy: How to Make a Reed Oil Diffuser
Learn to make a reed diffuser using essential oils and unexpected items like chopsticks, balsa wood and chair-caning supplies.
Making your own oil mix for a reed diffuser is shockingly simple (really – only as complex as you choose to make it). It's so easy that I'll admit, I'm a tad embarrassed that I spent at least a decade buying and rationing the pre-mixed scented oil product for the diffuser in my home. Make your own today using a few simple ingredients and materials.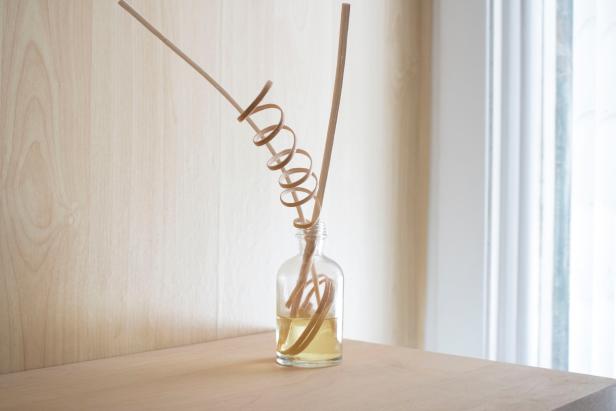 How to Make Your Own Diffuser Oil and Reeds
1/4 cup carrier oil (almond, safflower, or olive oil)
1 teaspoon rubbing alcohol
1 teaspoon essential oil (recommended blends below!)
mixing bowl
funnel
rattan chair caning (a decorative alternative to bamboo reeds)
glass container
Diffuser reeds are relatively easy to come by and inexpensive, but other materials in your home might work well at doing the same task. Unfinished balsa wood or uncoated chopsticks, for example, are things you might already have on hand. To make my homemade diffuser more decorative, I used chair caning supplies. Round caning reeds cut into 14" sections serve as alternatives for store-bought reeds, and flat splints used for building or repairing old woven chairs are ideal for coiling. The narrower any material, the easier it is for the oil to travel up the reed, and with narrower materials, you can also get crafty. Caning that measures 1/16" to 3/16" wide is very delicate and flat caning splints, so they can be manipulated into ringlet curls as an alternative to stick-straight reeds.
I soaked the wooden caning splints in water to soften and reduce the chance of breakage and then wrapped it tight around my finger like an old-school phone cord. While it was still malleable, I used a bag clip to pinch it in its coiled position and allowed it to sit unbothered for eight hours while the wood dried.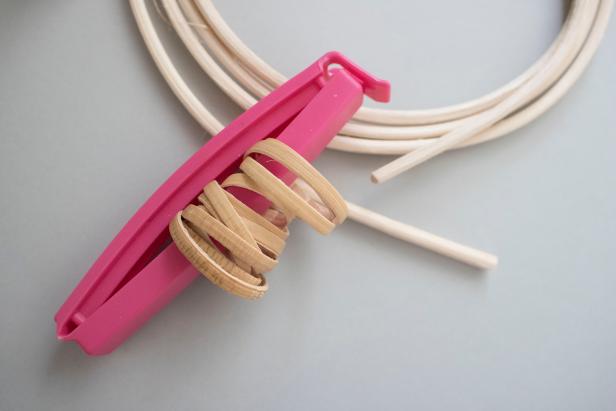 How to Make Your Own Diffuser Oil and Reeds
When the caning is dry, you'll be able to remove the clip and release the wooden coil. Give it a little stretch to expand the length of the spiral, and set it aside.
In a bowl, pour 1/4 cup of a carrier oil of your choice. The variety you select is up to you, but almond oil and safflower oil are popular choices. If you're trying this for the first time, opting for pure olive oil right from the kitchen is also a good option for this base.
To it, add a teaspoon of rubbing alcohol and a teaspoon of essential oil of your choice.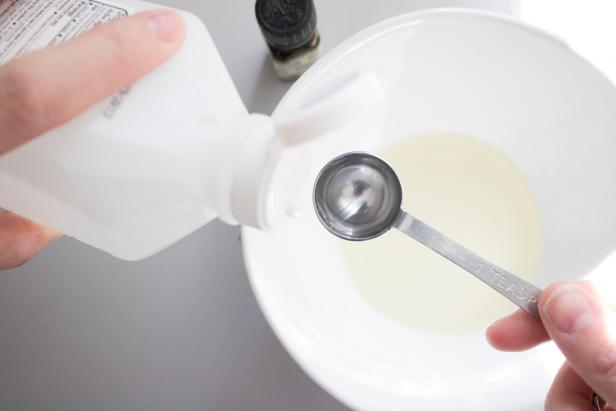 How to Make Your Own Diffuser Oil and Reeds
I used a sweet orange oil and I encourage you to experiment with your own oils, but other popular individual scents and combinations include:
evergreen
mint and orange
mint and rosemary
ginger and orange
frankincense and lavender
cedarwood and lavender
mint and lemongrass
How to Make Your Own Diffuser Oil and Reeds
Use the funnel to transfer the mixed oils and rubbing alcohol into a decorative glass container. Add your reeds to the bottle once the oil has settled. It's best if you use a container with a narrow opening to prevent the reeds from splaying apart (and more easily getting tipped over).
Place the container and reeds in a safe, out-of-reach spot, but in an area where movement and traffic will help to circulate the air and oil scents. The oil will travel up the reeds slowly, and within a few hours, it may be visible climbing out of the container. At any point, you can flip the saturated reeds so that the soaked end is exposed in the room to amplify the scent of the oil.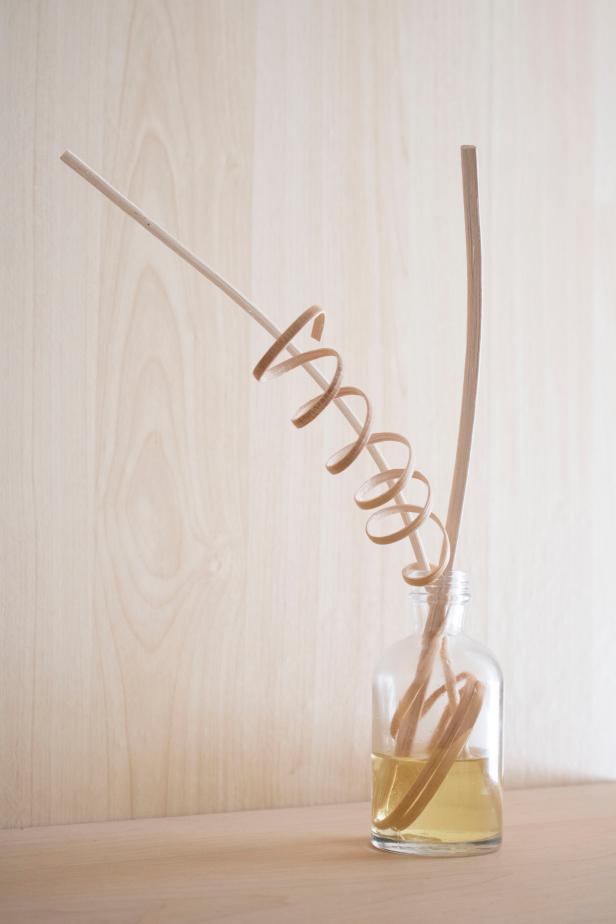 How to Make Your Own Diffuser Oil and Reeds