How to Make a Studded Grass Cloth Table
Update your entryway with this chic project from HGTV Magazine.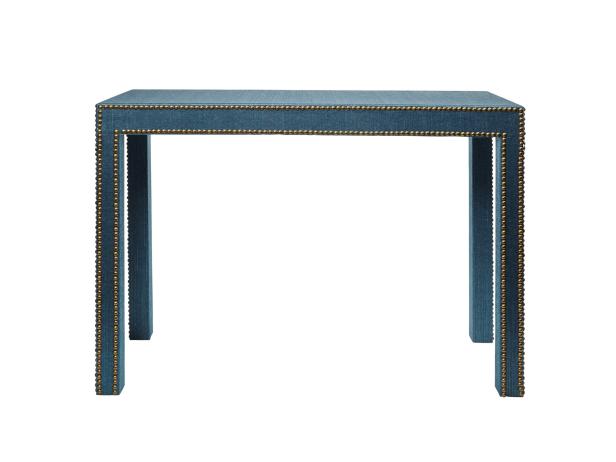 DIY Studded Grass Cloth Table
HGTV Magazine is sharing 7 DIY projects that will take your entryway from simple to stylish.
Marko Metzinger; Crafting by Thomas Eberharter
1. Cut a piece of grass cloth wallpaper to fit around each table leg, allowing for a ½-inch overlap. Make sure the grain of the grass cloth runs horizontally. Adhere using wallpaper paste.
2. Cut a piece of grass cloth wallpaper just large enough to cover the tabletop and the side edges. (To fit our table, we cut the wallpaper to 48 inches by 21½ inches.) Notch a 45° angle into each corner, as shown in the guide.
3. Using wallpaper paste, adhere the grass cloth wallpaper to the tabletop and the sides, folding the wallpaper along the dotted lines, according to the guide. Let dry.
4. Outline the front of the table with nailhead trim. Tap in the nailheads using an upholstery hammer with a nylon tip.