How to Make a Halloween Applique Pillow
This oh-so-cute felt pillow requires basic sewing skills and will bring a handmade touch to your Halloween decor.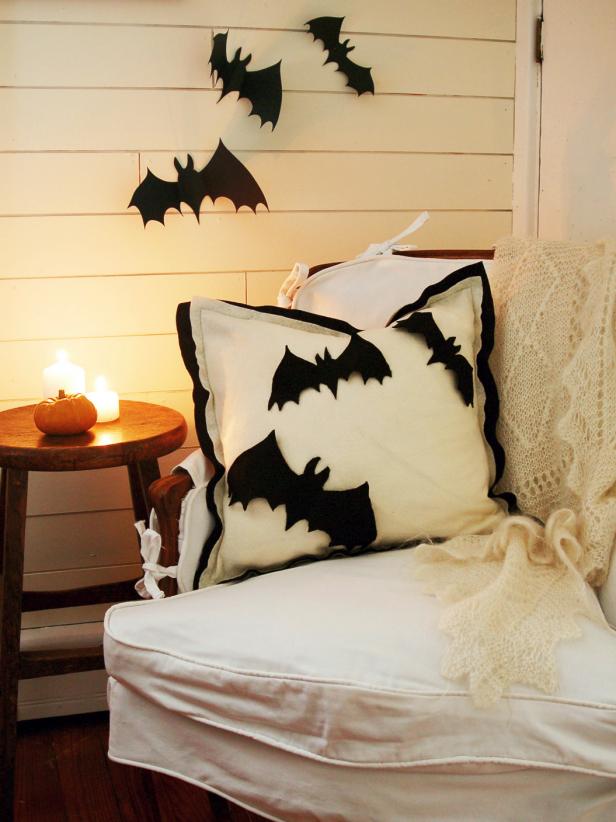 Halloween Applique Bat Pillows Decorate Porch
A porch is decorated with DIY Halloween applique bat pillows.
3/4 yard black felt
3/4 yard cream felt
pencil
yardstick or measuring tape
20" x 20" pillow form
computer
printer
printer paper
sharp scissors
fabric glue
embroidery needle
black embroidery floss
cream all-purpose thread
pins
sewing machine
Measure and mark two 21-inch square pieces of cream felt (Image 1). Cut out with sharp scissors (Image 2).
Print both bat templates in the materials list in 8" x 10" format on standard printer paper. Cut out all three bat shapes and pin them to black felt (Image 1). Cut around applique pieces with sharp scissors. Remove paper templates and pins (Image 2).
Apply fabric glue to body and wing tips of bats (Image 1). Press bat body glue-side-down in desired position on front piece of pillow (Image 2). Folding wing upward slightly, press glued tip onto pillow (Image 3). Repeat with other two applique pieces and allow glue to dry. Tip: Wings should appear to be flapping and will give pillow a 3-D effect (Image 4).
Stitch Applique Pieces (Optional)
Thread two strands of black embroidery floss on a needle and knot at the bottom. Stitch the bat body and wing tips to pillow — a simple running stitch is all that is needed.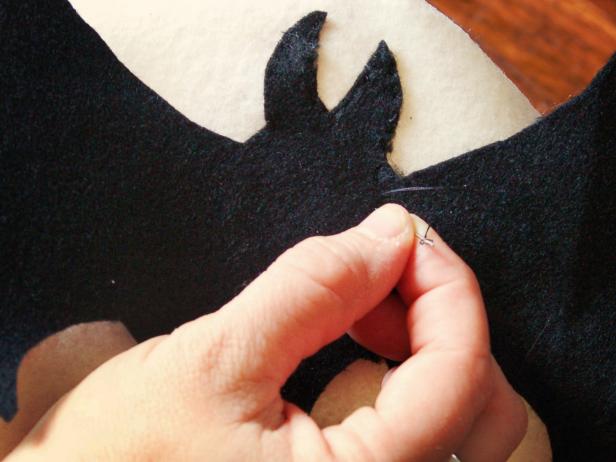 Sewing Felt Bats Onto Halloween Applique Pillow
Spooky bat designs are sewed onto a pillow for Halloween.
Cut piece of black felt that is a 22 inches square (Image 1). Sandwich black felt between both pieces of cream felt, right sides showing (Image 2). Center cream pieces of felt and pin into place to prevent shifting (Image 3).
Sew all four sides of pillow using cream thread and a sewing machine (Image 1). Place stitch line approximately 1/2 inch inside cream square to create layered flange around pillow (Image 2). Leave a 1/8-inch hole at the bottom to insert pillow form. Tip: To make a clean turn when sewing pillow corners, leave needle in lowered position and rotate fabric around the needle. This will prevent the corner from being rounded.
Carefully pull apart gap in pillow cover, and insert pillow form between the cream felt with bat applique pieces and the black felt piece. Pin opening closed, then sew shut with the machine. Trim threads to finish. Tip: To store pillow for the season, stuff tissue paper under bat wings to support their shape.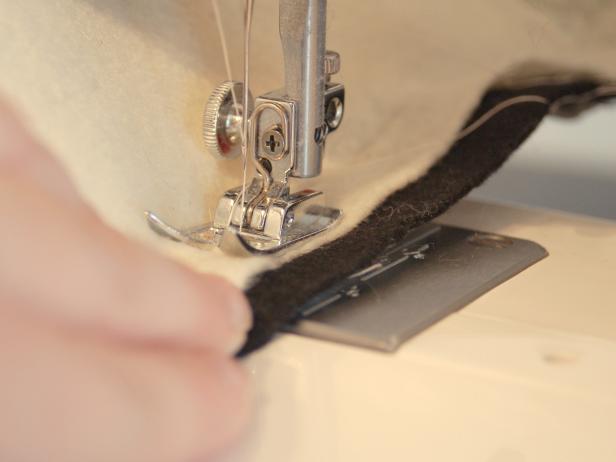 Sewing Halloween Applique Pillow Together
A sewing machine helps bring the halves of a Halloween applique pillow together.