How to Make a Princess Beatrice-Inspired Butterfly Fascinator
Want to go all-out-royal for your next event? Release your inner "monarch" with this DIY hair accessory.
We're sorry, there seems to be an issue playing this video. Please refresh the page or try again in a moment. If you continue to have issues, please contact us here.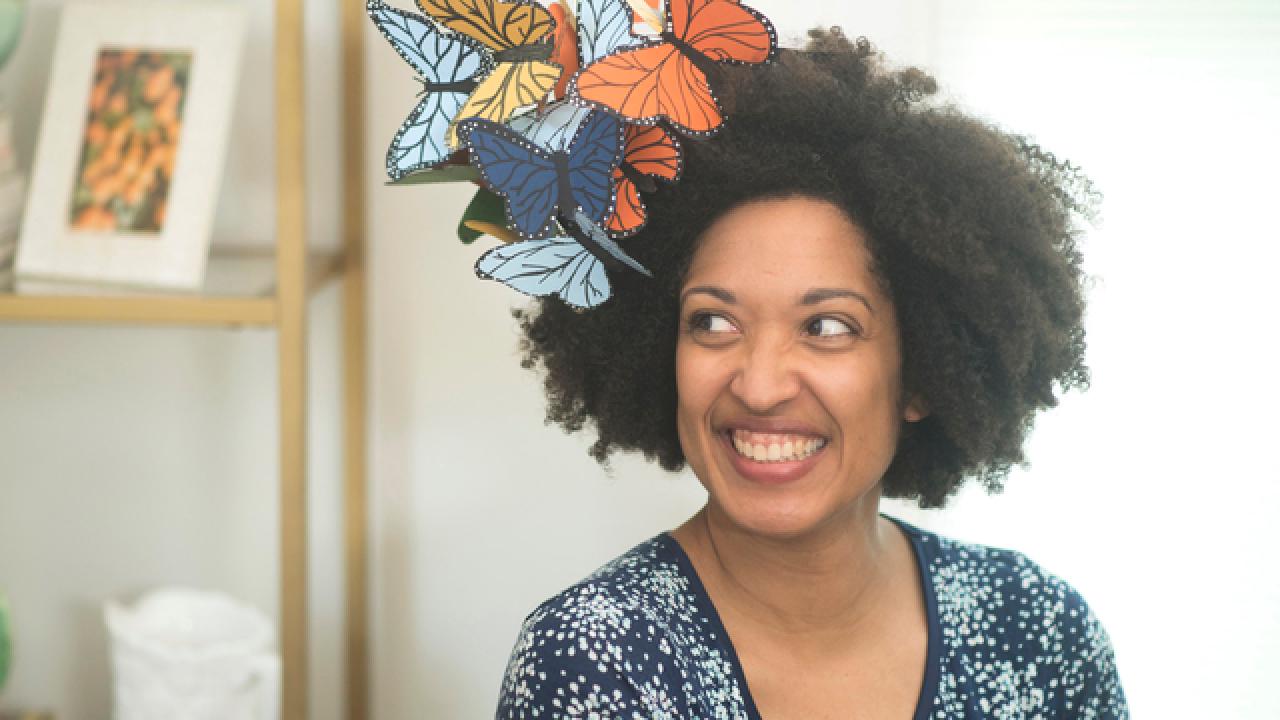 Known for her wild style, the Queen's granddaughter, Princess Beatrice, gave a not-so-subtle nod to the monarchy in this over-the-top Philip Treacy butterfly headpiece. Recreate her show-stopping designer look for your next party using cardstock, puffy paint and a few other basic craft supplies.
half foam sphere
metal hair clip
card stock in various colors
hot glue gun (low setting)
black felt sheet
pencil
black paint pen or permanent marker
white puffy paint
black spray paint
scissors
floral wire
The butterflies for this project can be made several different ways. You can use a paper punch, create a template and print off or use a stencil to trace and cut them out (this is what we did). Just make sure the butterflies are about 3-inches wide. You'll need about 20 butterflies or more to create a full look. We chose to stick to the colors in the inspiration photo, but feel free to make your fascinator all your own by mixing various shades of pastel, jewel tones, gray shades and more.
Use a black permanent marker or paint pen to color the body, outline the wings and draw ribbing on each butterfly. Squeeze drops of white puffy paint to recreate the pretty white spots around the edges of the wings. Let dry.
Most craft foam will require a foam sealer prior to being spray painted to keep it from disintegrating. Luckily, there are a few spray paints on the market that will work on foam — just make sure to read the label first. Hold can about 6 inches away from the dome and layer until thoroughly covered.
Depending on the type of foam and thickness of wire you use, a pilot hole may be needed to attach the floral wire. We used a small roofing nail to lightly punch pilot holes around the foam dome. Cut floral wire to various sizes ranging from medium length, to short, to long. Then, using a strong craft glue or hot glue on a low setting, add a dollop to the end of a piece of floral wire, press into one of the holes and hold until the glue dries. Repeat until all holes are filled and you have an even amount of wire sticking out from the foam.
Create a 90-degree bend at the end of each piece of floral wire. Gently fold each butterfly in half, angling wings in toward the detailed side. Place a dot of glue in the center of the back of the butterfly and attach to the bent part of the wire. Repeat until every piece of wire is paired with a butterfly.
Note: You can also attach the butterflies to the wire prior to inserting into the foam dome, like we did in the video above. This may make it easier to stagger and arrange butterflies until you achieve your desired look.
Attach a metal hair clip to a square of soft felt, then glue onto the bottom, flat side of the foam dome.
You'll be the hit of the party in this show-stopping fascinator fit for a princess.