How to Paint Bright Mismatched Chairs
The DIY experts at HGTV Magazine recreated this flea market find. Here's how you can, too.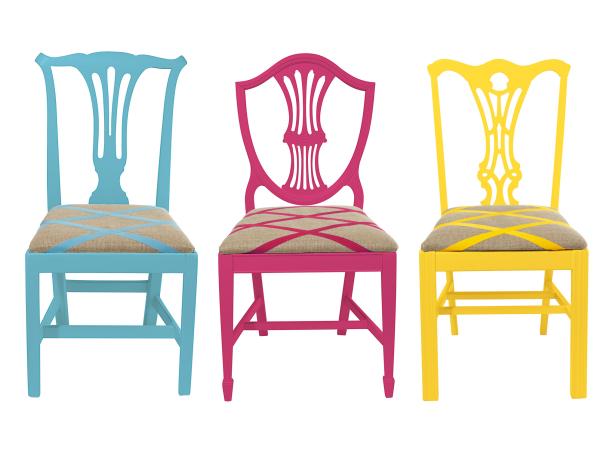 Colorful Chair Makeovers
These flea market flips were made over by HGTV Magazine.
Marko Metzinger, crafting by Thomas Eberharter and Madeline Jacobs, styling by Karin Olsen
paint (three colors used here)
burlap
grosgrain ribbon
paint brush
screw driver
scissors
masking tape
chalk pencil
iron-on adhesive
pins
iron
staple gun
Unscrew the seats, paint the chair frames, and let dry.
Cut a 28-inch-square piece of linen burlap for each seat. Use six pieces of 1-inch-wide masking tape to lay out a diamond design on each piece of burlap (you'll replace the tape with ribbon in the next step). Mark where you've put the tape with a chalk pencil (such as General's pastel chalk pencil, $7 for a set of 4, joann.com). Remove the tape.
Cut 7/8-inch-wide grosgrain ribbon into six 32-inch-long pieces. Cut 7/8-inch-wide Heat-n-Bond iron-on adhesive ($3, michaels.com) into six 32-inch-long pieces. Pin or staple the Heat-n-Bond to the back of each piece of ribbon at the ends.
Following the guidelines you made with the chalk pencil, iron the ribbons onto the burlap one at a time so they crisscross. Brush off any visible chalk pencil lines.
Place one piece of burlap over each seat so the diamonds are centered. Flip each seat upside down, and use a staple gun to staple the burlap to the underside of the seat. Reattach the seat to the chair.