How to Match Paint Colors
Whether you're trying to find paint to match an existing wall color or pull your inspiration color from an upholstered sofa, family heirloom or your favorite flower, here's how you can get that perfect color match in a can of paint.
Keep in mind: Price and stock could change after publish date, and we may make money from these affiliate links.
Color-matching paint seems simple. That is, until you walk into your local paint shop with a photo of a dreamy, creamy white kitchen design in tow, only to come face-to-face with no less than 200 shades of white. There are yellow-whites, blue-whites, pink-whites, purple-whites and green-whites aplenty. In fact, there are so many white paint options, with such vast, varied undertones that the white paint chips stop looking white altogether.
You spend upwards of 30 minutes pulling paint cards from the sea of white, then spend another 15 squinting between the inspiration photo on your smartphone and the paint chip pyramid before you. Eventually, you convince yourself that one of the paint chips is, for sure, the exact match and confidently order a gallon on the spot. You know, just so you don't have to come back for more later this weekend.
Victorious, you crack open your pail and coat the kitchen with your newly acquired, exact-match white paint. You're giddy with how perfect it looks in your space; you fall asleep content and eager to jump back into painting the following day. Only problem? The paint dried overnight. Surprise! It looks nothing like the creamy-white inspiration photo. Your kitchen is drenched in warm, south-facing sunlight that just so happens to accentuate the yellow undertones of your paint for a buttery, if not dingy, result.
And this, dear friend, is the moment when you realize that color matching paint is anything but simple.
The good news? We're here to save you and your wallet from having a butter-yellow kitchen fiasco of your own with help from Senior Color Designer for HGTV Home by Sherwin-Williams, Ashley Banbury. Keep reading to find Banbury's top methods and professional tips for how to match paint like a pro — plus our go-to tools to do so.
The lighting of a room plays a leading role in the game of color-matching your paint. According to Ashley, considering the direction, tone and level of light filtered in your space is crucial to ensure the best match. For example, north-facing rooms are washed in soft, diffused sunlight throughout the day and are generally the darkest rooms in a home. South-facing rooms are, by contrast, washed in bright, warm sunlight for most of the day. You can use the compass on your smartphone to assess the location of your room and use that intel to inform the undertones and brightness level necessary in your paint-matching journey. Ashley's tip? Slap some samples on the wall. She shares, "The color samples are influenced by space and lighting, so it's best to review the color samples from a store in your project area (room)."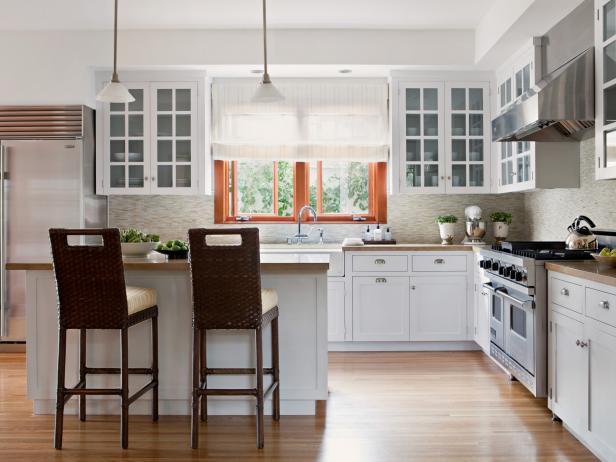 White Kitchen With Light, Airy Window Treatment
If you want to filter light and soften the look of your kitchen window – but don't want anything heavy or opaque, consider using a fabric with a loose weave, such as linen, for example. Here, designer Annette English complemented the otherwise pared-down look of the space with lightly textured material from Dan Marty Fabric.
You finally landed on the perfect shade match, but a word to the wise: do not rush to buy gallons of paint based on the matching tone alone. The sheen of your paint match makes a visual impact on the color once the paint is applied and dried. Gloss and semi-gloss paint reflect sunlight and appear lighter in tone; matte or eggshell paint absorbs light, resulting in a more vibrant or true-to-color finish. "Consider the sheen of your existing paint color and the color sample from the store," says Ashley. "When the existing paint color is glossier than your color sample, it's best to keep in mind that the wall color may look more vivid than the color sample from the store." Another factor to keep in mind when selecting paint sheen? Wall texture. Smooth surfaces will result in a more true-to-tone payoff while rough texture may diffuse the vibrancy once dry.
Take Advantage of Pro Tools
Did you know that the color reading tool mentioned above is also how pros perfectly match paint to hues found beyond paint pails? Yep. Color reading equipment reads the CMYK, RGB and HSV codes of your same to determine the values and achieve the best match every time. Ashley explains, "Most stores have color reading equipment that would help find a lighter or darker option of the color sample provided. The equipment can also read color values for non-paint samples like textiles." Other non-paint samples to consider include those hand-painted ceramic tiles you brought home from Europe, that gorgeous wallpaper sample collecting dust in your closet or the vibrant, vintage area rug you inherited from your grandmother. Take full advantage of that technology and head into the store with all your inspiration pieces in tow.
If you know the color name or number, don't be afraid to bring it into your local paint shop. Yes, even if referencing from a different brand — paint shops are a no-judgment zone! Scroll through your Pinterest boards and favorite interior designer Instagram accounts for their go-to paint hues, and make a note of each name or paint number you want to try out at home. Or, if you need a new batch of paint to match the existing wall color, the professionals can help you with that too. Ashley shares, "It's best to know the color name and number of the current project space (room), so the store can search for the right color to tint. If the information is not available, the store associate can use a color reader to review the color samples from the project space to tint the matching color at the store."
Or Invest in Your Own Color-Matching Tools
If you don't have time to head to your local paint shop, you can always invest in a color reading tool to use at home. There are several readers available to purchase on Amazon including the Nix Pro 2 Color Sensor and Nix Mini 2 Color Sensor Colorimeter. Although these models are pricey, a handheld color reader is a solid investment for anyone who tackles several home projects a year and spends a lot of time color-matching paints.
What if You Can't Bring a Sample Into the Store?
Paint matching apps and paint visualizers are both solid methods for finding the perfect shade for your space at home. The ColorSnap Visualizer phone and desktop app by Sherwin-Williams are tried-and-true. Be sure to check out Sherwin-Williams' ColorSnap Match device and corresponding smartphone app by the same name to find a flawless color match without leaving the comfort of your home.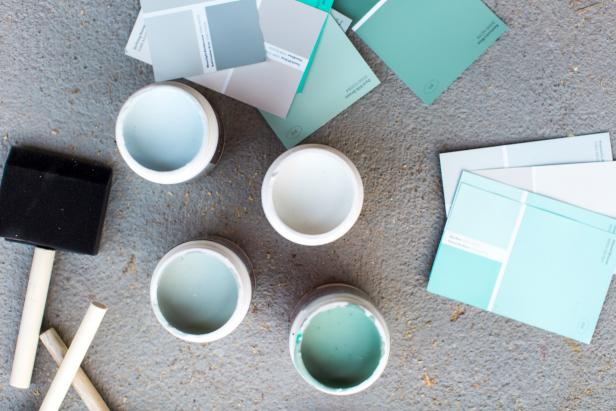 Take Sample Sizes
Take a sample size of any paint color being used in the same room to see how the paint color reads up against the tile, aiming for the colors to be almost exact but just slightly off to avoid a catalog feeling.
Flynnside Out Productions
Read that again, friend. Sample. Sample. Sample. Paint is a relatively low-budget way to transform your space, but it can become very costly, very quickly, when you purchase gallons upon gallons of the wrong shade. Save yourself (and your wallet) from that rookie mistake and bring home tons of color samples to try out at home. Coat your test wall with a layer of opaque primer before testing any potential hues to achieve the best results. And remember: the light and sheen of a paint influences its final color as well as the texture of the walls so, be sure to apply your sample in multiple coats and allow it to dry before heading to the store to stock up.
Check Out Our Favorite Paint Colors
From modern desert clay to sophisticated seafoam and everything in between, these top 20 colors will transform your kitchen.
Find out the best interior and exterior paint colors to sell your home in 2021.
Liven up your laundry routine with a splash of color.
Brighten, heighten and highlight your basement walls with these flattering paint colors.