DIY a Picture-Perfect DIY Vertical Herb Garden
You can't go wrong with fresh herbs. Keep your cooking kickin' and your counters flawlessly adorned with this simply delicious garden made with a picture frame.
We're sorry, there seems to be an issue playing this video. Please refresh the page or try again in a moment. If you continue to have issues, please contact us here.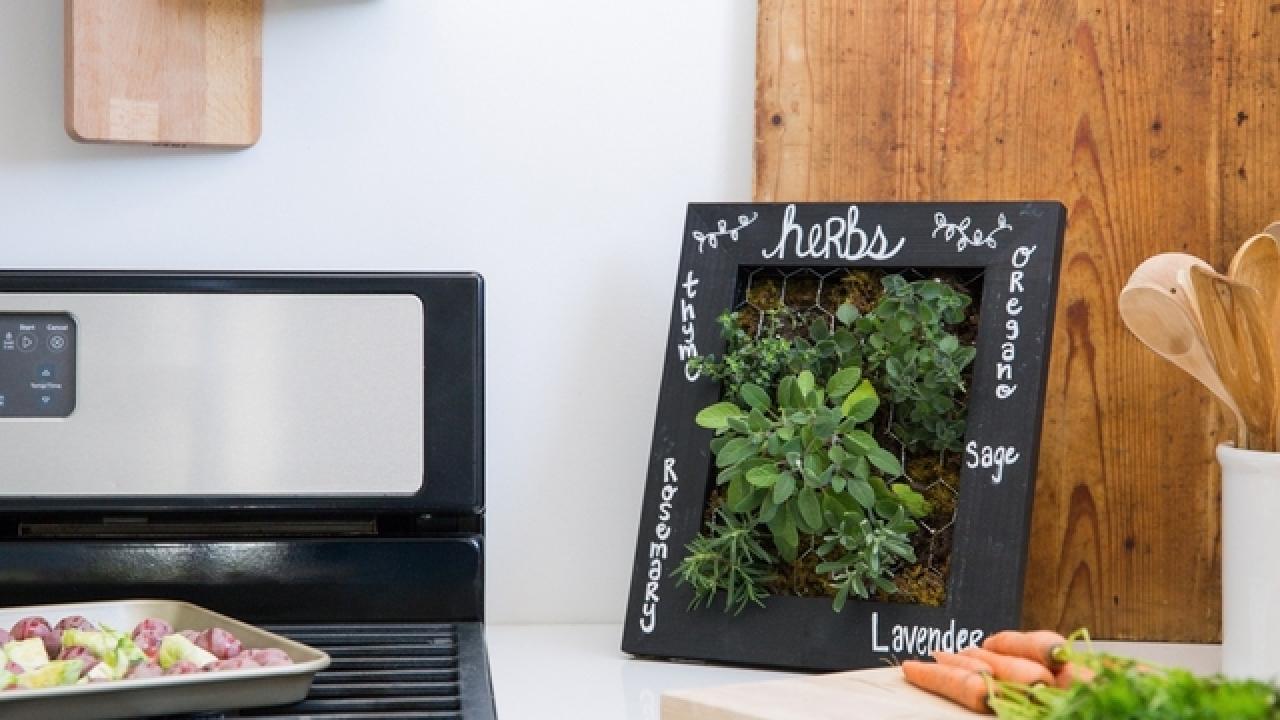 It can be argued that plants are a household's best accessory. They brighten your life, help you relax and make every meal something to savor. You truly can never have too many plants, especially when it comes to the kitchen-friendly additions. Create the perfect kitchen garden with this vertical herb garden made from a shadow box and picture frame. And a bonus, it's petite size is perfect for any countertop.
shadow box
wooden frame
chalk paint + brush
safety gloves
chicken wire
staple gun + staples
industrial strength adhesive
moss
soil
trowel
coco sheet
herbs
chalk marker
To begin the process of creating a vertical frame garden, remove the backing of a shadow box as well as the front glass piece. Next, prep a simple wooden frame by covering it in a layer of chalkboard paint. Cover the entire surface of the frame, and allow the paint to dry completely. You may also wish to cover the frame in a waterproof sealant.
Cut a piece of chicken wire to fit to the back of the frame. Attach with staples.
Line the edge of the shadow box with a tight bead of industrial strength adhesive. Working quickly, set the frame over the top of the shadow box, using the adhesive to secure the pieces tightly together. Add a book or to weigh it down, and let the adhesive dry overnight.
Now it is time to prep the box for the herbs. Flip the box over, and layer in moss until the chicken wire is covered entirely. Press the moss down into the box to pack it tightly together. The next step is to add potting soil. Pack the soil tightly against the mossy layer. Lastly, add a coco sheet, and secure the contents into the box by adding a second piece of chicken wire, stapling it to the shadow box frame.
Time to add the plants! Using wire cutters, snip the chicken wire around where the plants will be placed to allow enough space for the plants to breathe and grow. Fold back any cut wire and add the desire herbs. Enjoy your vertical garden even more by labeling the plants using a chalk marker.
To water, wait till the soil feels dry to the touch, and simply place under the sink for a light drizzle.