Create a Lighted Holiday Gift Box
Illuminate your holiday display with glowing presents.
12 narrow, squared sticks of desired length
transparent fabric or wrapping paper
string of lights
floral wire
wood glue sticks
nail gun
ribbon to make a bow
1. Glue the sticks together to create a box-shape frame. Secure it with a nail gun where needed.
2. Use a razor to scrape off excess glue that beads up between sticks.
3. Once box is complete, arrange string of lights inside the box and secure them with floral wire. Crisscross the lights across the middle of the box and attach them at the corners.
4. Wrap the box on all sides with fabric or wrapping paper. Chose something transparent so that the lights can shine through Trim the excess material with scissors.
5. Wrap the box in a festive bow.
Get Angelo's favorite ideas for getting ready and through the holiday season with limited stress and a whole lot of fun.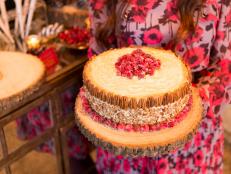 This decadent, cardamom-scented cake features a colorful surprise inside: cranberry-orange filling. A light-as-air maple frosting, sugared cranberries and a pecan garnish make this cake fit for a celebration.