Fresh Fall Decorating: Make a Ribbon Rose Wreath
Craft a cheery touch of fall for your front door with a moss-covered wreath form and autumnal ribbon roses. 
foam wreath form
2 bags chartreuse reindeer moss
hot glue gun and glue sticks
scissors
solid or ombre wired ribbon
coordinating patterned wired ribbon
silk fall leaves
acorns on branches (faux or real)
D-ring hanger (optional)
Prep Then Begin Applying Moss
Remove moss from bag and pick through it to remove any sticks, leaves or dirty bits. Working in small sections, add hot glue to the wreath form, then immediately cover with a clump of moss. Continue adding moss till the form's entire front and sides are covered. Tip: There's no need to cover the back area that will be against the door or wall when the wreath is hanging.
Cut approximately 2 feet of wired ribbon from the roll. Pull the wire free from one end, which will cause the ribbon's material to begin to gather. On the opposite end of the ribbon's same side, gather the ribbon while pulling on the wire. Continue pulling the wire from both ends till the ribbon's fabric is evenly gathered in the center of the cut strip, which will create a spiraling shape. Tip: I used ombre ribbon and gathered the darker end so the lightest color was at the rose's edge.
Holding one end of the gathered ribbon, fold in the raw edge to form the flower's center (Image 1), then begin wrapping the gathered ribbon around itself in the spiral shape of a rose (Image 2). Wrap it tightly for the rose's center, then wrap more loosely on the outside. When you reach the end, flip the rose over and twist the two wire ends together to secure it (Image 3).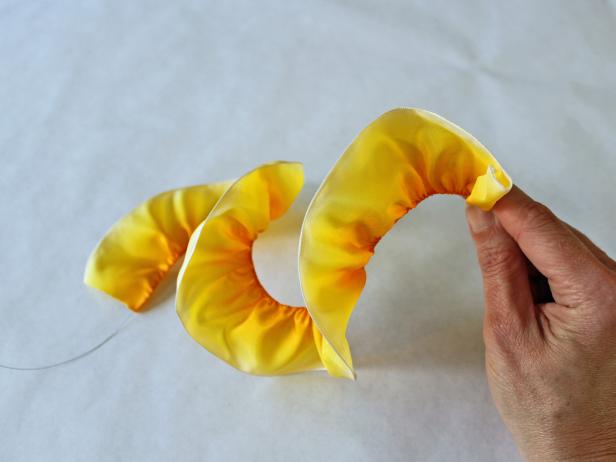 H. Camille Smith, Camille Smith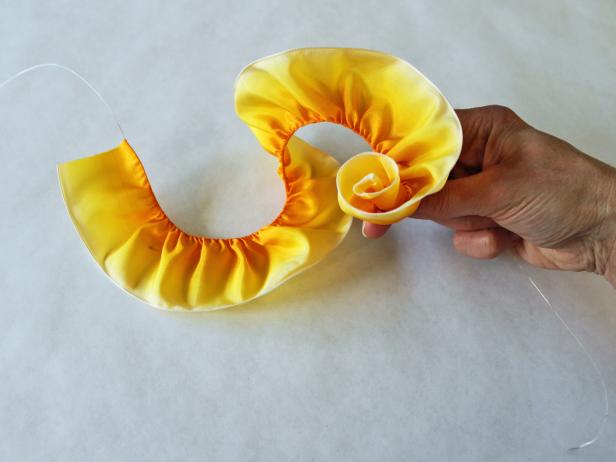 H. Camille Smith, Camille Smith
H. Camille Smith, Camille Smith
Add Silk Leaves and Acorns
Using hot glue, attach leaves and acorns to what will be the bottom of the wreath, leaving a blank space in the center where the roses will be added in the next step (Images 1 and 2).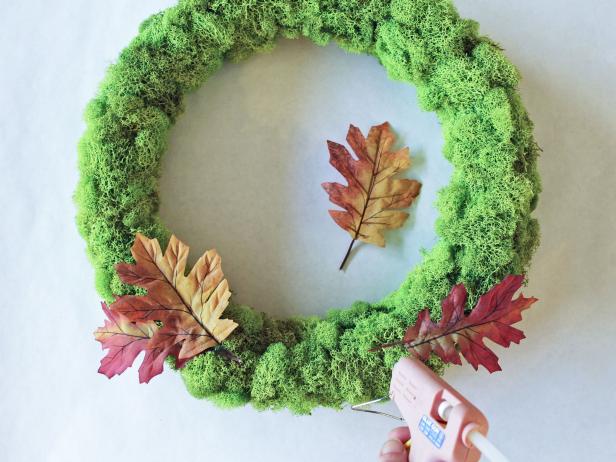 H. Camille Smith, Camille Smith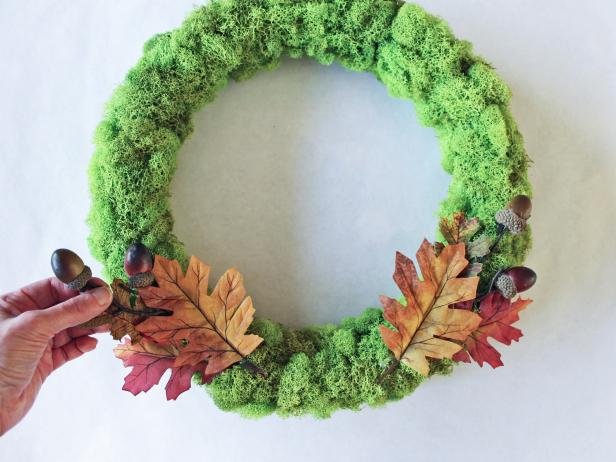 H. Camille Smith, Camille Smith
Leaving just a small amount of the twisted wire stem, cut off the remainder. Add a large amount of hot glue to the wreath form then attach the central patterned rose, followed by the two surrounding solid roses.
Finally, shape a bit of leftover wire from the roses' wire stems into a loop and attach to the upper backside of the wreath to function as a hanger or, alternately, attach a D-ring hanger to the same location. Hang your finished wreath on an interior or exterior door or wall to add a cheery fall touch that will look great for many autumns to come.