How to Make a Christmas Moss Wreath
Bring unexpected shape and organic texture to your outdoor entryway during the holidays with a square moss wreath embellished with faux cranberries and ribbon.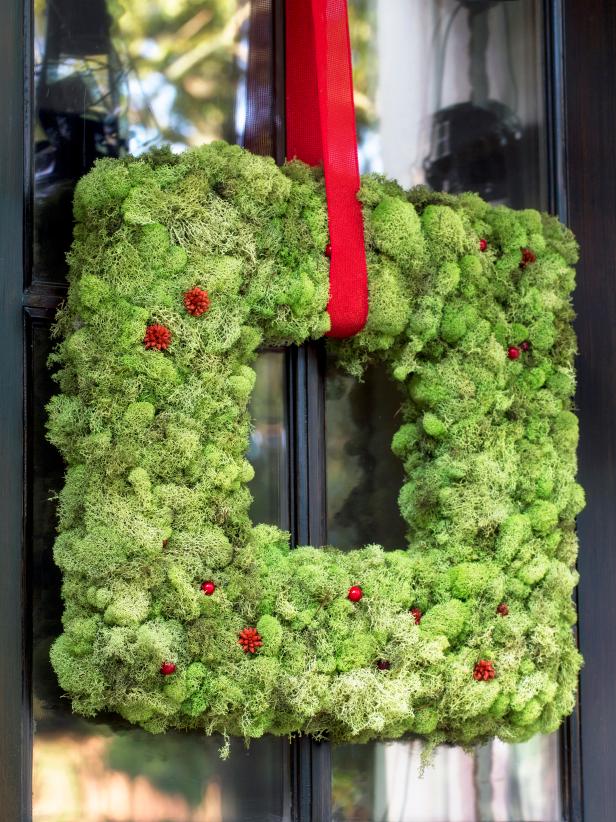 Holiday Square Moss Wreath
Instead of the basic round wreath, try a square version this holiday season. Add organic texture and bold green flair to the wreath form by covering it with moss. Punch up the contrast with faux cranberries or small glass ornaments.
square foam wreath form
hot glue gun
hot glue
extension cord
moss
faux cranberries
ribbon
Piece Moss Onto Wreath Form
Place small pieces of moss directly onto the wreath form, then secure with hot glue.
To ensure the entire wreath is covered by moss, work on one section at a time, securing each piece of moss with hot glue. Tip: To ensure all sections blend together seamlessly with no foam showing, push each cluster of moss tightly up against the next.
Cover each corner by wrapping the tip, top and both sides.
Add color to your wreath with ornamentation. Faux cranberries work well since they adhere easily with hot glue, and they add a nice glossy finish which contrasts well against the dullness of the moss.
Make your moss wreath easy to hang by attaching ribbon around the top.