Easily Give an Old Lampshade a Trendy New Look
Vintage drum-style lampshades can be found for a steal at estate and garage sales but they typically show some signs of their age. In less than 30 minutes, give this old shade a trendy new lease on life with just a bit of upholstery trim and glue. 
drum-style lampshade
flat upholstery tape trim (enough to wrap around shade with a bit of overage)
clear, fast-dry fabric glue
scissors
chip brush
disposable container for glue
Cut + Start Applying Trim
Wrap trim around the bottom of the shade to determine how much you'll need, add about an inch to this measurement and cut. Note: For my 12" shade, I used 1-1/4 yards. Pour a small amount of glue into a disposible container (like a plastic bowl or even just a bit of aluminum foil). Starting at the shade's seam, and working in small sections, brush a consistently thick layer of fabric glue onto the area of the shade that will be covered by trim, then press the trim into place to secure it.
Continue working your way around the shade, applying a small amount of glue, then pressing the trim in place. Tip: Because most drum shades have at least a bit of taper, pull the trim taught as you apply it to eliminate any puckering at the top.
When you reach the lampshade's seam, turn about 1/4" of the trim under, gluing it in place — fabric to fabric, then fabric to shade — to create a clean, flat seam (Image 1). Tip: Cut off any excess if you have too much trim left to neatly turn under. Add your new-and-improved vintage shade to an equally chic vintage lamp and admire your crafty handiwork (Image 2).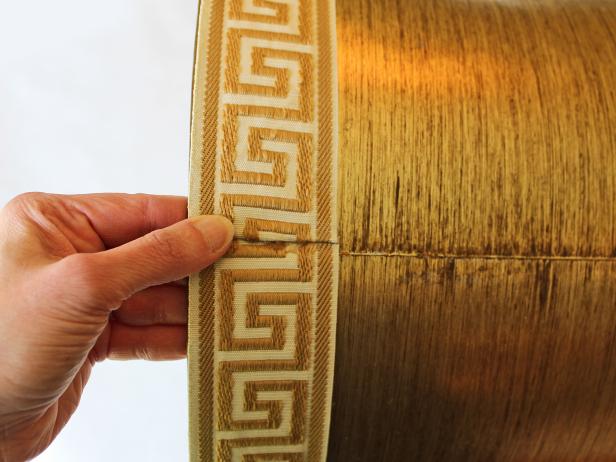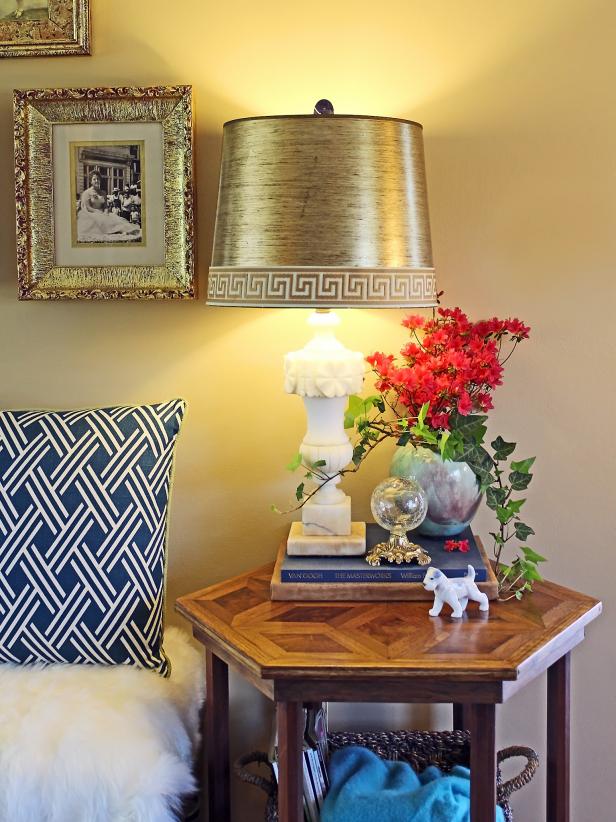 Easy-to-Craft Greek Key Lampshade
Turn an old trashed drum-style lampshade into a trendy treasure by simply adding Greek key upholstery tape trim.