At Home With Steve and Rachelle Wilkos
He hosts The Steve Wilkos Show, while she executive produces both his show and The Jerry Springer Show. Find out where the busy TV power couple spends their downtime.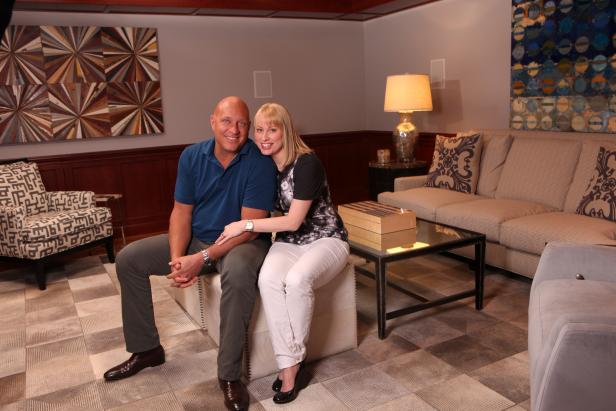 Media Room: Steve and Rachelle Wilkos' Connecticut Home
Steve and Rachelle Wilkos, known for their work on The Steve Wilkos Show and The Jerry Springer Show, share a beautiful home in the Fairfield County area of Connecticut. Pictured here is the couple's basement media room. "We just renovated the whole basement last year, and my wife and I worked really hard at making this our place to unwind and relax at night," Steve says.
When Steve and Rachelle Wilkos have some downtime, you can find them at their beautiful home in the Fairfield County area of Connecticut. The duo have jam-packed schedules: He hosts the successful syndicated series, The Steve Wilkos Show, and she executive produces his show along with The Jerry Springer Show. This summer, they will spend a much needed break with their two children at their vacation home, which sits on a lake in Wisconsin.
We recently chatted with Steve about his favorite rooms and features in his Connecticut residence.
What do you like most about your Connecticut home?
The location – it's close to everything and everywhere I go. Being a parent, it was very important for my wife and me to be able to get to our children if they needed us. Their school and activities are all very close to our home and our jobs. I loved our house the minute I laid eyes on it, but having it in close proximity to everything really sealed the deal. 

What drew you to your home?
The very open layout. Knowing that the house had to be "kid-friendly," we liked that it was roomy enough and had a place for everything, but also that our kids could be comfortable in every room. We wanted something with a modern feel, and this house just really fit our needs on every level.
What's your favorite room in the home?
The media room in the basement. We just renovated the whole basement last year, and my wife and I worked really hard at making this our place to unwind and relax at night. I played a big part in helping her decorate the room, and together, we picked just the right furniture for the layout. I found the whole process interesting.
You have a lot of natural wood in the house.
I love hardwood floors – I don't like carpet at all. Wood is cleaner and warm looking. When we were designing the media room, one thing that was clear was we loved the idea of a wood border around the ceiling. It really gives the room a rustic, yet warm and inviting feel. This one painting we have on the right wall was actually made from reclaimed wood. We saw the artist, Michelle Peterson-Albandoz's work and thought it was so unique! Once we read that she salvaged decrepit wood from old churches and historic buildings in Chicago, we just had to buy a piece. The one we chose fits the space perfectly and ties the whole room together. I felt like it was a nod to Chicago, where I was born and raised.
After a busy day at work, do you come home and work out?
I always work out before work. It really wakes me up in the morning, and I don't feel like I can really start my day until after I hit my home gym. Having this gym in my house has been great, because it has all the equipment that I use in my workout in one place. My favorite is the rowing machine; it really is a full body workout, working my arms, legs and core.


Tell me about the painting behind the couch.
We go to Martha's Vineyard every summer and have a favorite art gallery there called the Eisenhauer. I saw that painting and it reminded me of camera lenses. Since my wife and I both work in television, we liked the meaning behind it. The artist is Jylian Gustlin. When we bought the painting, we were starting to build our media room, so we based a lot of our color selection in the room to offset this painting. The colors really just work so well with the room, and it really catches your eye the minute you walk in. 


You have a beautiful kitchen. What do you like most about it?
Obviously, I love the modern, white, clean feel of it. And all of the windows are a big bonus. It's nice having a big, bright kitchen with so much natural light coming in throughout the day. But, I'd say the best feature is the huge island in the center. Everyone hangs out there, whether we're talking to the kids about their day or helping them with homework. It's really just a great place to talk and unwind when we're all home after our busy schedules. 


Where does your dog spend his time?
His name is Snowball, and he is obsessed with my wife! Wherever I find her in the house, I know he's always close by.
That's a great looking bathtub/bathroom. What was your vision in designing it?
We love the tub, but unfortunately we don't use it as much as we'd like. We recently replaced the light fixture – the old one was just a ceiling mount. The new one changed the look of the whole room and really is the focal point, in my opinion. 

What are some of your must-have home essentials?
Our nice comfortable king-size bed with great sheets! Without great sheets, you can't really get the comfort you're looking for in a bed/mattress. So, sheets are definitely an essential for me.
I also love the recliners we put in the basement media room. When I went with my wife to pick out the furniture, the interior decorator, Dan at LilIian August, almost fainted when I requested recliners. I don't think recliners are the first thing you think of when decorating a modern, new room. However, we managed to find them in this amazing pale blue that really just worked with our decor. And they are the most comfortable recliners I've ever sat in. There's nothing we like more than to unwind after a long day, sitting in these chairs while watching our favorite shows.
What are some of your favorite colors, textures, patterns?
We definitely gravitate towards soothing tones of gray, beige and light blues. It really gives off a warm and inviting feel. I think we really achieved that in decorating our house.