At Home With Duane and Devi Brown
The couple – he an NFL star and she a radio/television personality – gave us a tour of their newly renovated Texas home, which reflects their careers, travels and love.
Duane Brown, starting offensive tackle for the Houston Texans NFL team, and Devi Brown, an on-air personality for Houston's 97.9 radio station and occasional MTV commentator, are a couple that are frequently on the road, but of all the exotic places they've been and are going, their favorite place to be is home with each other. They opened their newly renovated Bellaire home to us and shared how they have carved out their own quiet space in the center of one of America's largest and busiest cities.
How did you meet each other?
Duane: When she was hired by 97.9, I became intrigued by her sexy voice and personality. She was so engaging and in the theater of my mind, I was imagining there was this light that just drew me to her. I looked her picture up online and liked what I saw in addition to what I'd already heard. I wanted to meet her and I knew the station was going to throw her a birthday party at a nightclub one night, so I went and reserved a table there and introduced myself.
Devi: I had no idea he was going to do that. In fact, three weeks later I moved to New York for another job. We had to date long distance for a while. I moved back to Houston right after we were married in Cali in July 2012.
What was the first thing you did when you moved into this home?
Devi: We started renovating. I went with Laura Umansky's design firm and it took about five months to get everything done.
What made you choose this home and location?
Duane: I moved to Houston in 2008 and I wanted a location that was convenient and close to work. The house was brand new but never lived in so I'm the first owner. This neighborhood is quiet with a lot of nice families.
Devi: When we were in Rome last year, we took a Gladiator course and we used these special swords during the course, so I hung those in his Boxing Room too.
How many bedrooms and square feet do you have in this house?
Duane: It's four bedrooms, 3.5 bathrooms and about 4,800 square feet. Devi also gave me a Boxing Room for my birthday this summer – it's in the garage. She hung framed posters from 300 because I love the movie.
What are some of the other items in your home that came from your travels?
Devi: My favorite is what we call our Instagram wall. We have a gallery on our staircase walls with pictures of the two of us on our trips around the world. There are a lot of pictures already, but we hope to fill the walls completely to the ceiling. We bought the framed scarves in our guest bedroom during a trip to Cabo. I love Frida Kahlo and religious art so when I saw these two scarves I had to have them. They are saturated with color and beauty, and you have to get really close up to see that it's actually a piece of fabric.
It sounds like there are so many items in your home that hold a lot of meaning.
Devi: Definitely. I have always strived to make where I live be uniquely me. I want to light up when I walk into my home, and I want others to be able to see my home and say 'Oh yeah, this is where Devi lives.' I haven't always had the best budget, but I always found ways to make items in my home meaningful. I want to have a story and a piece of our personalities to go with every item in our home. For this house we've collected items from our travels. An example are these two hand-painted tiles we bought in Toledo, Spain. We use them as trivets for our pots that need to cool down.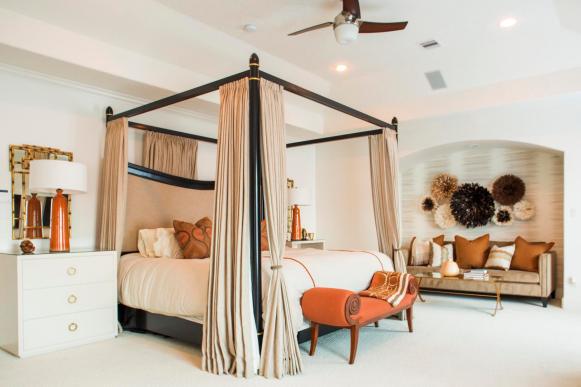 Master Bedroom: Duane and Devi Brown's Home in Bellaire, Texas
"We're both tall people so we had this bed made to better fit us," Devi says of their custom bed. To complete their bed, they also had a four-poster headboard and footboard with canopy and privacy drapes made to give the couple extra coziness.
What element in your house do you look forward to most when you've been away from home?
Duane: My bed. We had the bed made for us, so it's 1 foot wider and 1 foot longer than a regular king-sized bed. And I love the feel of the house in general. It's got a positive energy, youthful and uplifting.
Devi: Before the renovations, the house had a sort of dark, Mediterranean feel.
Duane: The house was definitely darker before Devi came in. The other room I like is my Man Cave – I bring my boys there for video games or boxing parties or just to hang out.
Devi: Sometimes we do our own version of the Sundance Cinema. I make cocktails, dinner and we have movie date nights in his Man Cave. I so love being home, I feel a sense of tranquility when I see our blue front door.