At Home With Fashion Designer Sue Wong
Like her clothing – which has been worn by stars like Taylor Swift, Anne Hathaway and Jessica Biel – the fashion designer's historic estate offers Old Hollywood grandeur with a modern twist.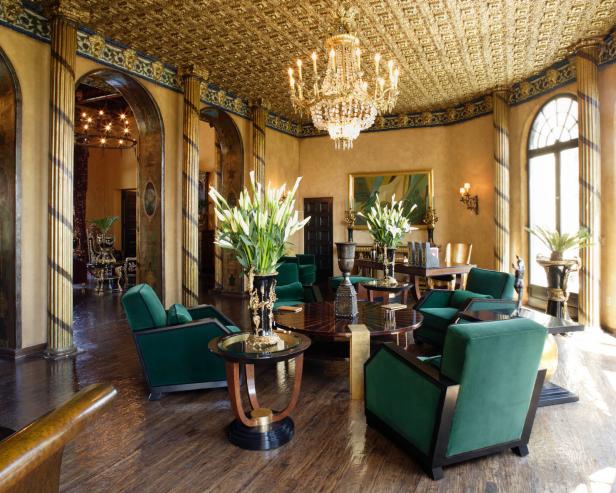 Solarium: The Cedars, Owned by Fashion Designer Sue Wong
The spectacular semi-circular Solarium – rumored to have hosted Howard Hughes playing on its grand piano – is surrounded by a border of gilded Ionian columns interspersed with bas relief lions, some of the more than 140 lions found throughout the house.
With a success story spanning the globe, Sue Wong has internationally achieved the distinction of "every woman's couturière." The celebrity fashion designer — who has dressed everyone from Taylor Swift to Jessica Biel — fell in love with her historical 1920s home, The Cedars, a palatial historical estate that once encompassed terraced gardens, lakes and fountains on 15 acres. Her other homes include a tropical retreat in Maui and a contemporary estate in Malibu.
Your home is beautiful. What drew you to it?
I was in the market for a home in 2004, and The Cedars was brought to my attention and attracted me in a powerful way. Despite the fact that many of the period details of the home were in a state of disrepair, having faded with time and covered with soot and grime, I had an immediate and natural affinity for the soaring bas relief ceilings, gilded columns, period ironwork and frescoed archways of The Cedars, whose ornate details, grand style and vintage provenance reflect my own romantic design sensibilities. I spent the next three years meticulously restoring the estate to its former grandeur and glory, while maintaining its patina of antiquity. It really needed nothing less than a major restoration in order to make it habitable again, not to mention bringing it back to its former glory. I began the process by commissioning a team of European artisans lead by Zoltan Papp to restore each of the ceilings, archways, fireplaces, sculptural elements and columns in an intensive two-year process that removed over 80 years of grime and dirt that had obscured much of the artwork.
Only after purchasing the estate did I become aware of the full scope of extensive creative Hollywood history of The Cedars. It was built in 1921 for MGM director Maurice Tourneur based on the Venetian palazzo of the Duke of Alba. For a time, it was also known as the Talmadge estate after another one of its former owners, silent screen star Norma Talmadge. Through the years, The Cedars has been a host to so many illustrious celebrities, including tycoon Howard Hughes and different generations of stars and musicians including Bela Lugosi, Errol Flynn, Marilyn Monroe, Dennis Hopper, Johnny Depp, Jimi Hendrix, Lou Reed and the Velvet Underground, Arthur Lee and the band Love and Bob Dylan. Its interiors have been shot for scenes in classic films like Sunset Boulevard and Easy Rider.
It definitely did not look the way it does today, but I saw in it possibilities, both in the sense of its past and in what it could become again. It seemed to have been waiting for the right person to come along and bring it back to life, and so I did.
What's your favorite room in the home and why? What are some of your favorite features in the room?
The Moroccan Room, also known as the Jimi Hendrix suite. I am deeply moved and inspired by music. Music – like other art forms, such as fashion – channels the Divine, the essence of creativity. In decorating this bedroom suite, which overlooks a garden of succulents, I embraced my flair for the exotic. The spectacular mirrors, coffee tables, end tables and ceramic lamps are from Morocco and are intricately detailed with inlaid bone and stones stained with henna, and are enhanced with filigree metal work. The hand-painted Moroccan motif wardrobe complements a plush designed banquette in silk velvet, accented with mixed patterned brocade and damask pillows, which I designed. The dramatic exotic lamp is by Charles Marder. A jewel-encrusted carved antique archway completes the rich bohemian and arabesque mood. It is said that walls capture and house past voices and songs that have been sung within a given space; likewise the history that permeates these walls sings to me in a powerful and meditational way. This is why this room provides such a meditational solace.
How does the room make you feel at home?
Out of all the rooms I have invested indefatigable passion and extended my iconography and design sensitivities into, this Moroccan Room is my special enclave; my spiritual solace. It is a meditation of peace and self-reflection with infinite, visceral inspiration. One can almost sense the saturated history and palpable artistry: voices of its illustrious former inhabitants and a constellation of stars – authors, musicians, directors – embedded in the walls. It is said that Jimi Hendrix composed the iconic "Purple Haze" that was inspired by the architecture, its atmosphere and the brilliantly translucent light and reflections that are optimized by the room's structural symphony. This room invigorates, calms and inspires me infinitely.
What are some of your favorite colors/shapes/textures/fabrics?
The Cedars is an opulent and intricately detailed estate, and I commissioned custom artwork and designed one-of-a-kind upholstery patterns, pillows and drapery to complement its grandeur. For instance, in the grand ballroom I designed and custom commissioned red velvet drapery with intricate gold embroidery and hand beadwork to mirror the gilded colonnade, golden lions on the fireplace mantel and the red tones of the hand-painted ceiling.
I scoured the globe for antiques from France, Spain, Italy, Morocco and England to create a unique environment to suit each of the estate's 16 rooms. There are countless fabulous pieces I found and placed within The Cedars, and each one bears a fascinating story. One of my favorites is a set of three rococo thrones formerly owned by European royalty, for which I created originally designed gold embroidered black velvet upholstery. I also have a set of dark wood and green velvet lounging chairs from the fabled ocean liner SS Normandie, which was a showplace of art deco. In the dining room is a metal-trimmed Spanish chest, which was used on the set of Martin Scorsese's The Aviator. In the foyer, I placed a pair of African wood figures from the Côte d'Ivoire from the 1920s, which historically is among the African art that influenced Cubism and inspired Picasso's Les Demoiselles d'Avignon; it is my own homage to one of my favorite artists of the era.
I am accurately referred to as the "Queen of Beads." I am drawn to gold, embroidery, intricately detailed bead work and all things texturally diverse. These are all optimized by the visual opera, passion, illumination that The Cedars epitomizes. Private and public spaces within any building carry their own voice and resonance. I approached each room thematically, taking into consideration not only its primary function but also its history. I did not wish to completely alter either, rather provide it with my own artistic perspective. The "public" spaces were imbued with a sense of effervescent dynamic, projecting outward to an audience, while the "private" spaces were defined more by introspection.
There is a direct connection between the aesthetic of my clothing designs and the interior of my home ... I love rich flowing silks, couture-styled Grecian goddess drapes in novel metallic chiffons and lamès, vintage inspired jet beading – all of which are emblematic of Hollywood's golden age.
Fashion designer Sue Wong
How would you describe your interior design style?
The Cedars is the epitome of Hollywood glamour and contains many of my signature elements, from beaded silk pillows to ornately embroidered velvet drapery, bedding and furniture, which I designed. There is a direct connection between the aesthetic of my clothing designs and the interior of my home. Many comment on it being the natural habitat of flappers, philosophers, sirens and vamps. As my gowns have influenced my home, so too does The Cedars inspires my designs. I love rich flowing silks, couture-styled Grecian goddess drapes in novel metallic chiffons and lamès, vintage inspired jet beading – all of which are emblematic of Hollywood's golden age. I would describe it as eclectic, steeped in vintage and reintroduced in a most present, modern here and now. I'm always on the look-out for fabulous studies on art, art history and fashion from voluminous coffee table books to artistic or historic. This reflects my insatiable intellectual, spiritual and psychological curiosity. There are several publishing houses that specialize in some really wonderful books, including Phaidon and Taschen.
What are some must-have essentials in your home?
I'm a very visual person, and I love to be surrounded by beautiful and cohesive environments. As a creative artist, beauty nurtures and inspires me, and beauty in its many manifestations is the essential element in all of my homes. I have three very different homes which I call Body, Mind and Spirit. Each represents a different lifestyle and different facet of my design aesthetic, but together they weave a continuity that reflects my eclectic nature. The Cedars with its ornate, infinite layers of detail is the epitome of old Hollywood glamour, while my home in Malibu is an open, cerebral, minimalistic gallery-style space that houses my modern art collection. My home in Kipahulu – located in the remote rainforest with acres of landscaped gardens, tropical flowers, fruit orchards, banana forest and southeast Asian statuary – serves as my spiritual retreat. The Cedars is my Body, Malibu my Mind and Kipahulu my Spirit.
Where do you like to shop for home-related products?
I'm a very eclectic person, and I love to travel extensively. I often pick up things on my journeys, whether it's a piece of deco art work from Paris, beaded pillows from Morocco or jazz music CDs from New Orleans.
You're a fashion designer, but do you have any interior design tips?
I consider myself foremost an artist and have chosen fashion as my designated artistic, expressive medium. Truthfully, my design philosophy and iconographic sensitivities translate into other mediums, which The Cedars illustrates powerfully. I believe above and beyond that you have to be true to your voice; pay respect and act upon the integrity that you owe to your sense of self, whatever that may be; it has to reflect your inner truth to the point of Divinity. That said, when you are true to your sense of self and understand your essence, then you can easily filter these sensitivities through decorating the space that surrounds you – that gives you solace, comfort and peace. After all, our personal living spaces are a homage to ourselves and state of happiness; and in turn these encourage and hold us accountable to self-fulfillment. Similarly, beware which art pieces you place on your walls that surround you, for they influence and can inspire in magnificent ways.
What's the best way to organize one's closet for clothes and shoes?
It's very important to be organized. Your living space reflects who you are: your state of mind, your health – it affects your life and functionality more than one would think. As a visual person and a fashion designer I find it important to organize my closet by color and theme, which certainly helps creating outfits.