At Home With HGTV Designer Krista Watterworth
A superstar designer who specializes in creating fashionable but functional spaces, Krista Watterworth opened up her home to share her design inspiration and her favorite things about living in South Florida.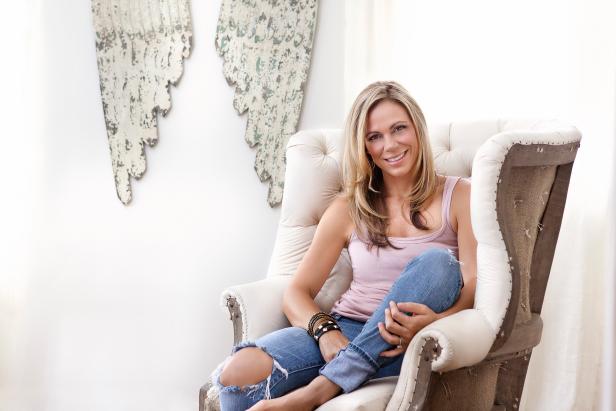 Krista Watterworth at Home in South Florida
Krista Watterworth completely designed her home in record time – just three months. Her goal was to create a family-centered home that's both fashionable and functional for her husband and two kids. It was important to her to create a space that worked for her whole family, but still showcased her sense of style. The designer chose durable furniture and treated fabrics that could withstand abuse and repel stains. Her designs are approachable, yet contemporary, casual and elegant.
From hosting HGTV's Splurge and Save, to appearing on shows like DIY Network's The Vanilla Ice Project and HGTV's Save My Bath, Krista Watterworth is a television personality, interior designer and founder of her own company: Krista Watterworth Design Studio. We chatted with Krista about her current projects, inspirations and what she loves about living in Florida.
How would you describe your signature design?
Casual elegance in a classic contemporary setting. I love designing spaces that look like a million bucks, but guess what? My clients actually have to live or work there! It's important to me to make each one of my designs approachable. Remember the old saying, "fashion over function?" I think it's truly possible to have both. Why buy a sofa that looks good but isn't comfortable? Why choose fabrics that you can't touch? I'd rather buy a rug that my feet will sink into. I will never design a space that isn't chic and sophisticated, but it will always be livable, no matter how much it costs.
I'm obsessed with fashion and photography. Both of these elements always seem to find their way into my designs. I love fashion because it's always changing, always propelling forward. Certain colors and textiles become popular in the fashion world, and I find ways to bring those trends into the spaces I create. Photography is similar for me -- a really good photograph can tell an interesting story through color, shading and texture. The same can be said for really good design.
What's the one thing you can't live without?
Sunlight. I'm not a fan of dark rooms that have little or no access to natural light. I'm a huge fan of operational as opposed to fixed window treatments. Linen sheers are my most coveted light and airy look. Nothing should permanently block your view or your connection to nature.
Speaking of sunlight, what's your favorite thing about living in the Sunshine State?
The weather! I know it sounds cliché, but the weather in South Florida is incredible. You're surrounded by beautiful tropical plants, ocean breezes and fresh air. Plus there's always something in bloom. It's truly paradise and I can't imagine living anywhere else.
When you were designing your own home in Florida, what was most important to you?
My family. It was important for me to create a space that worked for us, but still showcased my sense of style. I wanted to make sure that my children had free reign of the house, so I chose durable furniture and treated fabrics that could withstand abuse and repel stains. I also created a ton of storage for toys, games and everything in between. Making my husband happy was also a factor, so I created a modern, functional office space for him and, of course, let him have the biggest flat-screen TV he could find! What can I say? I'm a sucker for my family.
Any favorite restaurants, boutiques or unique stores in your neighborhood? Any hidden gems?
I'm in love with Hullabaloo, a hip restaurant located on the popular Clematis Street in downtown West Palm Beach. The food is farm to table, so it's all very fresh, and it reminds me of NYC. I love the Oven Roasted Double Yolk Farm Fresh Egg tomato and gruyere as an appetizer. I pretty much always order that! There's also a great restaurant and bar in Jupiter called Guanabanas. It has this awesome coastal vibe (the entire restaurant is outdoors), and it's just a fun place to hang out, eat, and listen to live music. When I'm looking for something unique and fun, I go to Modern Auctions on Antique Row in West Palm Beach. They never disappoint. And the new Northwood Village in West Palm Beach is the coolest hidden gem around. The restaurants, galleries and overall vibe is super fun.
Tell us about some of your current and future projects.
I just finished a coastal home in Palm Beach Gardens, a redesign in Jupiter's Admirals Cove, a third in Mirasol Golf Community and lastly, a post-modern residence in Deerfield Beach. I'm currently working on a commercial design project for a small wealth management firm in Palm Beach Gardens. My passion project is in early development stages. It's a large scale build-out and renovation of a local community and religious center. Future projects include a condo redesign in Juno Beach, a five-bedroom new construction in North Palm Beach and another new build on Jupiter Island.