At Home With Latin Music Star Larry Hernandez
The singer and Larrymania star shows us his favorite spots to unwind at his Los Angeles home, from the spacious kitchen to the resort-style backyard and pool.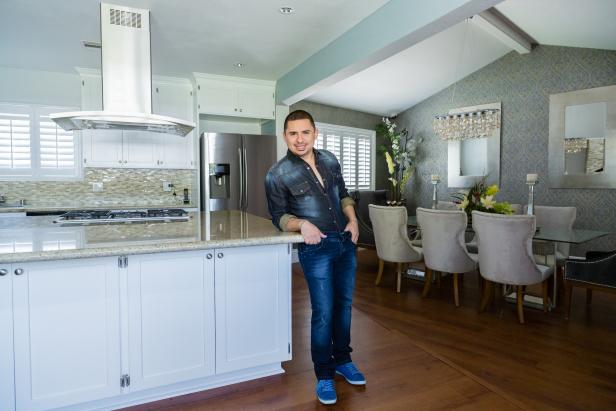 Kitchen: Larry Hernandez's California Home
The kitchen is Larry's favorite room in the house, and great for parties, thanks to its open layout with the adjacent dining room. This is always the room where he catches up with all the ladies in his life – his fiancée, Kenia Ontiveros, and his mother – who love to spoil him with authentic Mexican dishes including posole, caldos and ceviche.
When he is not on tour, Latin music and television superstar Larry Hernandez loves relaxing at his beautiful, remodeled four-bedroom home in Covina, Calif. Originally a horse ranch, the property now features a new music studio as well as a backyard pool, much to the enjoyment of his fiancée and four kids. Mun2's hit series Larrymania, now in its third season, is the number one Spanish language entertainment series. Catch it Sunday nights at 9 p.m. EST/8 CST.
What's your favorite room in the home?
My favorite rooms in my new home are my bedroom and the family room. It took my fiancée, Kenia Ontiveros, and I a long time to decide on the exact colors we liked and the style of furniture. We finally came to an agreement with a style that's modern and fun yet relaxing. I think there is no place that is more relaxing than one's bedroom. Our master bedroom has white marble floors, and all the furniture, such as the dresser and the nightstands, are mirrored. There are two different wallpapers in our master bedroom: The wall with the bed against it is a brown-and-gold sandstone texture, and the second is a glittery gray color. I also love the fireplace that Kenia and I enjoy after a long day of work.
I also love the kitchen. I enjoy cooking seafood, and my favorite dish by far is a proper ceviche. I have a special ceviche recipe that I cook for my family and friends when they come over. It's my specialty! We have a fully equipped kitchen, with a great blender, toaster, juicer and stainless steel refrigerator, stove and microwave. I try to keep the granite countertops clear of any appliance so there's room to cook. We have a beautiful set of pots, pans, cups and silverware made by Princess House. We also like to cook eggs and ham, omelets and caldo de res (beef stews). We eat a lot of fish, chicken, and one of our favorite Mexican dishes is posole.
What are some of his favorite features in your home?
We just moved into the home and there's so much to like and do! My time is very limited since I'm always on the road on tour, so when I'm home, all I want to do is enjoy family time with my kids and Kenia. We absolutely love movie nights in our viewing room. I have a great sound system and a flat screen, so these viewing nights are a hit. The viewing room is white with a comfy gray couch, and the wall that the flat screen is mounted on is made of light stones.
Pool: Larry Hernandez's California Home
The custom-designed grotto swimming pool features a wraparound pool slide. Not surprisingly, it's Larry's kids' favorite part of the house, and they've spent many afternoons by the pool since school let out for the summer. The waterfall provides a tranquil touch as well.
I love the backyard area where my swimming pool is. My backyard feels very tropical, which is exactly what I was going for. I have palm trees surrounding the pool, which I love. My favorite features are the long poolside and the grotto. The kids really enjoy the slide – we all do! I have four kids: two from my previous marriage, Larry Jr. and Sebastian (both live in Phoenix with their mother), and two girls with Kenia (Dalary and Daleysa). My boys come stay with me often, so the pool becomes the main attraction.
What drew you to buying this home?
I loved so many things about this house when I first saw it, but what I was drawn to the most was the space. It's such a spacious home from one bedroom to the other – there's so much privacy. The backyard was amazing; I immediately envisioned the swimming pool that I have put in. I designed the oval style and the slide and grotto. The home was a horse ranch before, and there are stables in the back. I knew immediately that I wanted that room transformed into my recording studio. We've just started that project, so it's not finished yet.
How would you describe your interior design style?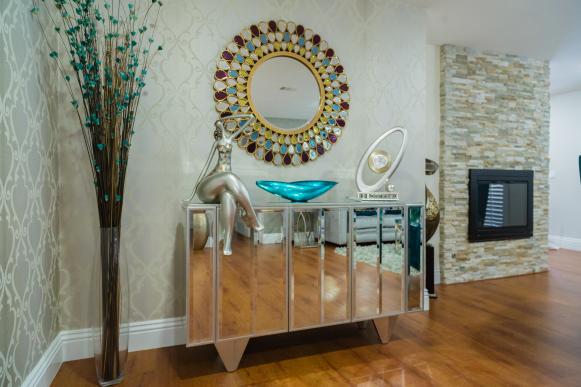 Decor: Larry Hernandez's California Home
"The statue of a sexy, curvy woman was an item that my interior decorator brought me," Larry notes. "She thought it was a nice reminder of my beautiful fiancée Kenia and her lovely figure. I think Kenia is one of a kind, but it's a nice detail that adds a feminine touch to the room."
I'd describe our home as modern but very relaxed. The colors we chose throughout the house are gray and a combination of blues (turquoise and aqua). I also like having hints of my culture in the home; I was born in California but my mom moved us back to Mexico when I was four years old. I chose a Mexican interior designer, Irma Perez, to do our home, who is known for incorporating modern looks with hints of Mexican culture into the home. Most of the accent pieces she brought us, such as the frames, artwork and vases, are from Mexicali.
What else do you like to do in your home?
When I'm home, I love doing handiwork to feel reconnected to my home and make it that much more comfortable for my family. If there's a door that's jammed, a light bulb that needs to be changed, a screw that falls out, I'm happy to fix it! Any handyman work I can do I absolutely love.
I play soccer – that's been my sport since I was a young kid. I play to win as you'll see in my mun2.tv promo Larry Hernandez: El Futbolista. I love to play in my backyard when the boys are in town or when I have my buddies over.