How to Make a Double Curtain Rod Using Galvanized Pipes
Learn how to use easy-to-assemble metal pipes to add an industrial flair to your window treatments.
Store-bought double curtain rods can be pricey. Save the cash and make your own using metal pipes, flanges and elbows. They are super sturdy and lend a high dose of style to industrial or modern decor.
level
marker
awl
hammer
screwdriver
1-1/2" screws
drywall anchors (if necessary)
(2) 3/4" galvanized floor flanges
(4) 3/4" galvanized close nipples
(2) 3/4" x 3/4" x 1/2" galvanized T's
(2) 3/4" 90˚ galvanized elbows
(1) 1/2" galvanized pipe at least as wide as window
(1) 3/4" galvanized pipe at least as wide as window
curtain clips with rings
sheer panels
curtains
Step 1: Determine Placement
Determine the height of the rod by attaching one close nipple to a floor flange. Hold the floor flange firmly against the wall while holding the curtains over the close nipple. Move the flange up or down to allow the curtains to hang to about 1/2 inch from the floor. Lay the curtains aside while maintaining the position of the floor flange. Mark the holes of the floor flange with a marker.
Use a hammer to tap an awl into the wall at each of the marked spots. Tap far enough to determine if there is a wall stud present. For any spots where there is not a wall stud, add drywall anchors.
Step 3: Assemble First Side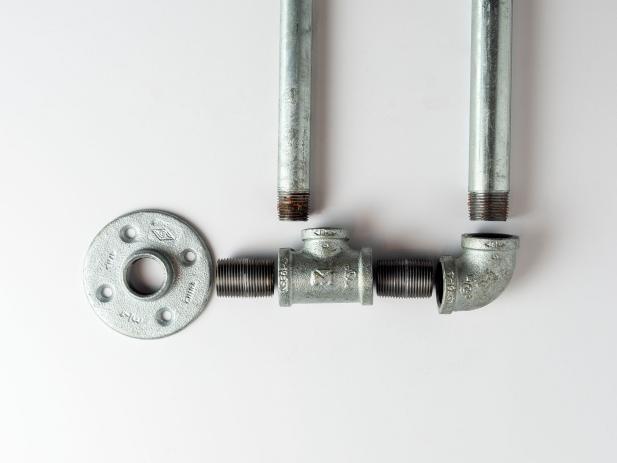 Galvanized Double Curtain Rod
Make your own galvanized double curtain rod
Lay the pieces in order on a flat surface. Attach the pieces together tightly in the following order: floor flange, close nipple, T, close nipple, elbow. Repeat for the other end.
Attach one end assembly to the wall where the marks were made with 1-1/2" screws. Add the inside pipe to that end. Determine the number of curtain clips needed for the sheer panels. Place that number of clips on the 1/2" pipe. Attach the open end to the pipe to the T on the other end assembly.

Lift the other end assembly up and press firmly against the wall. Use a level to ensure that the 1/2" pipe is level. Make marks on the wall with a marker in the holes of the floor flange. Lower the pipes and use an awl and hammer to determine if a wall stud is present or if drywall anchors as necessary. Lift the pipes again and attach the floor flange to the wall with 1-1/2" screws.
Step 5: Attach Outside Pipe

Screw the 3/4" pipe as much as possible by hand into the first end assembly. Add the curtains to the rod and then screw the other end into the elbow of the second end assembly but only go about halfway.
Add the sheer panels to the clips on the 1/2" inside rod.