Everything You Need to Know About Buying Blackout Curtains
Learn the difference between curtains and drapes, what makes a blackout curtain and how to DIY them.
Whether you're looking for blackout curtains for a bedroom, media room or other space where you need to block out light, you still want them to look great. Luckily there are more options than ever, in a wide range of fabrics, colors and prints.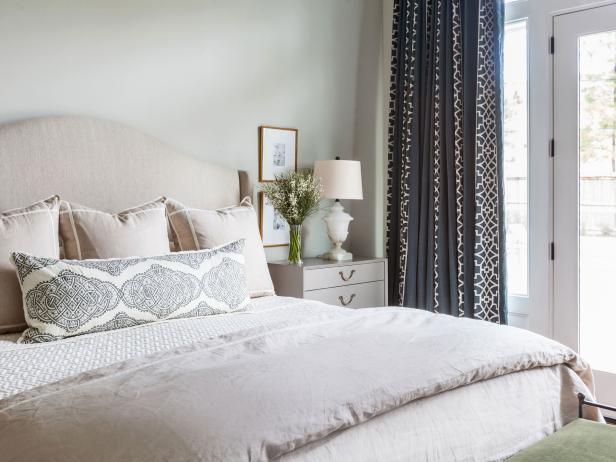 Use blackout curtains.
Natural light is lovely for creating a warm, inviting environment, but when you're ready for some shut-eye, those rays need to be controlled, says Flanigan. In addition to framing window openings with color and texture, drapery allows you to have direct control over your lighting experience. Invest in high-quality drapery and line your panels with blackout material. This ensures you get sleep at any hour of the day while also protecting your furniture, rugs and art from damaging UV rays.
Let's start by talking about the difference between curtains and drapes. Curtains are one layer of fabric, typically used because they let some light filter into a room. Blackout curtains have room-darkening features built into the fabric, which makes for a thicker fabric. However, they're still lighter in weight and appearance than drapes, which are more than one layer of fabric.
In drapes, the visible layer can contain blackout features, but typically, this is imparted via a layer of blackout fabric. The blackout fabric has typically been a dark color, though it's also available now in lighter colors, including white, which makes for a better appearance from the street.
Blackout curtains, shades and blinds all reduce energy costs by cutting the amount of sunlight and UV rays that enter the room. In addition, they protect furniture and floors from sun damage and fading, which makes these high-cost products more durable.
Fabric for room darkening curtains has improved over the years, from that plastic-feeling polyester you probably remember from hotel curtains to softer, less static-prone options.
Use blackout curtains, shades or blinds in rooms that get the most sunlight (and be sure to pull them during the hottest parts of the day), and in areas where you want no light penetration, like media rooms or home theaters.
While blackout curtains, shades and blinds are more costly than non-blackout fabrics, they pay for themselves in energy savings, and in preventing premature aging of your home furnishings and fabrics.
Because of their light-blocking capabilities, room-darkening curtains, shades and blinds usually bring to mind dark, heavy fabric. Obviously, that doesn't work for every room decor. What if you want white blackout curtains?
Not only are there white blackout curtains, but there are also many stylish colors and headings (the top of the curtain) available. Whether you like grommet tops, rod pockets or even blinds or shades, there's a blackout fabric for that.
Turning Existing Curtains Into Blackout Curtains
You can also create your own room darkening curtains by adding blackout liners, either by hanging them on a double rod or by clipping them onto the existing rod. White liners are available, which gives your windows a unified look from the street (often a requirement of HOAs or condo associations).
Blackout blinds and shades are another great option for blocking light, especially on smaller windows. Use an inside mount for the most light-blocking capability.
Blackout curtains are installed in the same way as standard curtains and drapes. To get the most out of the room-darkening qualities, measure a couple of inches beyond the window frame on all sides. Using wraparound rods (which bring the drapes all the way around to the wall) is another way to ensure that most light will be blocked.
Treat your window to something pretty with our curtain picks for every style, budget and function.