How Long to Let Chalk Paint Dry Before Second Coat
No stopwatch necessary; it's best to wait 24 hours between coats for a flawless chalk paint finish.
Chalk paint is one of the most popular painting and refinishing products on the market in the last decade, and like many paints, it works best when users follow a very specific application process.
This specific paint is popular among everyone from crafters to furniture rehabbers due to its ease of application, and its thorough ability to transform items with relatively minimal prep work, compared to that required by other paints and stains. Its natural finish is opaque, also making it ideal for projects with painted details or hand-lettered elements.
What's So Nice About Chalk Paint?
Chalk paint leaves users with a matte finish that's almost creamy and feels soft to the touch, and if you were wondering, that's why it's described as "chalky" and resembles a chalkboard finish.
The finish is also desirable because the final paint can be lightly sanded to reveal natural wood underneath, or, if you're layering multiple colors of chalk paint, sanding methods can be explored to expose different colored layers of chalk paint on a single product. The resulting appearance is very shabby chic – perfect for a rustic or country home. Chalk paint is pretty cool to work with, and a much different user experience than if you were working with ordinary latex paint.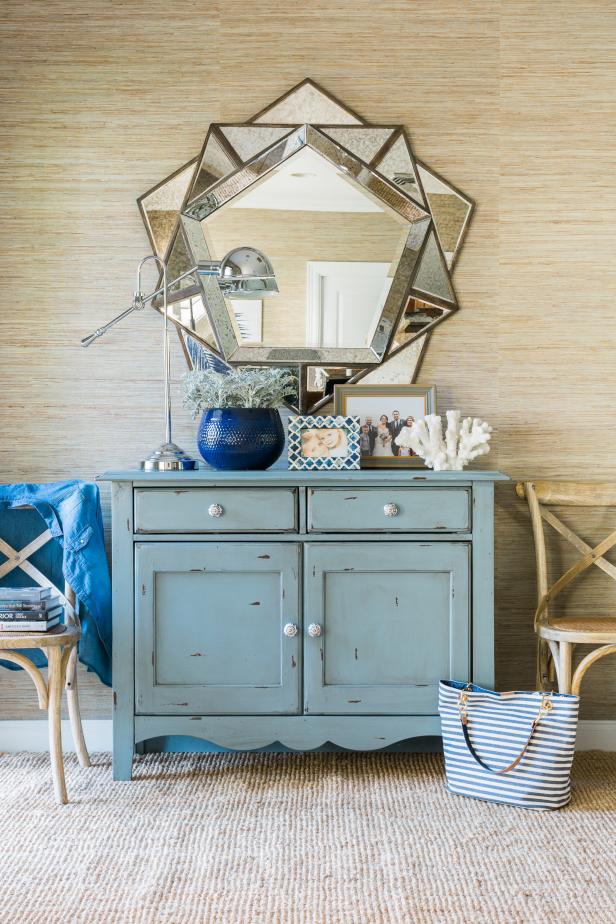 Natural & Nautical
Natural wood tones, distressed blue paint and a bit of coral give this entry a neutral yet nautical flair. The gorgeous geometric mirror adds a sculptural element and helps bounce light around the space while the grasscloth wallpaper and rug add texture.
How Do You Apply Chalk Paint?
Chalk paint needs to be applied in several layers, and first-time users need not fret when the first coat goes a bit streaky or blotchy. The best thing to do is to think of that first coat as a primer for future coats of paint, and allow it to dry well on the surface before layering additional coats of chalk paint on top.
You might be accustomed to a shorter paint curing time if you're commonly painting walls, and don't be fooled – this too will feel dry to the touch within an hour – but it's always best to allow extra dry time when you're painting furniture to really let each layer of paint solidify and become durable. Annie Sloan, manufacturer of the trademarked Annie Sloan's Chalk Paint®, recommends users wait a full 24 hours between coats of paint to allow for adequate dry time and product performance. So, be ready to watch that first streaky coat of chalk paint dry for a full day before you add a second coat.
If the painted surface seems especially thick in spots, or you can feel the ridges of dried paint left by your paintbrush, don't hesitate to smooth out the finish with a piece of 150-grit sandpaper before adding a second coat. Lightly sanding between coats is a good rule of thumb for achieving a smooth finish on any painted surface, but the chalky nature of chalk paint makes it especially easy.
To finish the surface, you'll apply a thin coat of wax to seal the paint and add protection.
Can You Make Your Own Chalk Paint?
Sure can! You can make chalk-style paint in any color with a few simple additives. Here's a recipe that really works:
Dissolve 1/2 cup Plaster of Paris in 1/2 cup warm water.
Add to that 1-1/2 cups of latex paint in any color.
Apply the paint with a brush or sponge – one coat at a time, and allowing 24 hours between coats.
Top off the last coat of paint with a soft finishing paste wax to seal the cured paint.