Guide to Creating a Traditional Kitchen
Create a warm, homey feeling while you mix and match colors and textures.
Don't confuse a traditional kitchen with Old World or country. Although, like the latter two, the traditional kitchen design style is "warm and classic," with elements of English and French taste, "the colors are different," says Mary Broerman, a California-based interior designer who owns MDB Design Group in Altadena.
Instead of the brighter blues and golds you'd find in an Old World design, the traditional kitchen incorporates soft, muted colors: creams, whites, taupes, light grays or greens.
The traditional kitchen is one of the most popular design styles when it comes to creating a room everyone will enjoy. Traditional styling speaks to a great many people, and it's a top design choice for many families.
Part of its charm, like country, is that it brings the outdoors in, so patterns can include fruits, flowers and butterflies. You can mix and match. It's a design that is open to interpretation and appeals to all ages and personalities.
"Traditional" is a "very general term that encompasses many styles and doesn't lean real heavy in any one direction," says Gail Drury, who owns a kitchen and bath design studio called Drury Designs in Gllen Ellyn, Ill.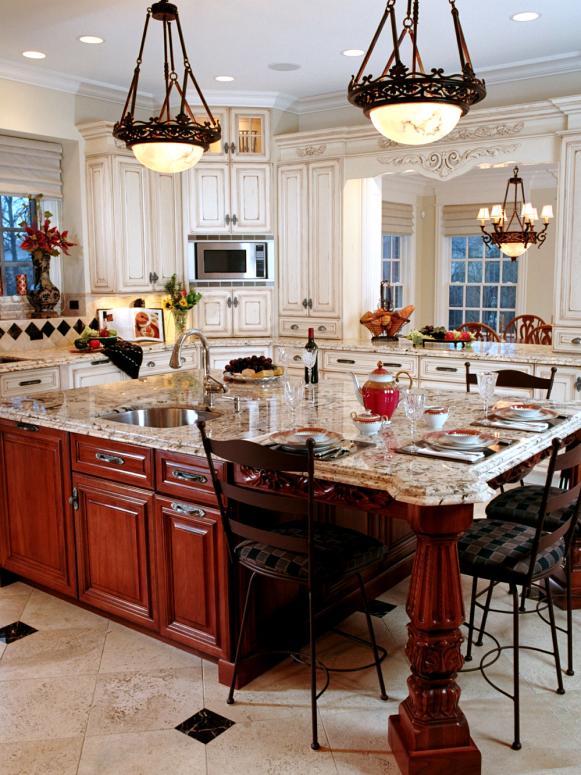 White Large Traditional Eat-In Kitchen
The ability to mix and match different fabrics and wood tones benefits traditional design. Design by Gail Drury.
The ability to mix and match different fabrics and wood tones benefits traditional design. Design by Gail Drury.
They are not "purist" kitchens, she says, but rather a more eclectic combination of styles that incorporate more detail and ornamentation than the simple clean lines of most modern styles, Drury adds.
The design works best in a room with lots of windows, because if possible the kitchen would likely include a bay window. The focus is on creating warmth and a homey feeling, says Broerman, because you're going to spend a great deal of time in this style of kitchen.
The need to bring the outdoors in to represent this style means the space will include natural materials on the floors, in the cabinetry and with furnishings. You might see marble, brick, stone and even wood on the backsplash, for example, Broerman adds, and other materials and surfaces that give the space a handcrafted look.
If wood in the room is painted, it probably will be whitewashed, with the wood grains showing through.
It's a design that allows you to mix and match the layers of detail, including color and texture, says Broerman, who lives in a Tudor style home, traditionally designed with granite countertops in the kitchen, wood beams on the ceiling and wood columns framing each side of the stove.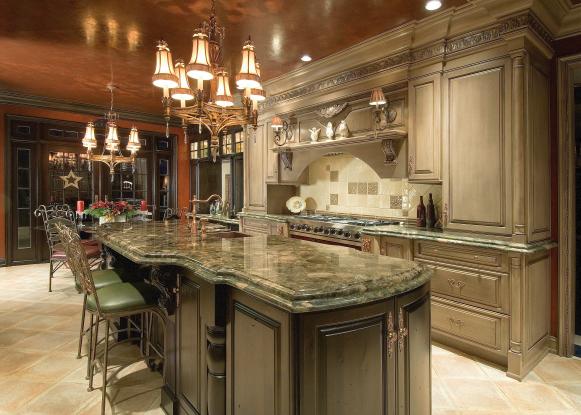 Elegant Kitchen With Metallic Ceiling
Use faucet fixtures and other hardware that have shape and detail. Design by David Stimmel.
Use faucet fixtures and other hardware that have shape and detail. Design by David Stimmel.
To create the traditional look, here are a few tips:
• Clear the kitchen space of furniture that has no defined period style or ornamentation, and get rid of contemporary or modern pieces that have simple, straight lines. Replace this with a few period pieces that you love and build a design around those by adding molding and cabinet door trim that fit this particular style. Then mix that with compatible pieces from other periods for an eclectic blend.
• Consider using a pattern when designing the flooring, such as a basket weave or random pattern with wood. If it's stone, such as limestone, the irregular shapes of the natural stone itself can help create a more natural look and feel to the room. Or, mix a darker stone, such as slate, with limestone, in different sizes, and lay them down in an irregular pattern.
• Create a breakfast nook by the bay window with a wooden table and bench seats with chairs on one side or both ends. Look for furnishings with carved legs, columns and turnings.
• Use fabric to bring color into the room. Pick nature scenes for curtains and cushions and mix them with stripes, not geometric shapes or designs, which do not fit well with this style.
• To create focal points wherever you look in the traditional kitchen, have fun with the knobs on cupboards by choosing different designs, shapes and colors for each door panel. Stagger the height of the cabinetry. Mix and match wood stains or paints.
• Avoid streamlined hardware. Choose faucet fixtures and other hardware, such as light fixtures, that have shape and detail.
• If you can afford to leave these out, skip anything made of lacquer, veneer or laminate.