Classically cool and unapologetically practical, modernism has influenced everyone from the midcentury masters to contemporary tastemakers. It's a bold strategy — and here's how it pays off.
What Is Modern Design Style?
Not to be confused with contemporary style (an ever-changing reflection of current trends), modernism is an instantly recognizable aesthetic that dates back to the early 20th century. As the architect Louis Sullivan famously put it, "form ever follows function" in modernist spaces: rooms' structural elements are often exposed, pieces' silhouettes are pared down to horizontal and vertical lines with few curves, materials are sleek and reflective and palettes are muted or boldly monochromatic. This confident, forward-looking style was hugely influential, and minimalist, midcentury modern and Scandinavian spaces all carry visual echoes of its uncompromising (but undeniably attractive) utilitarianism. Get back to basics by making modernist power moves like these.
Modern Spaces Use Glass Partitions
Open-concept modern spaces like this soaring, two-story Arizona great room emphasize every inch of their square footage by deploying materials like plate glass (which very nearly disappears from most angles) in lieu of banisters or railings that would carry more visual weight and interrupt both natural light and sight lines. Polished, poured-concrete flooring also promotes flow between the living and dining areas in this characteristically modern home. (Bonus points for the non-geometric but handsomely monochromatic dog.)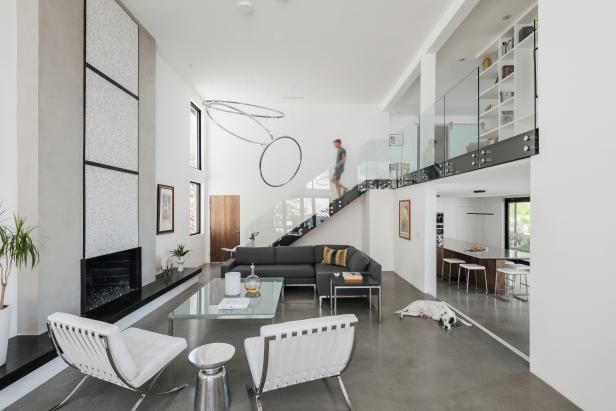 Bright, Modern Living Room Highlights Dramatic Ceiling Height
Dramatic fireplace detail and sculptural rings emphasize the height of this two-story living room. During a renovation of the home, the stairs were repositioned along the side wall, which allowed a new opening between the room and the adjacent kitchen and encouraged movement of light and views through the two spaces.
Modernism Minimizes Accents
This modern sitting area does have a few adornments: its linear white sofa sits beneath a large color photograph, and a clear glass sculpture shares space with design books and a lacquered box on a glass slab coffee table. Consider how faithfully those few accessories hew to modernism's principles, though: the sculpture is a simple, seamless shape, the photo features a clean chrome frame and a virtually invisible, linear chrome picture light, the box's crisp white surface has clean black edges and the design books are bound in muted tones that don't scream for attention.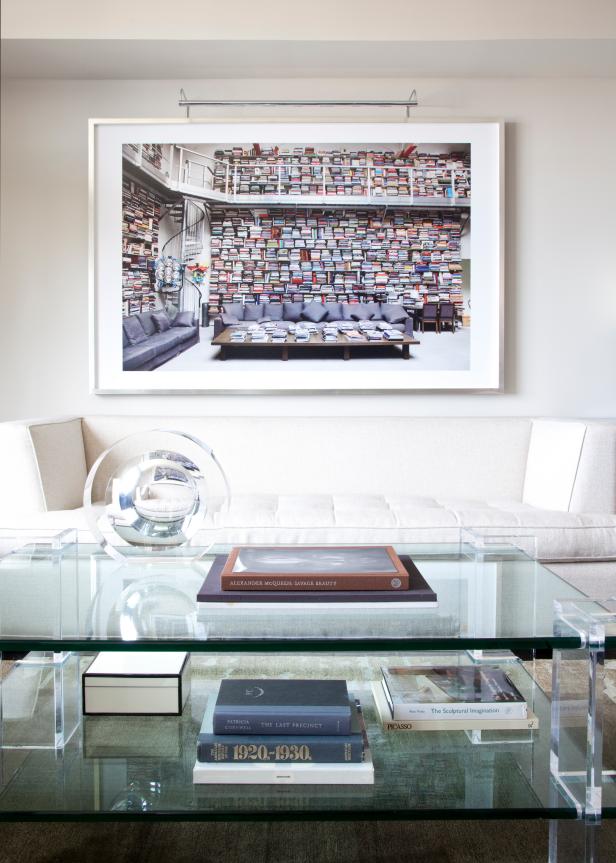 Modern Sitting Room Features Large Framed Art
A large framed piece of art hangs on the wall above a mod white sofa in this sitting room. A lovely two-tiered glass coffee table features a round glass sculpture and plenty of reading material.
Photographer: Christina Wedge
Warm Wood Softens a Modern Space
With majestically modern exterior glass walls (no breezy textiles to interrupt the natural light or block views here), concrete flooring and an angular platform bed as its sole piece of furniture, this austere bedroom depends on connection with the outdoors for warmth. The honey-toned wood and rust-colored linen duvet on the bed add a few clean, organic notes; the natural wood ceiling, in turn, contributes additional warmth and guides the eye out to both the geometric roof line and the verdant foothills outside.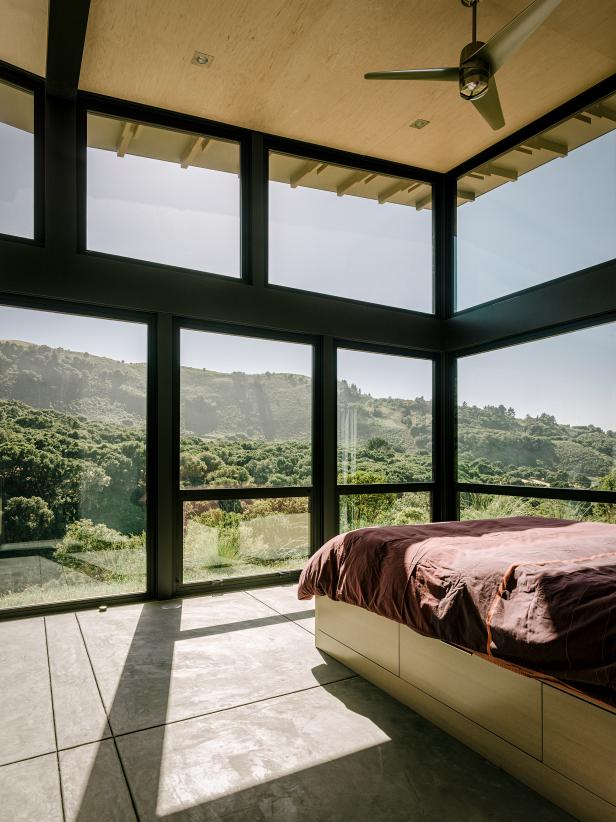 Modern Bedroom with Glass Exterior Walls
With its tall exterior walls of glass, this modern bedroom gets a sweeping view of the surrounding rugged and hilly terrain. A natural wood ceiling provides an organic element that connects the space to the outdoors. A broad overhang, part of the flat, modern roof line, provides some shelter from the sunlight that streams into the space.
Get the info you need on modern kitchen design, and prepare to give your kitchen an up-to-date facelift.
Modern Pieces Are Ideal for Outdoor Spaces
Porches, patios and pool decks are the perfect places to play with modern design principles: where better to use smooth, industrial-strength pieces that are easy to clean and virtually impervious to the elements? Consider the dining set, chaises and umbrella in this impossibly chic Long Island yard: their no-frills construction and white-on-white palette can serve as the backdrop for stylish outdoor entertaining now and for decades to come. If you're looking to dip your toe in old-school modern style, heading outdoors is an excellent way to get started.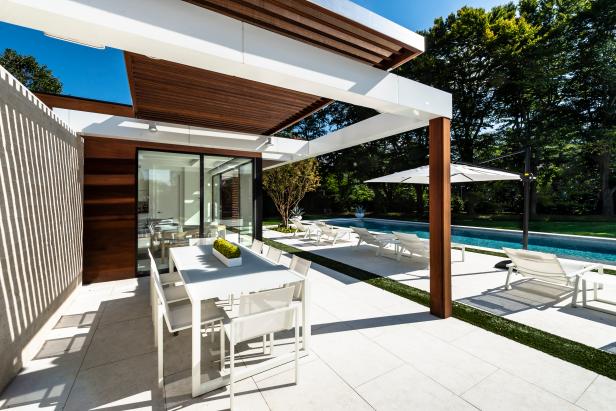 Modern, Minimalist Cabana and Covered Patio with Outdoor Dining Area
Designer Jessica Licalzi chose the patio and pool deck's table, chairs and lounges to create a harmonious transition from the cabana. "The outdoor furniture that was selected requires little maintenance, which is ideal, and can stay outside without any covering," she says. "We didn't want the furniture to combat the cabana pieces and wanted the powder-coated look."
Modern and Midcentury Are Complementary
This dramatic, upholstered black leather platform bed and the low, tone-on-tone dresser beside it are pitch-perfect homages to traditional modernist spaces. Its sculptural, steel-boned white light fixture (inspired by George Nelson's iconic 1952 Saucer Bubble Pendant) and the banana art Andy Warhol created for the Velvet Underground's 1967 album, in turn, push the space in a more midcentury-modern direction.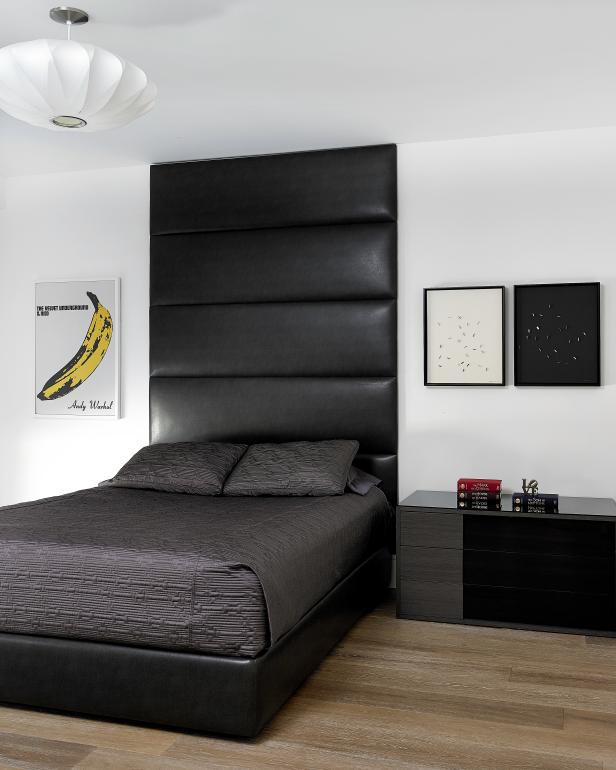 Modern Bedroom With Leather Bed
If Pop Art had a bedroom, it would look like this. A black leather bed, sky-high headboard and textured black bedding bring edgy cool.
Modern style captures the spirit of Scandinavian, mid-century modern and post-modern design

using clean lined furnishing and smooth, sleek surfaces paired with metal, chrome and glass. If

you want to shine in modern style, ditch the knick-knacks, pump up the neutrals and add some

bold, colorful artwork to your interior space.
Chair of the ASID National Board, designer Kerrie Kelly
Modern Upholstery Skips Trim and Tufting
Pull a modern bedroom together with cues from this luxurious space on St. Barts: its expansive-but-unfussy window seat and benches lack the tassels, braid and fringing one would associate with more decorative styles. A gleaming, rectangular (the modernists loved right angles) headboard frames crisp white sheets, and the cool concrete floor lacks an area rug.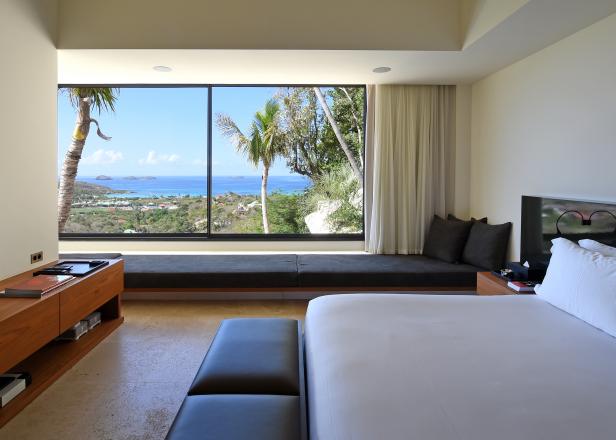 Modern Bedroom With Daybed Bench
A long bench doubles as a bed in this chic bedroom with views that decidedly start the day off right.
Sibarth Real Estate, a member of Luxury Portfolio International
Modernism Favors Cool Metals and Stone
With steel-trimmed furniture polished to a mirror-like shine and a monolithic, near-seamless granite fireplace that matches its ebony flooring, this urban aerie epitomizes modernism's cosmopolitan glamour. Unlike the serene St. Barts bedroom (above), this space lacks a view of golden sand and swaying palms to soften its sharp edges — so its design team added an area rug to soften the geometry just a smidge.
Explore More Modern Spaces
Learn about the most popular styles in interior design — and use these pro pointers to bring them to life in your home.