Low-slung roofs, clean lines and open living spaces characterize modern architecture.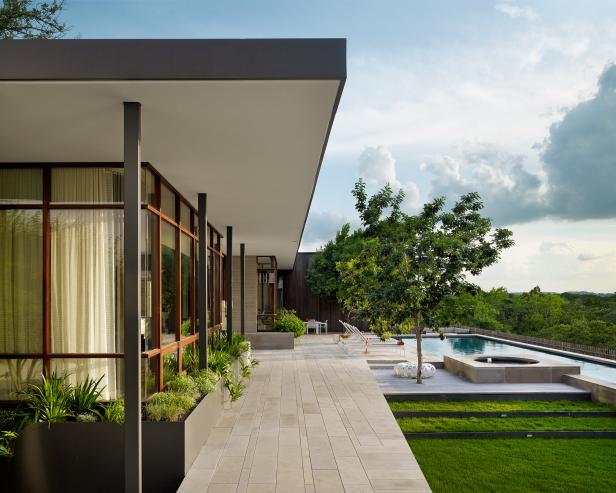 Midcentury Modern Home With Backyard Pool & Spa
In the backyard of this midcentury modern home, planter boxes line the windows and the landscaping is kept simple, yet elegant. Limestone decking leads the way to the narrow, elongated pool complete with lounge chairs and a spa for relaxing and enjoying the view.
It's easy to confuse modern architecture with contemporary architecture. In casual usage, the two words mean the same thing. But modern architecture refers to design inspired by the historical art movement of modernism. In fact, most examples of modern architecture are at least 50 years old, so they aren't actually all that modern anymore.
Modernism was a rebellion against classic architecture traditions. Because it was a broad movement spanning almost 60 years, it encompasses several familiar architectural styles, like Arts and Crafts, art deco, and even ranch. It also produced some giants in the architecture pantheon: American Frank Lloyd Wright, German Ludwig Mies van der Rohe and Swiss-born Le Corbusier, among others.
Open living spaces. Wright and his contemporaries thought separate rooms impeded the flow of living. Modernist homes usually feature open floor plans that combine spaces for dining, relaxing and entertaining.
Clean, geometric lines. Forget fussy arches and columns -- modernist homes emphasize spare geometric forms.
Technologically advanced materials. Rather than traditional wood and plaster, modernism advanced the use of new materials like iron, concrete, steel and glass.
Function over form. You can thank modernist pioneer Mies van der Rohe for the present-day office cubicle. Mies thought buildings (including homes) should be large and open to accommodate any function, and then subdivided with movable walls and screens. He believed the open space would foster a feeling of community.
Fallingwater. Frank Lloyd Wright's 1936 masterpiece, built in Bear Run, Pa., incorporates a waterfall, a forest and boulders into its serene profile.

Villa Savoye. Located near Paris, this open, abstract, pure-white concoction by Le Corbusier is one of the most well-known modernist homes.
Practically Speaking: Headaches and Hassles
Although the modernist concept of open space is visually appealing, Wright probably never gave a moment's thought to having to keep all that space clean. In an open floor plan, you can't shove all your clutter into a room and close the door on it. In fact, you can see your dirty dishes when you sit in the living room, so there's nowhere to hide from kitchen duty.
Modernism's focus on new technology and materials was exciting for its time, but by contemporary standards, all the metal and glass can seem rather cold. Not to mention they show dust.
Modern homes were built to honor the concept of free-flowing space. They exemplify highly functional living as well as a rejection of sentimental ornaments and clutter.
The modern movement came to be criticized, however, because its slavish devotion to function ignored basic human needs. For example, towering modern apartment complexes may be a great use of vertical space, but their lack of natural greenery and common areas tends to discourage human interaction. Truly open space in a home can interfere with privacy needs. And not many people actually want to live a life totally free of sentimental objects.
But modernist ideas have made the jump to contemporary architecture in the form of modified open floor plans that convey a feeling of spaciousness while preserving some privacy and storage space.