How to Marry Design Styles with Your Significant Other
It CAN be done without conflict.
Moving in with a significant other brings excitement, curiosity and difficult conversations (Who pays what bills?). But along with all of that comes the ultimate task of blending two different decor styles into a functional, inviting home. Oh, and you have to sort through massive amounts of stuff you've both accumulated over the years.
For those of you in the transition process, I'd like to share some tips I learned from moving in with my husband.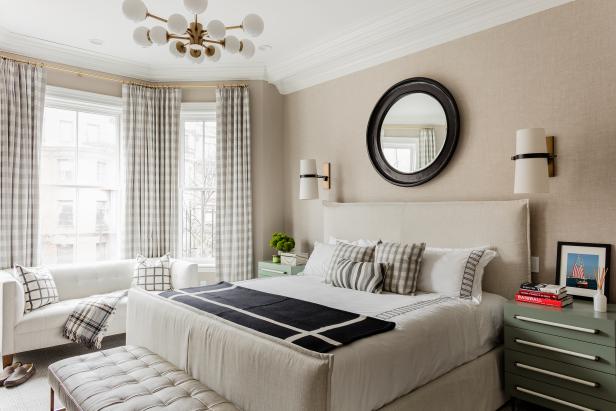 Traditional Bedroom With Soothing Neutral Palette
Symmetry is key in this classical designed bedroom with a hint of nautical theme. The slipcovered bed is flanked by matching sconces and sage green nightstands. Gingham curtains add to the traditional look, and a curved sofa is the perfect spot to relax.
Compromise and communication are key.
I'll start with this, because without communicating and compromising, you won't make any progress. Discuss how you each want your home to look and feel. Be open about which items contain sentimental value. Explain what's most imporant to you, like having a quiet workspace or a place to entertain and watch TV with friends. Accept that some compromise is necessary. For instance, I painted an abstract painting on canvas using only pink paint. My husband wasn't crazy about a bright pink painting hanging in the living room, so, I hung up it up in a guest bedroom instead. Problem solved!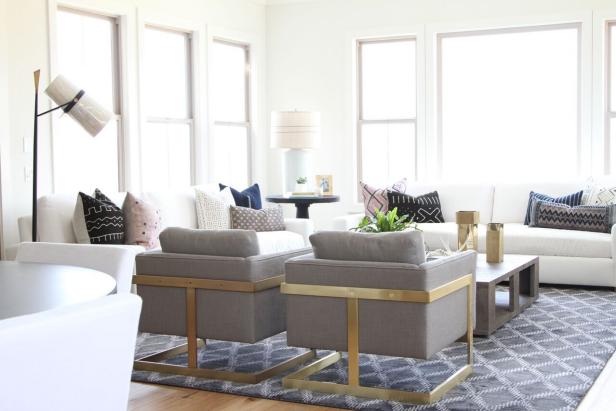 White Contemporary Living Room With Gray Armchairs
The beautiful accent pillows were made from vintage textiles. Keeping them within a similar color palette allows them to be mixed and matched with stylish flair.
Don't knock it till you try it.
At first, everything will look awkward and misplaced. But before throwing out everything and starting from scratch, move it around; try furniture and wall decor in different rooms; and keep items in place for a while. I was surprised at how quickly I grew to love and enjoy tchotchkes and furniture that belonged to my husband.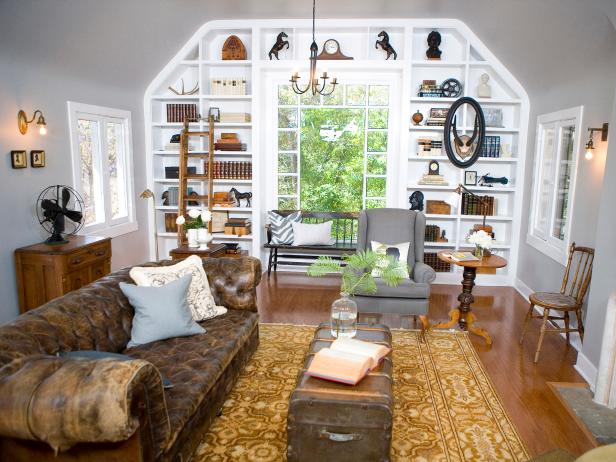 Ian Brennan's Eclectic Living Room Mixes Styles For Personality
Glee creator Ian Brennan's living room was redesigned by HGTV Design Star winner Emily Henderson, as seen on HGTV's Secrets From A Stylist. For the bungalow's decorative makeover, Emily deliberately combined three distinct design styles to reflect Ian's personality. Starting with a '30s masculine look that she's calling "FDR Chic," she then layers two more styles: a fun '60s element called "British Invasion Mod," and furnishings from Ian's travels called "Backpacker Traveler."
You share a home now, so it makes sense to buy furnishings and decor as a couple. Shop together so that one partner's style preferences don't dominate the home. Plus, any item you buy together will carry much more meaning than one you bought on your own. The best, most-rewarding purchase my husband and I made together was our beautiful, customized Chesterfield couch. We love sinking into it at night after a long day at work. It was a big purchase, but we plan on passing it down to our children one day.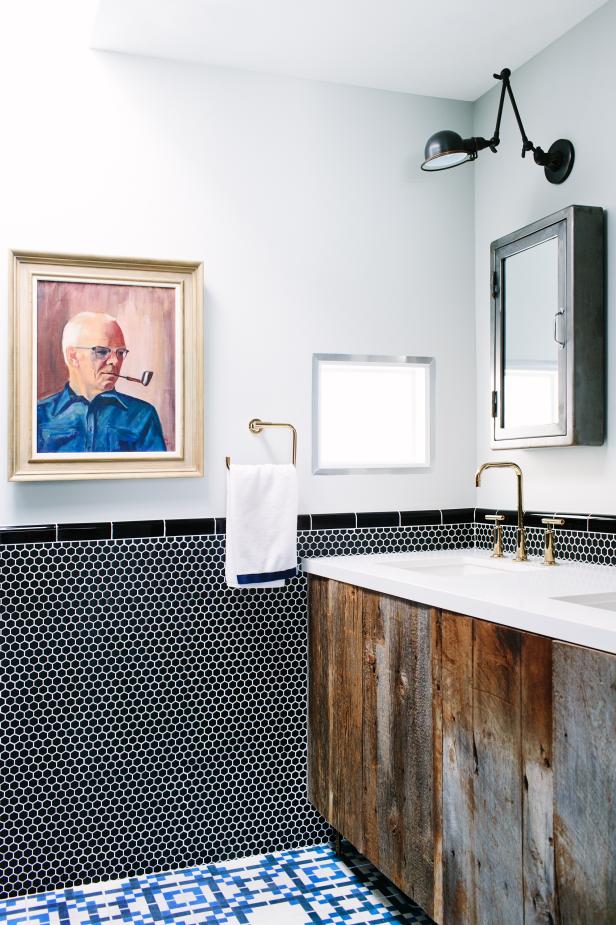 Eclectic Black and White Bathroom With Rustic Wooden Vanity
This lively bathroom features black hexagon wall tiles paired with bright blue and white floor tiles that have been arranged into a geometric pattern. A wooden vanity adds a rustic vibe, while brass fixtures provide a finishing touch. A painting of a man with a pipe hangs on the wall.
This design style is your new best friend. Mixing metals, textures, patterns and styles helps create a lived-in, unique look. So what if you love brass and copper accents while your partner prefers dark woods and leather? All of those elements can work together. Combining light and dark, soft and harsh, neutrals and bright elements make for a well-balanced living space representative of both masculine and feminine styles.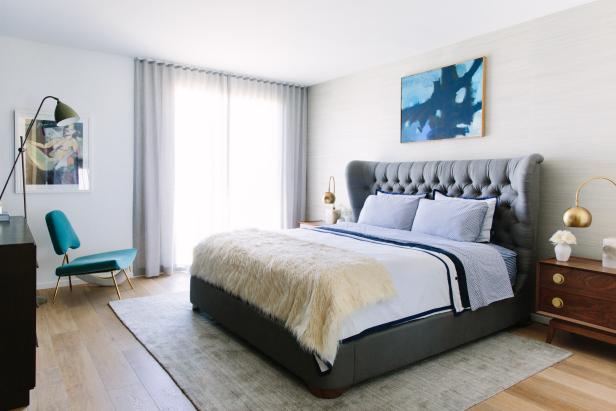 Eclectic Bedroom With Gray Upholstered Bed
A gray upholstered bed is adorned with a fur throw in this eclectic bedroom featured in a townhouse. A blue piece of art hangs on the wall giving the room an eclectic feel.
Think twice before insulting that puffy leather chair or dingy shower curtain. Don't throw out items just because you don't like them. Ask your S.O. if there is sentimential value attached to an item and, if not, make the decision as a couple whether or not to give it away. Of course, it's unrealistic to go through this process with every. single. thing. But, remember, it's all just stuff. Will your world come crashing down if your partner feels deep attachment to a kitschy lamp from childhood? Probably not.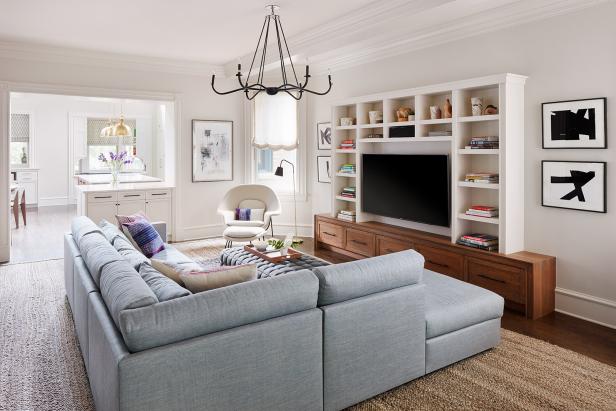 White Transitional Family Room With Sectional
This friendly family room was designed with everyone in mind: The large, custom-made sectional perfectly fits this family of six and the built-in entertainment unit houses toys in the drawers and books and objects on the shelves. Womb chair: DWR; Crane floor lamp: CB2; Spider chandelier: Cisco Brothers
Flex your creative muscles.
In other words, try to make the ugly stuff that you hate blend in with the rest of the decor. Approach the situation optimistically. This is an opportunity to create a brand new style that represents both you and your S.O. For example, my husband had a collection of Hatch Show prints hanging on random walls throughout the house. I suggested hanging them all together to create a more visually striking gallery wall. Bonus: Now it's a conversation piece!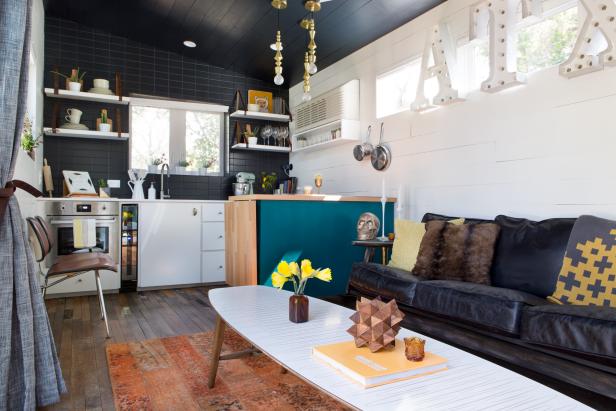 Tiny, Eclectic Living Room & Kitchen
Kim Lewis Designs seamlessly blends the living area and kitchen together in this tiny home in Texas. A chic black-and-white color scheme ties the two spaces together with color accents and patterns that aren't too loud.
Molly Winters Photography
Creating an inviting, personalized home takes time, so much time. Resist the urge to buy everything from Ikea or Target. Let your home evolve naturally. Scour flea markets and estate sales. When offered, accept furniture from family members. (Seriously, more than half of our house is made up of items handed down from parents and grandparents.) When you fill your home with items that bring you joy, evoke a memory and posess meaning, it makes the process worthwhile.