Combining the vibrant hues of a desert sunset with organic materials, earthy pastels and dazzling Native American, Mexican and Spanish artistry, Southwestern style can breathe character into any space. Learn how to make yourself at home among these historic patterns, textures and tones.
What Is Southwestern Style?
Like the spectacular, dramatic plant life that has adapted to thrive in the desert, Southwestern style begins with organic building blocks — consider its traditional, earthy foundational palette of cactus greens, adobe red and desert-toned neutral hues — then explodes with exuberant shots of bright sunshine yellow, fiery orange and the turquoise of a cloudless sky. Perhaps to counterbalance the challenges of being outdoors in the Southwest, interiors tend toward casual comfort through the use of well-worn natural materials: think generously-proportioned rooms with exposed and ornamental beams, large-scale seating upholstered in weathered leather and intricately-woven textiles and hand-loomed rugs and ornamental tapestries in graphic patterns. Distressed wooden furniture gleams with burnished-metal accents, and knotty pine and ceramic tile floors offer a cooling contrast to desert heat. Cultivate your own oasis with characteristically Southwestern style moves like these.
Southwestern Spaces Feature Vivid Ceramics
Vibrant, decorative Talavera tiles — a type of hand-painted, tin-glazed pottery that began to be produced in Puebla, Mexico after Spanish colonists brought their ceramic techniques to the country in the 16th century — bring intricate designs in bold shades of classic blue, bright yellow and verdant green to Southwestern rooms, as in this kaleidoscopic kitchen. Talavera pieces can adorn everything from exterior balconies and interior architectural features like archways, backsplashes and floors to bathroom vanities.
These simple, stylish tile coasters will be a great addition to your outdoor entertaining toolkit. They also make a wonderful hostess gift, paired with the makings of a cocktail or a pretty corkscrew or bottle opener.
Architecture Sets a Southwestern Tone
Adobe or Pueblo-style architecture, characterized by the use of local materials (like thick, rounded masonry-and-stucco walls and the hand-hewn exposed beams in this bright, spacious living room) is common in New Mexico and throughout the American Southwest. Some elements of the style, like the colonial-style fireplace and sitting area in the corner of the room here, are so strongly associated with the Southwestern aesthetic that they can make more eclectic pieces (like the red Chinese Chippendale-style chairs and the Asian-inspired garden stool between them) feel like desert treasures. The vivid blue entertainment console and deep green curtains, in turn, echo the hues of Talavera tiles; a clever interpretive trick, no?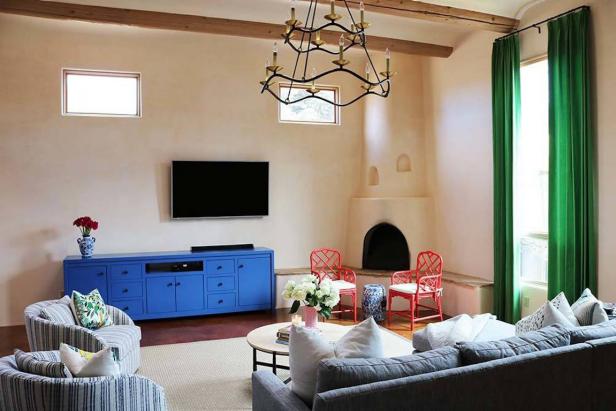 Southwestern Living Room With Blue Cabinet
This room was where the family would hang out and watch tv, but designers softened the presence of the big, black screen by filling the space with lots of bold color.
Southwestern style gathers its inspiration from the desert palette, Spanish textiles, adobe houses, ironwork and nature. Leather, suede and loads of texture in shades of rust, terra-cotta, cactus green and bulky furnishings are a great foundation for celebrating Southwestern style.
Chair of the ASID National Board, designer Kerrie Kelly
Southwestern Style Features Color + Craft
This rounded adobe dining nook features windows curtained with an exuberant, geometric rainbow print and traditional wrought iron hardware that recurs on a pair of electric sconces. Though there's no artwork on the walls, the seating itself represents classic Mexican craftsmanship: these barrel chairs with woven cedar slats at their bases are a canvas version of traditional Equipale chairs, designed by Aztec artisans more than 500 years ago and handmade today with all-natural materials in Guadalajara. (They're also one of the trendiest Southwestern chairs available now, and are popping up both indoors and outdoors at chic hotels around the world.)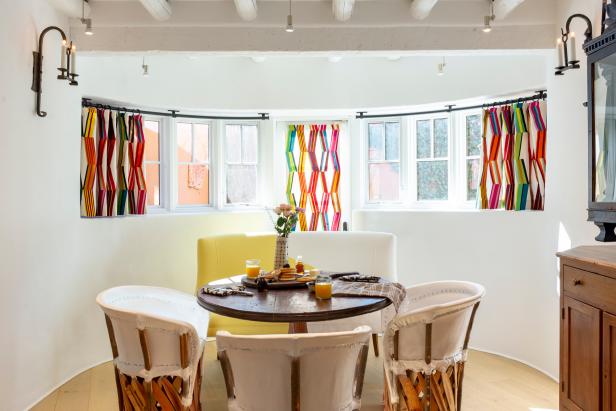 Eclectic Southwestern Dining Room With Rainbow Curtains
Rainbow bright curtains call attention to this dining room's unusual rounded shape. For furniture, a small round table and curved chairs make perfect sense!
Southwestern Patterns Are Often Geometric
Gorgeous Navajo basketry, like the trio of graphic pieces on this dining table, are also characteristic of Southwestern spaces. Their intricate, high-contrast designs pop against the supersaturated tones of the runner on the rustic wood surface, and they complement the Talavera tiles on the backsplash in the kitchen. The pale, irregular slabs on the floor, in turn, are Saltillo tiles that have been handmade with river clay and kiln-fired in Northern Mexico for generations. Classically rustic and popular in homes across the Southwest, Saltillo tile is all-natural, eco-friendly — and costly, given the care with which it's created.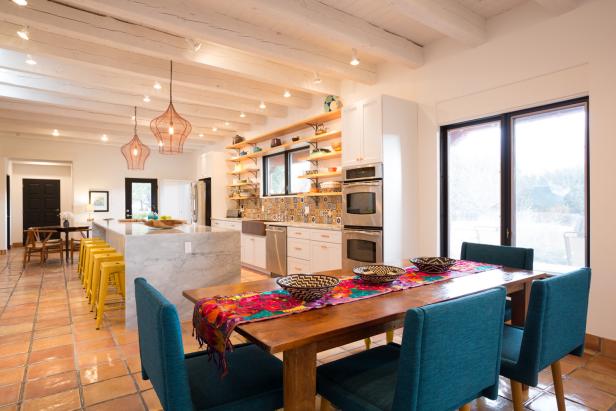 White, Bright Kitchen with Colorful Accents
This fun, family-friendly dining room and kitchen gets its color from bold furniture and accessories, including brightly patterned Mexican tile on the backsplash. Open shelving and a sleek waterfall design on the island give the space a contemporary, streamlined look that underlies the eclectic decor.
Southwestern Style Is a Bit Boho
Classic Southwestern interiors are often cross-referenced by fans of bohemian style. The bold blue paint on the adobe half-wall flanking the front door in this home — and the hand-painted pattern on the door itself — would be right at home in a boho space. Likewise, the wrought-iron pendant and the carved wooden table it illuminates would find favor with tastemakers like boho aficionado Sarah Blakeney. The bold mix of geometric patterns in this characteristically Southwestern sitting area are equally eclectic-interior-friendly. The space's most striking pieces, of course, are its rugs. First designed and woven in the 1870s, Navajo rugs became especially popular with American consumers during the post-World-War-II travel boom, when tourists bought the intricate geometric pieces (and pieces made to imitate them) as souvenirs of trips to the West.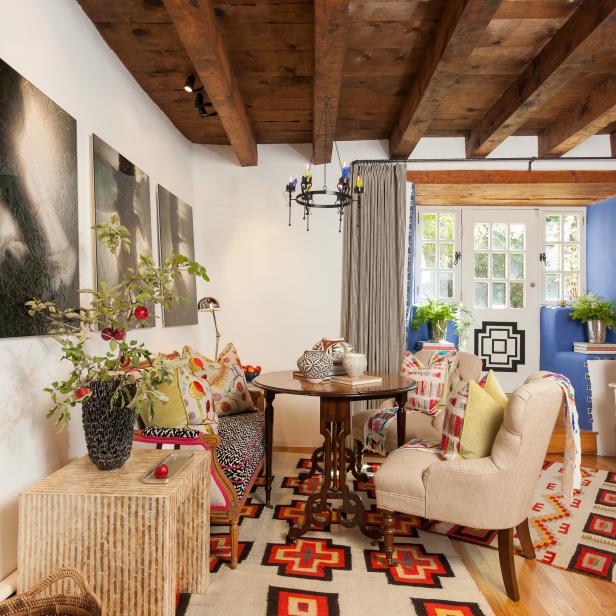 Colorful Eclectic Sitting Room With Exposed Beam Ceiling
This lively sitting room features a small wooden table paired with neutral upholstered armchairs and a black and white bench. An exposed beam ceiling lends a rustic touch, while red, yellow and black print area rugs add a Southwestern vibe.
Move over, Persian rugs. Navajo rugs bring contemporary design chops to traditional tribal floor covering.
Southwestern Style Embraces Vintage Pieces
This eclectic Austin bungalow puts a casual, contemporary spin on traditional Southwestern touchstones: a Navajo-style area rug centers the living room's well-worn wooden furniture and leather sofa, and a wall-mounted weaving and toss pillows extend the vivid color story. Vintage ceramic table lamps hint at traditional Southwestern style (and the kitschy outposts tourists might have found in their travels 50 years ago). Framed with white shiplap and mixed in with modern elements like white locker-style consoles and a healthy helping of tech, this space feels dynamic rather than dusty.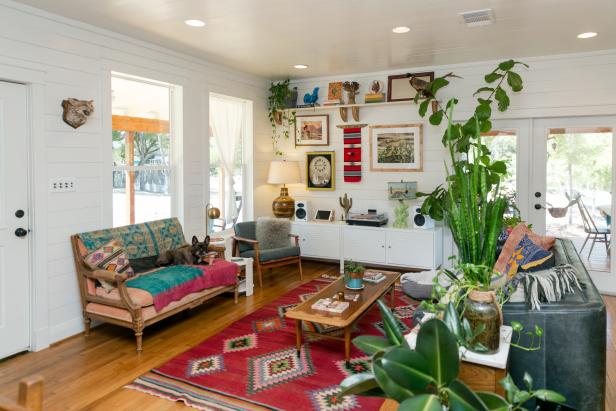 Bright Southwestern Farmhouse Living Room
Artist Lacy VanCourt's transformed Texas farmhouse features carefully curated southwestern style and rich textiles. White wall planks allow colorful pieces of framed art and collectables to bring the space to life, while her embroidery work can be seen in the sofa cushions and pillows.
Southwestern Style Can Be Cosmopolitan
In recent years, Southwestern style has seeped into minimalist, trend-conscious interiors. As arid destinations like Palm Springs, Joshua Tree and Marfa have lured tastemakers out of coastal cities and into the desert, characteristic bits of the desert — like this caramel leather sofa with a sheepskin throw, the carved bedside tables flanking the sunset-colored coverlet and graphic woven accent pillow and the hand-glazed table lamps — are trickling back to the coasts. Who can say where the Southwest might turn up next?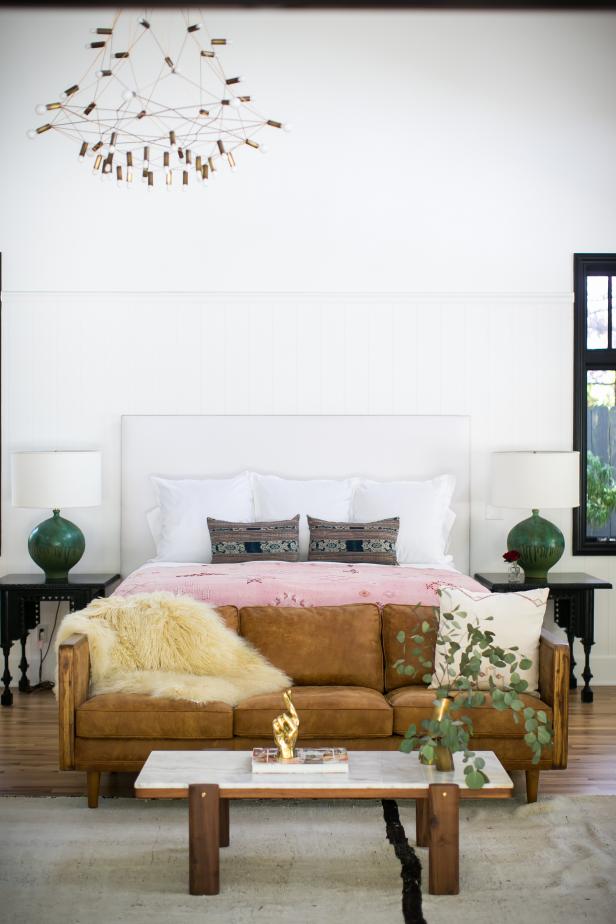 Neutral Southwestern Bedroom With Brown Sofa
This bedroom uses Southwestern-style and a mix of textures to create a space that comfortable and stylish. The neutral base gets pops of color from the blue-green lamps and pale pink bedspread.
Explore More Southwestern Style
Learn about the most popular styles in interior design — and use these pro pointers to bring them to life in your home.