Farmhouse Design Style 101
Perfectly imperfect, practical and comfortable, eclectic and classic — what's not to love about American farmhouse-inspired spaces? Cultivate your own with our aesthetic almanac.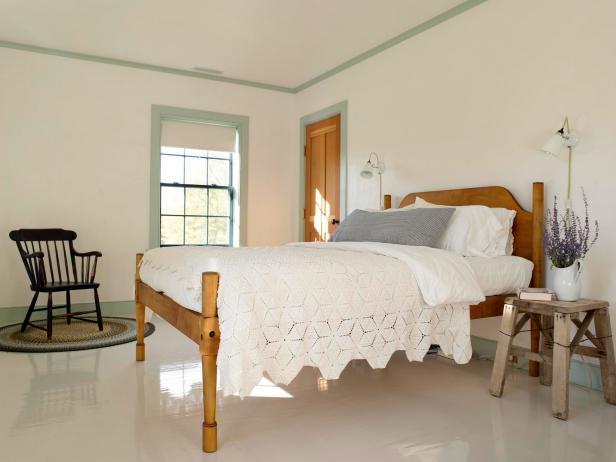 A New-Old Farmhouse
Set on a hilltop at the end of a long winding dirt road in Sharon, CT, this weekend retreat could easily be mistaken for a renovated 19th-century farmhouse — exactly as the owners and their designer, Rafe Churchill, intended. "The owners wanted a house with the restrained beauty and pragmatism of the New England Shakers," says Churchill. "This house strikes the perfect balance between beauty and functionality, old and new: combining carefully curated furnishings, crisp colors, durable finishes with net-zero sustainable building technologies. This guest room, for example, provides simple comforts: a beautiful chair, a comfortable bed, and a stunning views of Sharon's countryside."
American farmhouse "style" was initially a matter of practicality: a wide, deep, apron-front sink simplified chores, you needed a long, sturdy table to serve your whole household, and room-spanning, hand-hewn, exposed ceiling beams were ubiquitous (because they kept your house standing). Just 1% of us live on farms these days, but following their recipe for warm, welcoming spaces is as easy as pie. Gather ingredients like these to bring the farm to your table (and chairs, walls, floors … you get the idea).
Farmhouse Kitchens are Practical + Pretty
The old-fashioned appeal of a sweet space like this one stems from how beautifully it serves as a prep and gathering space. Designed pre-plumbing to accommodate well water carried in by hand, generous farmhouse sinks are both eye-catching and handy for cooks who plan to feed a crowd. Develop a farmhouse personality in your own kitchen by using whitewash or pale, pastel milk or chalk paint for cabinetry and walls, installing butcher block countertops and incorporating functional and decorative elements (think pegs for pottery and pretty tea towels, or open shelving to display vintage dishes and glassware).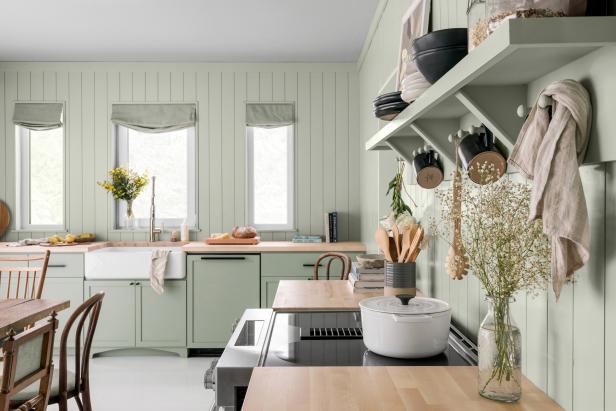 Elegant in Green and White
The white, green and gray color palette of the kitchen easily complements the bleached butcher-block countertops and creates a calm backdrop for cooking with friends and family.
Robert Peterson, Rustic White
Unpretentious and homey, farmhouse kitchens are filled with comforting warmth from their vintage-look apron-front sinks to their reclaimed wood, painted cabinets, open shelving, shiplap and design touches drawn from the past. Find ideas here for bringing farmhouse style to your kitchen.
Farmhouse Appliances Have Personality
Colorful retro refrigerators, lovingly-refurbished stoves and panel-clad appliances that blend in with cabinetry are all key players in a farmhouse kitchen. Range hoods can also contribute charm as farmhouse statement pieces: look for classic materials like oil-rubbed bronze, pewter and copper, or create your own design moment by framing an existing hood in distressed or reclaimed wood.
Blue Cabinets and White Vintage Stove
Blue cabinets help make the vintage stove in this kitchen feel fresh and fun, not dated.
Just because they're functional doesn't mean they can't be beautiful too. More and more homeowners are using the kitchen range hood as a unique statement piece in their kitchen remodel.
Farmhouse Textiles Are Often Heirlooms
The most iconic way to bring homespun style to a farmhouse bedroom is to cover the bed with one-of-a-kind pieces like quilts, embroidered linens and handmade lace. The subtly-ticked cornflower blue panels on this gorgeous quilt are a classic fabric choice; patterns like gingham and toile are equally evocative, as are textural natural solids like linen, chambray, denim and burlap.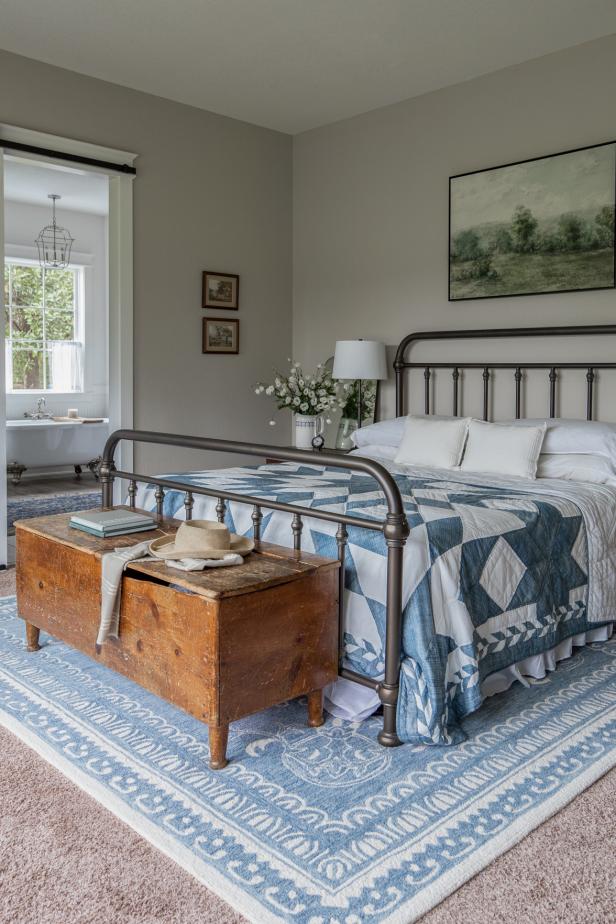 Rustic Farmhouse Bedroom With Iron Bedstead, Quilt and Heirloom Chest
This primary suite combines new pieces (like the bed, the table lamps flanking it and the area rug) with older elements like the gorgeous family antique at the foot of that bed and the illustrations on the wall beside the bathroom. A bucolic landscape painting completes the space behind the bed.
Barn Doors Are Ideal Farmhouse Accents
Space-saving, statement-making alternatives to pocket doors that show no signs of falling (rolling?) out of fashion, barn doors can add farmhouse character to just about any framed space. A bathroom suite? Absolutely. A mudroom? Perfect. A butler's pantry? Why not! Dial up the rusticity of the look by deploying reclaimed wood, salvaged doors and rugged hardware; modernize it, in turn, by streamlining accessories and sanding or painting your planks.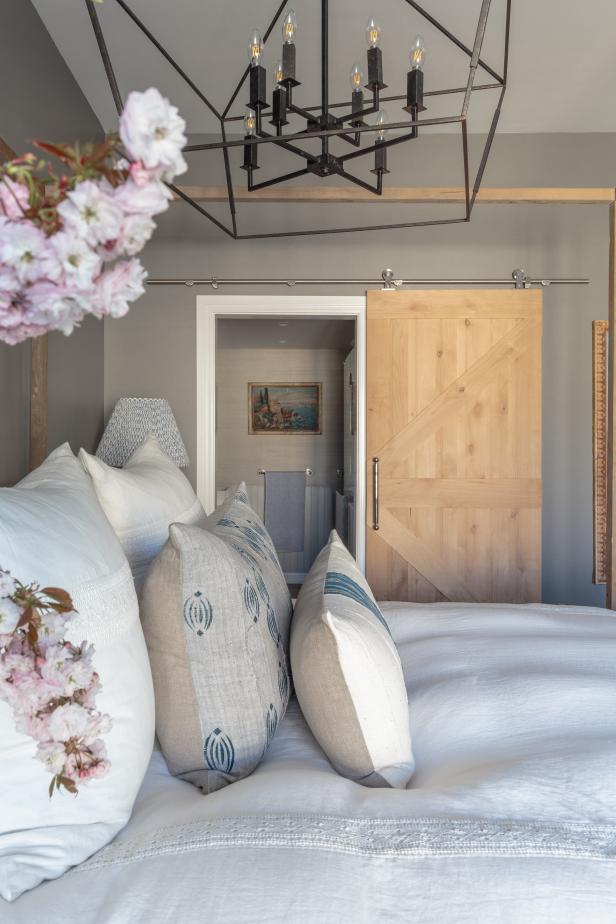 Transitional Bedroom With Paneled Barn Door
A modern chandelier hangs above the bed in this transitional bedroom with a neutral aesthetic. A wood paneled barn door slides open to reveal the en suite bathroom.
Yep, you can use these farmhouse-cool doors anywhere! HGTV Magazine shows you how.
Add inviting character to any space with a stylish sliding barn door. This trend will add major style points to homes of all shapes, sizes and styles.
Farmhouse Style Is All About Shared Space
Constructed of long, sturdy planks and capable of holding a feast for a crowd, traditional farmhouse tables are the centerpieces of rustic dining rooms. This eclectic farmhouse space is full of style MVPs that appear beside and around those tables: cheerfully mismatched chairs stand at its head, foot and one side, while a long, dark bench anchors its opposite. Dazzling, lantern-inspired copper statement pendants cultivate a vintage vibe, and a distressed antique buffet adds a bit of history. And, speaking of antiques …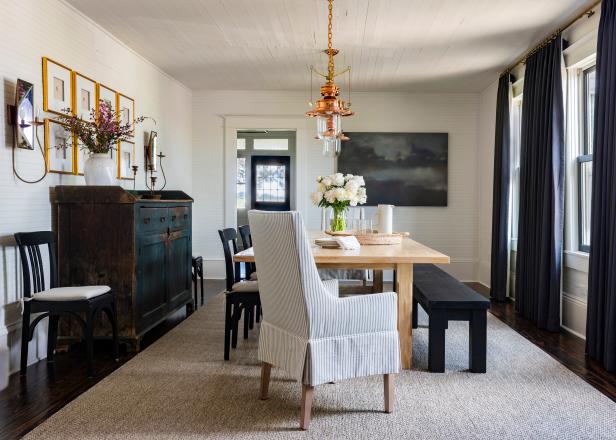 Country Dining Room With Copper Pendants
Dark colors and elegant antiques create a moody, elegant atmosphere in this dining room. The stormy landscape is by artist Mary H. Case; its colors are picked up by the curtains and the weathered forest green sideboard. Two copper lantern pendants by Ann Morris illuminate the 11-foot dining table.
Check out our top tips for adding farm-fresh style to your dining room.
Farmhouse Decor Features Upcycled Finds
Display found objects and repurpose secondhand scores to infuse any room with farmhouse style. Well-worn kitchen implements like cutting boards, bottles and dishes are all ideal for countertop arrangements and eclectic wall displays, and larger pieces like galvanized troughs, pallets and doors can be repurposed as sinks, ottomans and headboards — you get the idea. Aim for architectural salvage stores and flea markets and land … well, who knows where?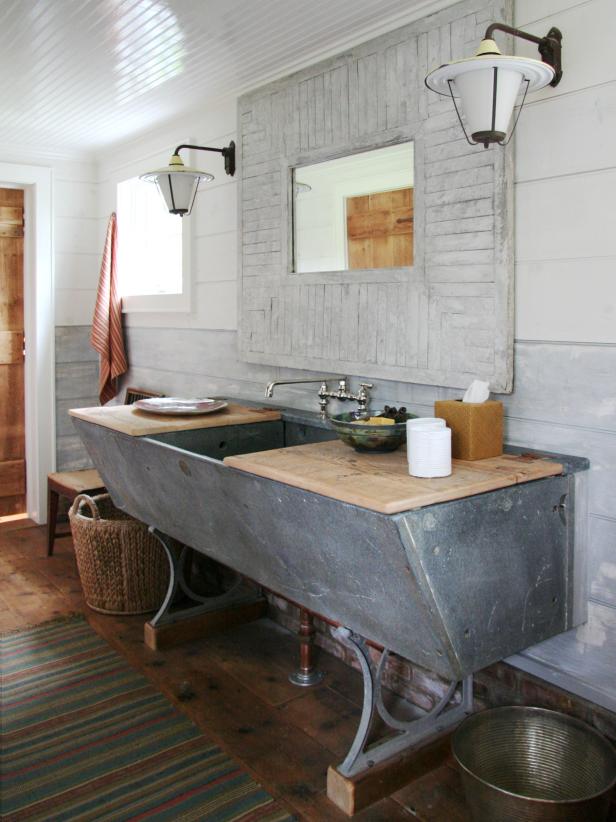 Rescued Cow Trough
When New York design firm Carrier and Company converted an old dairy barn into a guest cottage for a client, they saw big possibilities in this soapstone cow trough salvaged from the property. Owner Jesse Carrier and his team added custom hinged wood tops to create one of the most unusual and beautiful bathroom vanities you'll ever see. The mirror above is made of reclaimed exterior window shutter louvers.
Farmhouse Style Mixes and Matches
This dining room features farmhouse staples like pale green Windsor dining chairs, a wrought iron, candelabra-style chandelier (hanging from a shiplap-paneled ceiling, no less), a rustic plank dining table, a tall china cabinet, multiple upholstery fabrics … we could go on. Their eclectic combination is itself a hallmark of farmhouse style: the come-as-you-are element of surprise is part of the fun.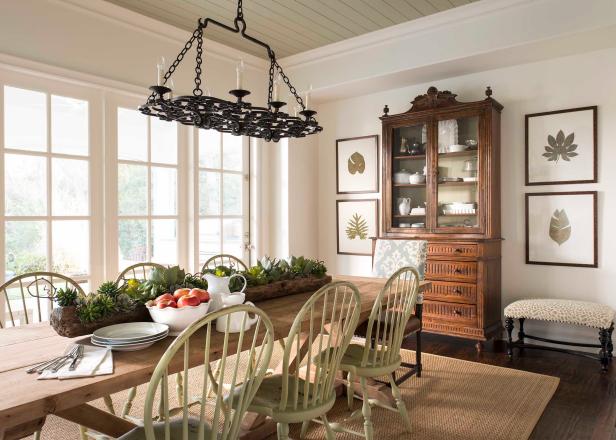 Classic, Country Dining Room With Natural Wood Table, Pastel Green Chairs and Black Iron Light Fixture
Rich hardwood flooring pairs with a natural wood dining table and medium stained china cabinet for a gorgeous mix of finishes in this dining room. The long table is lined with pastel green chairs and complimented with a long succulent centerpiece display. The dark iron light fixture above adds a heavier element to the airy and sunny look.
More Ways to Cultivate Farmhouse Style
Learn about the most popular styles in interior design — and use these pro pointers to bring them to life in your home.