A Minimalist's Guide to Designing With the Color Black
The perfect way to decorate using the color black.
Minimalism is the perfect trend to help us all maximize our lives with less. Our spirituality, our work, our diets and our beauty routines are all becoming more simplified. We're streamlining our schedules by learning to say "no" more often. We're devouring books like The Life-Changing Magic of Tidying Up and giving up what no longer serves us (toxic relationships included). So it makes sense that home décor would follow suit. But following minimalist design principles doesn't mean we have to sacrifice personality or avoid making bold choices. In fact, one of the hottest minimalist trends right now is to use the color black. Don't be afraid; black doesn't have to look goth. Here are a few easy ways to incorporate black into your minimalist aesthetic.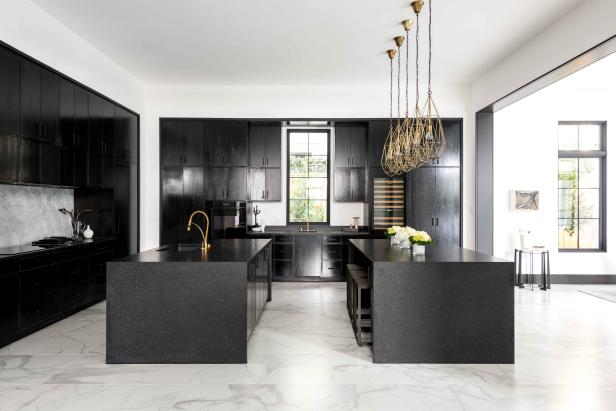 Black-and-White Kitchen With Open Floor Plan
Black cabinets, island and dining table bring dramatic flair to the bright white walls and marble floors in this open floor plan kitchen. Gold pendant lights bring a touch of metallic over the sleek, built-in dining table, and the entire space opens up to the living room, making it perfect for entertaining.
Crisp white cabinets and countertops immediately look clean, modern, minimalist, and at times, super boring. Instead go super luxe, by opting for all black. Using gold accessories immediately lightens up this space, really making it feel inviting and instantly updating the room, giving it tons of personality. How can you do this and still keep it minimal? Your mixer, dish towels, rugs, canisters and the like should all stick to this simple color palette. And don't keep anything out that you don't use on a daily basis! If you want to take on a larger project, subtle, marble grout in a tile backsplash can also make a big impact.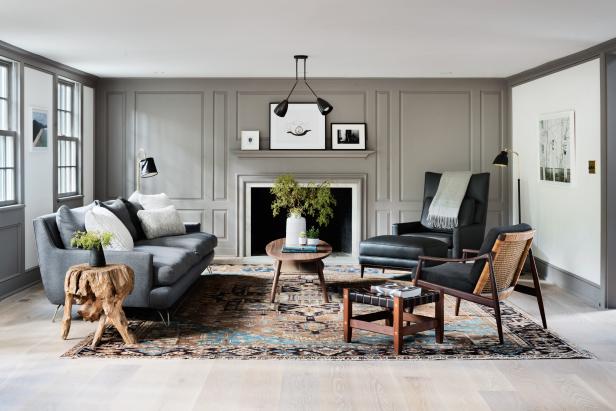 Gray, Modern Living Room in Renovated Farmhouse
Paneled walls add structure, dimension and a bit of modern panache to the living room of this charming New York farmhouse. During the historic home's full-scale renovation, the design team raised ceiling heights, opened up the floor plan and updated the house with a contemporary color palette and modern furnishings, like the sofa and chairs in this comfortable, livable space.
This room probably gets a lot of use, but not a lot of design attention. (And it should get a lot of use, instead of seeming like a cold, sterile showroom.) Going minimalist is about providing space for life versus cluttering every corner of the room and every surface with stuff. Remember that you can also use other colors with black, but combining bold colors will become distracting. Using warm tan or camel, for example, can automatically make the room feel cozier. If you just want a pop of black, consider adding small, black end tables; thin, black picture frames; an area rug with black in it; a blanket with black in it; black and white photography; and/or black lamps. If you'd rather go big, scrap the black accessories and opt for a black couch (and don't be afraid to get a genuinely comfortable one, instead of a mid-century modern one strictly for the clean lines).
Take a walk on the wild side with this year's darkest color trend. Designers spill secrets for using the hot hue in every room.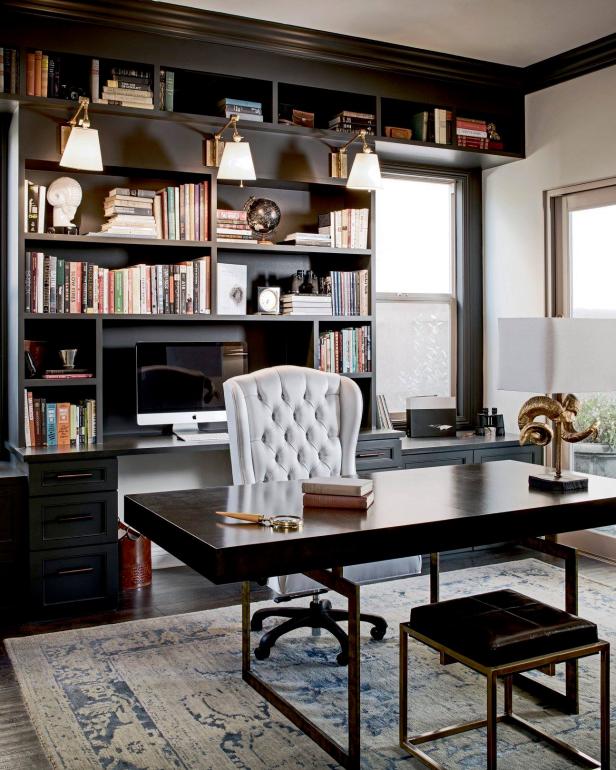 Traditional Home Office With Gray Rug
Sophisticated details like the plush Oriental rug and the tufted high-back desk chair give stately elegance to this home office.
The first thing you may think of when it comes to your office is your desk. Consider a sleek, well-structured, black desk. Or better yet, one that incorporates dark wood and gold to modernize it. Today's minimalism is also often about bringing in natural elements like wood finishes and live plants. You can also use most of the same principles used to decorate the living room in your office with the addition of black office supplies. As with the kitchen, however, only keep out items you use regularly or the room will feel cluttered. Our favorite way to bring black into a minimalist office is to paint a single statement wall and keep everything else light.