HGTV Dream Home 2022 Winner Announcement
Meet the lucky winner of HGTV Dream Home 2022 in Warren, VT.
A huge congratulations to Karey Wolstenholm of Overland Park, KS! She is the winner of the HGTV® Dream Home 2022 sweepstakes, a grand prize package valued at over $2.4 million.
Karey, a mom who owns a print and promotional product company with her husband Rick, couldn't hold back the happy tears as designer Brian Patrick Flynn informed her she was the winner of a gorgeous, fully-furnished mountain retreat in Warren, VT plus an All-New 2022 Grand Wagoneer and $250,000 cash from Rocket Mortgage®.
Karey's sisters gathered the family for lunch at their favorite local restaurant, claiming a film crew was there to shoot a food show. "My sister sent out a text saying she needed our opinion on something and asked if we could meet for lunch," said Karey.
They all agreed to do an on-camera interview for the show with designer Brian Patrick Flynn posing as host. As the interview began, however, Brian revealed his true identity and that Karey was the winner of HGTV Dream Home 2022. "I still cry just thinking about it," said Karey.
Watch the Emotional Winner Surprise
An HGTV superfan and home design enthusiast, Karey has tried her luck at HGTV home giveaways for years, including HGTV Smart Home and HGTV Urban Oasis, entering twice each day for a chance to win HGTV Dream Home 2022.
I entered every day for the past ten years to every home and people laughed at me for it.
Well, they're certainly not laughing now — Karey was chosen from over 142 million entries, the highest in HGTV Dream Home history!
Karey's favorite thing about the Scandinavian-inspired ski cabin located just miles from Vermont's idyllic Mad River Valley? "The outdoor space," she said, "And the land it's on. The privacy and the Vermont setting — it's a package deal." For a family who loves to ski, we'd agree!
Congratulations on your once-in-a-lifetime win, Karey!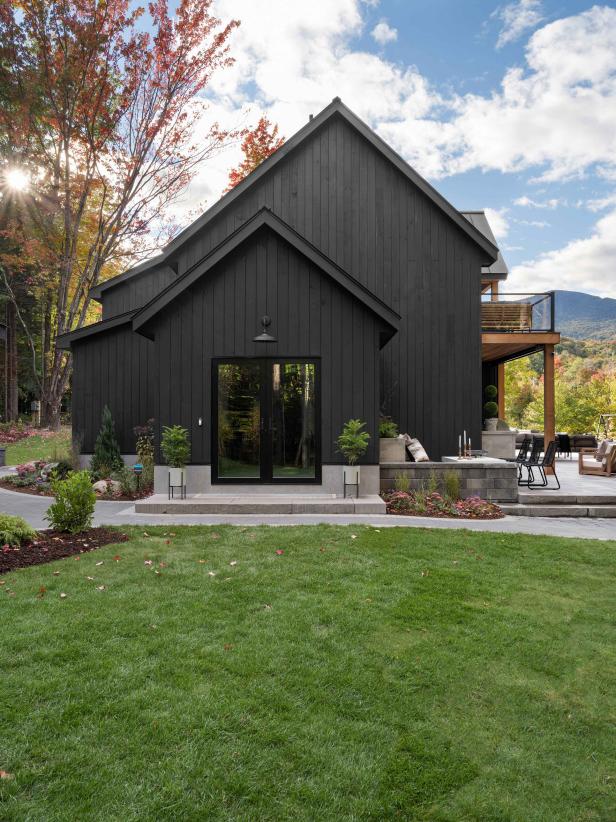 Luxury Contemporary Cabin
This luxury A-frame cabin with a black exterior and black roof mixes modern and classic design details, with the stunning natural beauty of Vermont as the backdrop. "The architecture on this house is just next-level and also super classic," says HGTV Dream Home 2022 designer Brian Patrick Flynn.
Robert Peterson, Rustic White
About HGTV Dream Home 2022
HGTV Dream Home 2022 is a Scandinavian-inspired mountain retreat located in Warren, VT, an idyllic town in the heart of the Mad River Valley known for its stunning views, top-notch ski resorts and more. With trendsetting interior design by Brian Patrick Flynn, the luxe modern cabin was crafted with nature in mind, featuring paint colors and furnishings that evoke a sophisticated mountain vibe. The home was designed by Dylan Eastman and constructed by Big Country Built.
Included in the grand prize package is an All-New 2022 Grand Wagoneer and $250,000 from Rocket Mortgage®.
Another Chance to Win!
Enter daily, once on HGTV.com and once on FoodNetwork.com, for your chance to win HGTV® Smart Home 2022 located in Wilmington, North Carolina.