HGTV Urban Oasis 2021 Winner Announcement
Meet the lucky winner of HGTV Urban Oasis® 2021 in Indianapolis, Indiana.
Congratulations to Rose Caponey of Marana, AZ; she is the winner of the HGTV Urban Oasis® 2021 sweepstakes, a grand prize package valued at over $600,000.
"When I found out I won, I was at work and I thought 'HGTV? Maybe I won a set of dishes or something?'" Rose said. "It was very surreal and very unexpected. I just couldn't believe I had won."
The mom of 3 and grandma of 15 has entered for a chance to win HGTV Home Giveaways for years. She signed up to receive daily reminder emails for HGTV Urban Oasis 2021, entering twice a day every day. "My husband would ask 'What are you doing?' and I would say 'I'm winning us a new home!'" Rose laughed. And she was right! Her name was randomly drawn from over 75 million entries — the most in HGTV Urban Oasis history.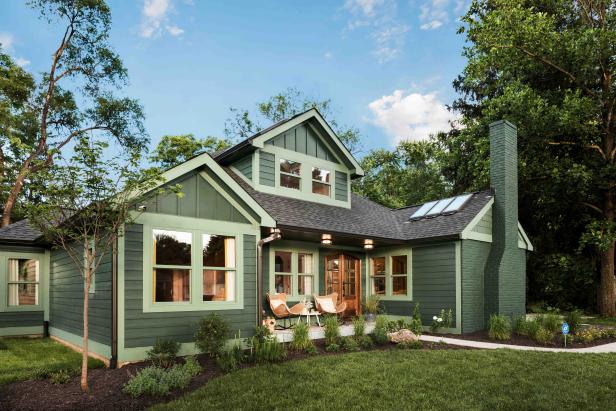 Natural Insulation
A cedar shake roof offers natural insulation and a handsome look for the classic exterior of this impressive home. The durable roof resists strong winds and other severe weather, and helps conserve heating and cooling energy for lower utility bills.
Robert Peterson; Rustic White Photography
Rose is a bookkeeper in her hometown of Marana, AZ where she lives with her husband and two pups, Mook and Mindy. When asked what she loved most about the house she replied, "My favorite space in any home is the kitchen — I love to cook. And the big backyard is the best place for a big family to get together.'
Rose says the festive disco ball in the dining nook is also a favorite:
My grandkids will think that grandma having a disco ball is just amazing.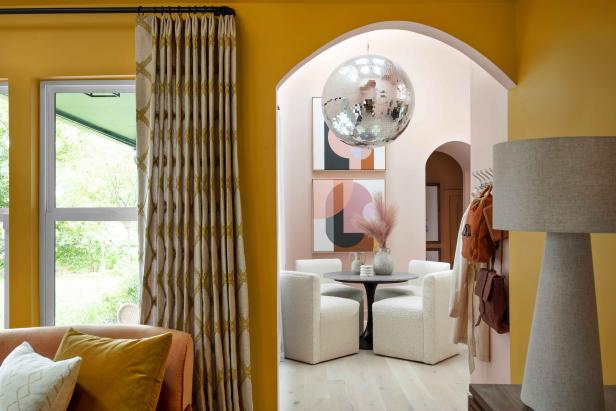 Living Space Color Transitions
Lively mustard-colored walls in the living room give way to calmer tones of blush and white in the open-concept kitchen and dining space. Original artwork over the dining table provides continuity of the warmer tones in adjacent rooms, allowing the spaces to maintain commonality with entirely different identities.
Robert Peterson,Rustic White
Congratulations, Rose! We wish you all the best in this exciting new adventure.
Watch the Full Interview Here:
HGTV Urban Oasis 2021 is a brand-new approximately 1,350-square-foot home located in Indianapolis, IN — a fast-paced city known for its culinary and brewing scenes and, of course, its world-famous speedway. The remodeled, trend-forward home was designed by Brian Patrick Flynn and constructed by local builder Bespoke Construction. It features three bedrooms, two-and-a-half bathrooms and is packed with bold furnishings, textures, colors and decor. The prize package also includes $50,000 from LendingTree.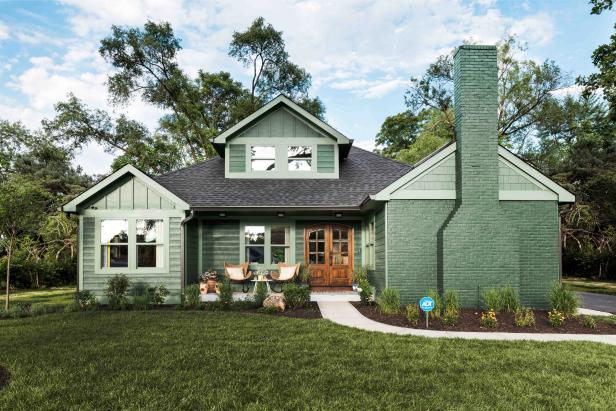 Fabulous Residential Facelift
A melody of three different siding styles joins the original brickwork to bring color, dimension and texture to this beautifully renovated home, giving it exciting new curb appeal.
Robert Peterson; Rustic White Photography
Don't Miss Your Chance to Win
The next lucky winner could be you! Enter twice daily until 3/31 for your chance to win $10,000!
Enter Now >>