HGTV Dream Home 2021 Winner Announcement
Meet the lucky winner of HGTV Dream Home 2021 in Newport, RI.
Congratulations to Jeff Yanes of Austin, Texas; he is the winner of the HGTV® Dream Home 2021 sweepstakes, a grand prize package valued at over $2.8 million dollars.
Jeff, who lives outside of Austin with his girlfriend Jody, was happily shocked when designer Brian Patrick Flynn informed him that he was the lucky winner of the brand new, fully furnished home, along with $250,000 cash from Rocket Mortgage® and a 2021 motorhome from Camping World. "In the back of your mind you always think about it, but then it's like — nah, it's not going to happen to me," said Jeff. "Things like this don't happen to normal people," exclaimed Jody.
An independent contractor who owns a bread delivery route, Jeff has been entering HGTV sweepstakes for almost five years. But this time he tried something new, signing up to receive daily email reminders for the HGTV Dream Home 2021 Sweepstakes. He entered twice a day, rarely missing a day, and his diligence paid off; Jeff's name was drawn from over 136 million entries!
The HGTV ambush crew set up a virtual interview with Jeff and Jody under the pretense of appearing on a show about an uptick of sweepstakes entries across the country. Little did they know, HGTV Dream Home designer Brian Patrick Flynn was on the other end of the call, waiting to surprise them with the news of a lifetime. When Brian announced that Jeff had won, he didn't believe it at first. "I didn't think it was true. I thought someone was messing with me," Jeff said. Watch the entire smile-inducing reveal here:
When asked about his favorite space in the home, Jeff replied, "It's everything you could want in a house. It's hard to pinpoint one room." But if he had to choose? "The rooftop deck overlooking the river. [It's a great place to] have a cold beverage or a cup of coffee."
Congratulations, Jeff! Many cheers to your next great adventure.
HGTV Dream Home 2021 is a breathtaking waterfront escape located in Portsmouth, Rhode Island, just 10 miles from downtown Newport, an idyllic seaside town known for its glamorous residents, rich history and grand mansions from America's gilded age.
The three-story Cape Code style home includes four bedrooms, three full bathrooms and two half-bathrooms. The home is full of modern nautical design and rich colors that honor Newport's coastal New England charm, such as deep reds and blues, with neutral tones and pops of pattern. It was built and designed by local builder JPS Construction & Design with trend-setting interior design by Brian Patrick Flynn.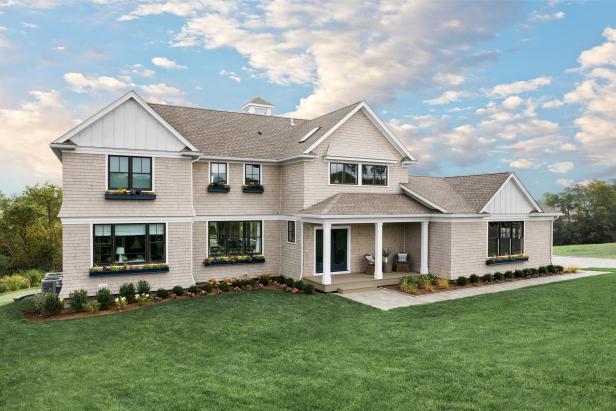 Classic Neutral Beauty
Classic cedar shake with white accents and black windows combine to create a neutral color palette that feels right at home in coastal New England.
Robert Peterson, Rustic White
Discover Our Next Giveaway