We've Never Slept Better Thanks to This Stylish, Chunky Knit Weighted Blanket
It feels like a comforting hug and looks like those cozy chunky knit blankets all over the internet. Read our full review to find out why the HGTV editors are obsessed with Bearaby's Napper weighted blankets.
Keep in mind: Price and stock could change after publish date, and we may make money from these affiliate links.
A good night's sleep is the constant elusive goal we're all striving for in our busy, stressful, screen-filled lives, especially as we better understand the long-term health effects of our sleep habits, and it's estimated that the industry of "sleep aids" is on track to generate more than $101.9 billion by 2023. Sleep aids can include lights, bedding, medication and more, but research specifically on Deep Touch Pressure (DTP) has led to the rise of the weighted blanket market.
Launched in 2018, Bearaby is a company specializing in weighted blankets and bedding and has select blankets available at West Elm now. The Cotton Napper caught the attention of HGTV editors because it doesn't look like the other weighted blankets on the market. Unlike other options that tend to look like duvet inserts, the Cotton Napper is hand-knit from organic cotton into an oversized, chunky weave that's both heavy and beautiful. Fellow HGTV commerce editor Kayla Kitts and I gave Bearaby's Cotton Napper a try, and spoiler: We're in love.
Bearaby's blankets are designed with sleep in mind. Research on Deep Touch Pressure Therapy has shown that sleeping under an evenly distributed weight leads to increased levels of serotonin and melatonin and decreased cortisol levels. Along with their ability to improve sleep, weighted blankets are touted for their calming effects and ability to ease symptoms of anxiety and reduce stress. Bearaby now offers a variety of blankets, including a travel blanket, kid's blanket, shared blanket and more, in weights ranging from six pounds for kids to 35 pounds for adults intending to share a blanket. You can take a quiz to help you find the right blanket for your needs, but the general rule of thumb is that a weighted blanket for individual use should be roughly 10 percent of your body weight.
The biggest pro of Bearaby's Napper is that it delivers on its promise for a better night's sleep. As someone who stares at a screen all day at work and then often stares at a smaller screen after work to unwind, it can be difficult to turn my brain off before bed, and I often have trouble falling asleep. After several weeks of using the Napper, I can attest that I fall asleep more quickly, toss and turn less often and wake up feeling more rested the next day. Kayla has also noticed an immediate improvement in her sleep quality.
"I've had insomnia for several years and have tried just about everything in the book to fall asleep and stay asleep throughout the night, from melatonin to aromatherapy blends to stimulus control therapy," she explains. "I have to say, I was skeptical of a blanket coming to my rescue, but it did!"
She says she has still experienced her middle-of-the-night wake-ups, but she doesn't wake up as often and is able to fall back asleep more quickly.
The Napper is truly the most stylish weighted blanket on the market. As Scandinavian style and the hygge lifestyle has influenced home decor in the last few years, chunky, oversized wool blankets have been everywhere, popularizing the art of arm-knitting wool blankets. Just based on appearances, you might not even realize the Napper is weighted until you try to pick it up.
"The chunky, heavy-knit design is gor-ge-ous," Kayla describes. "You can tell it's handcrafted and made with love and care. Each layer of soft, organic cotton is ever-so-gently woven to craft a blanket that's beautiful to touch and see draped at the end of the bed, where mine is at this very moment."
Bearaby frequently releases new limited edition colors. Right now, the Cotton Napper comes in five color options, and the Tree Napper comes in four. For an even more plush look, Bearaby also has a Velvet Napper now that's available in six beautiful colors.
Choose From a Variety of Colors
The Napper also gets bonus points for not arriving wrapped in plastic. Instead, it arrives neatly rolled in a large muslin cloth bag cinched with a jute tie. Before you've even opened the packaging and seen the blanket, you can feel the organic luxury.
The blanket's breathability is another feature we love. "From first glance, it seems like it would be too hot to handle at night, but the plant-based yarn layers make the blanket super breathable and incredibly soft," Kayla says. "And when I say soft, I mean soft." For an even more breathable option, Bearaby's Tree Napper is made of sustainable Tencel, a biodegradable material derived from eucalyptus wood pulp, that's ideal for summer and hot sleepers.
Another pro is that these weighted blankets are machine washable. Kayla's first thought when she opened the blanket was how she was going to clean it. "I have three pets who don't understand boundaries and will inevitably take a snooze on my Bearaby, leaving a layer of fur behind," she says. We both agree the ability to machine wash is a huge perk, although, it does take multiple cycles to get the blanket fully dry, which Bearaby does mention in the care instructions. It took my basic dryer five cycles to dry the blanket, which isn't ideal, but it's definitely preferred to not being able to machine wash and dry it at all.
The biggest con is the price. Ranging from $139 to $319 depending on size and style, Bearaby's blankets are certainly investment pieces, but the price is on par with other comparable blankets from Gravity Blanket and Coolmax. Bearaby does have a 30-day return policy though, so if you try it out and don't think it's worth it, you can easily send it back. If the price is way out of your budget, there are tons of other weighted blankets at lower price points you can consider trying first.
If you're really on a budget and have the time and patience, you could even try making your own using rice and plastic bags.
We're sorry, there seems to be an issue playing this video. Please refresh the page or try again in a moment. If you continue to have issues, please contact us here.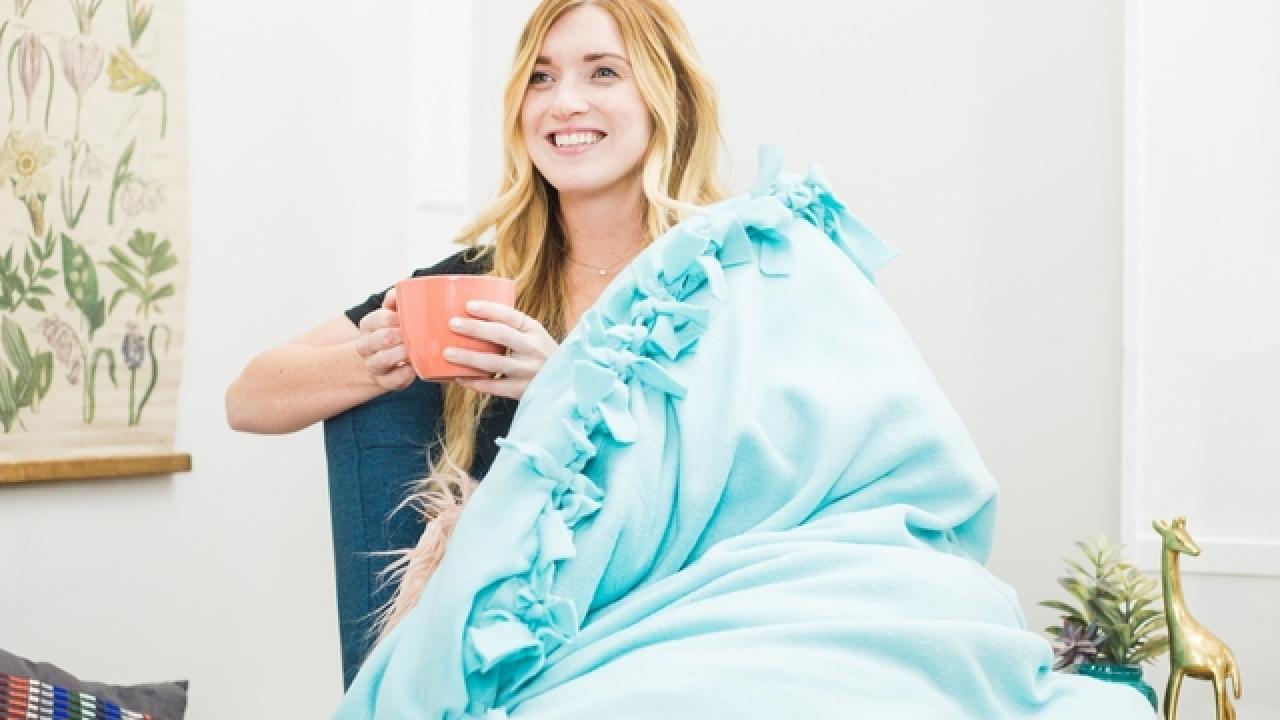 While also its biggest perk, the weight of the blanket means it can be difficult to lift. A few times when I was sleeping near the edge of my bed and turned over, the blanket fell to the floor, and lifting it back up in a hazy, half-asleep state was quite the feat. This isn't the blanket you'll want to tote from your bedroom to the living room and back on a regular basis, at least not without enlisting another person for muscle reinforcement. I suggest keeping the blanket in the room where you intend to use it most. For me, that means it stays put on the end of my bed until I'm ready to curl up into a deep, deep sleep.
Is the Bearaby Napper Worth It?
Yes, a couple of hundred dollars sounds like a lot for a blanket, but if you're considering buying an oversized, chunky knit blanket that can easily cost upwards of $300, why not spend that money on a similar-looking blanket that's specifically designed to help you sleep better and feel calmer? We could also see a Bearaby Napper making a great splurge-worthy gift for someone on whom you'd normally spend that amount, maybe your significant other, a loved one coping with an anxiety disorder or insomnia or someone for whom you struggle to come up with good gift ideas, like a grandparent.
Considering the hand-crafted construction, the appearance that makes us want to keep it on display 24/7, the sustainable materials we feel good about bringing into our homes and the machine-wash care, we think Bearaby's weighted blanket is a great value and worth splurging on for yourself or a loved one.
More Bedding Buys We Love